Third-year Diploma in Mass Communication students had to do a photo essay on a Singapore Heritage Trail for a lesson supported by the National Heritage Board. The team of Sariyanto Slamat, Liyana Roslan, Marshall Lim, Ling Don Wei and Ashwynn Darshan ventured to the Heritage Trail of Tiong Bahru for their assignment. Team leader Sariyanto shares their experience of getting the photographs.
Two old men played ping pong, their wrinkles belying their enthusiasm as they tried to win every point. Then there was laughter, followed by pats on the back by their friends. That was one scene that we could never forget; amidst the hustle and bustle of today's modern life, there is still a touch of nostalgia and a laidback atmosphere around Tiong Bahru. I guess that was where we got the inspiration for our theme of finding the old within the new, redeveloped landscape of the area.
Tiong Bahru is a huge place. Even after three hours we could not finish exploring the whole vicinity. We met Mr Rodney Goh, the highlight of our trip.  His warmth and eagerness to share his story was a welcome experience for us. As mass communication students, we know how difficult it is to approach a total stranger, much less score an interview.  Mr Goh showed us his pride and joy – a brand new 1300-cc Harley Davidson motorcycle tucked away underneath an old, dirty canvas. Yes, this is the story of Tiong Bahru – the old and the new intertwine.
Related Story
Due to limited time, we didn't get to venture further than the market area. Who knows what other treasures we could have unearthed.  We did wonder if our pictures would do full justice to the beauty that is Tiong Bahru.
Favourite Pictures
To take a picture that evokes intense emotions takes patience. Yes, sometimes you get lucky by being at the right place at the right time, but a good photo doesn't happen by accident.
The opening shot was a significant picture. We had planned to show the contrast between the old alley and the edifice in the backdrop, to illustrate that the old still lies within the new.  After taking one or two shots, a rag-and-bone man suddenly came into the frame, seemingly unconscious of our presence. He was just minding his own business picking out trash to collect and probably sell off.  I remembered what my facilitator had said about adding the human element into photographs. This is the end product.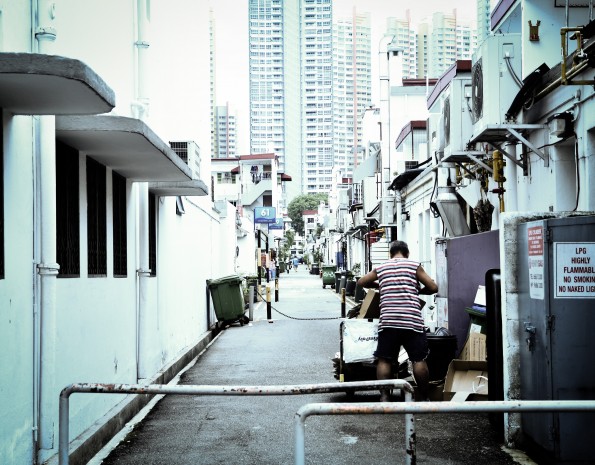 As we made our way back, we saw an old man with a red tote bag. He sat on the ground flanked by a bottle of cheap beer and the red bag where passers-by could drop some loose change. Behind him was a grooming parlour, with the sign "We Need A Hero".  It provided a nice contrast and another strong human interest element, making this our other favourite shot.