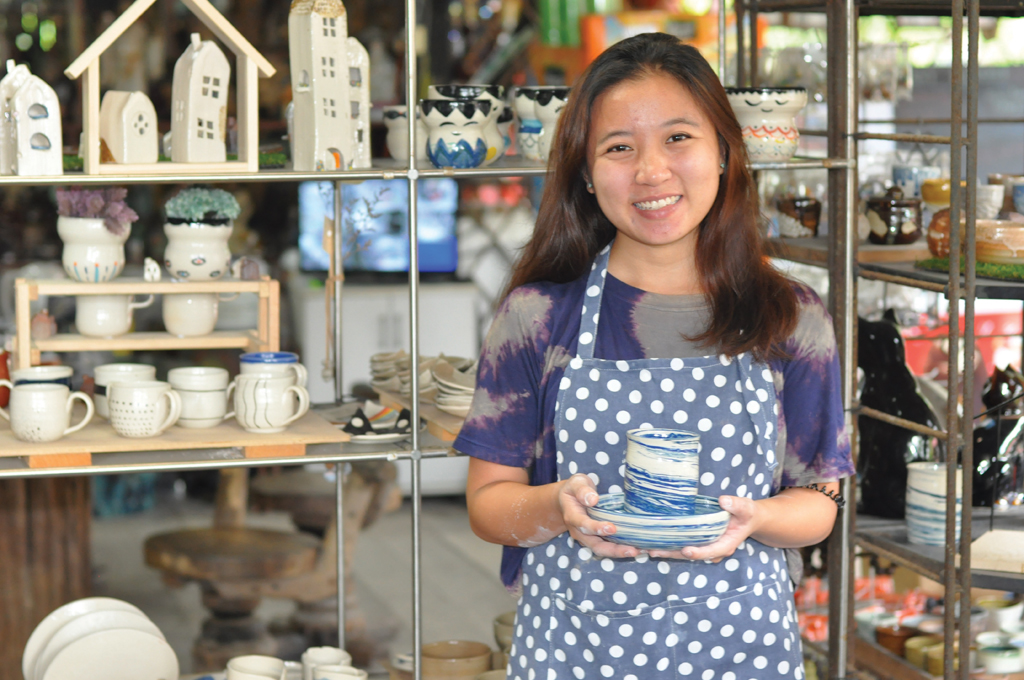 If you browse LinkedIn profiles, you will find that the majority of people who look for work say they are driven by passion. "Passionate about communications", "Passionate about working with people" are some extremely common descriptions on these online profiles.
Try finding someone who says they picked a career or job out of obligation or a binding love for family and you would come up empty. This makes Miss Stella Tan, a graduate of Business Information Systems from Republic Polytechnic, a very special young woman.
In fact, Ms Tan furthered her studies at the Singapore Hotel and Tourism Education Centre (SHATEC), where she specialised in pastry-making. But she gave up dreams of being a pastry chef in hotel kitchens in 2013 and came home to Thow Kwang Pottery Jungle as a ceramics artist. And the reason?
"The reason why I came back to my family business is to repay the love and care they gave when I was young," explained the bubbly 25-year-old.
Started in 1965 by her grandfather, Mr Tan Kim Seh, Thow Kwang remains a family business. They possess the last dragon kiln – wood-fired kilns the length of a basketball court – in Singapore, situated next to Nanyang Technological University.
"Working here, I get to spend more time with my family, instead of working outside where we'll get tired and just sleep (and) work again the next day," explained Miss Tan.
It is clear that family is central to Miss Tan. Having lived on the premises her whole life – her family owns a kampong-style house on the property – Miss Tan witnessed first-hand the 50 years of gruelling work that went into building the business.
"Family is my primary motivation, passion comes second. Even without passion, at least I am working for (people) I love," she said. "They worked so hard, I don't want all this to go away," she added. Her only sibling, Mr Tan Si Lie, is not in the business as he is a national archer and bronze medallist at the 2015 Southeast Asian Games who aims to represent Singapore at the upcoming Olympics.
Her interest in pottery began a decade ago, when she started learning to craft a cup from an employee. With her family's support, she took up pottery as a hobby and often helped out during her polytechnic days as a part-timer.
Her journey has not been smooth-sailing. Having spent more than two years working
exclusively with ceramics, Miss Tan readily admits to feeling frustrated with the monotony at times. Also, she feels that there is a faltering appreciation for traditional art in Singapore.
To combat the monotony, she makes it a point to use her leisure time to craft fresh pieces to sell at night markets. "When I do my craft and somebody is happy with it, then I'm happy," she said.
Alongside her family, she also conducts workshops and tours for the average Joe to experience the art of traditional pottery making. "Seeing them learn really motivates me to want to share more," she gushed.
However, the fate of Thow Kwang remains uncertain – the land it sits on has been earmarked for development and once its lease expires in 2022, there's no guarantee that it will be renewed. Despite that, Miss Tan remains optimistic: "I will continue in this business for as long as possible, to spread my love of pottery to Singaporeans."
When asked if she felt any regrets about giving up her baking career, her reply was swift: "At least I can say that I was a part of it, (the business). There are no regrets."