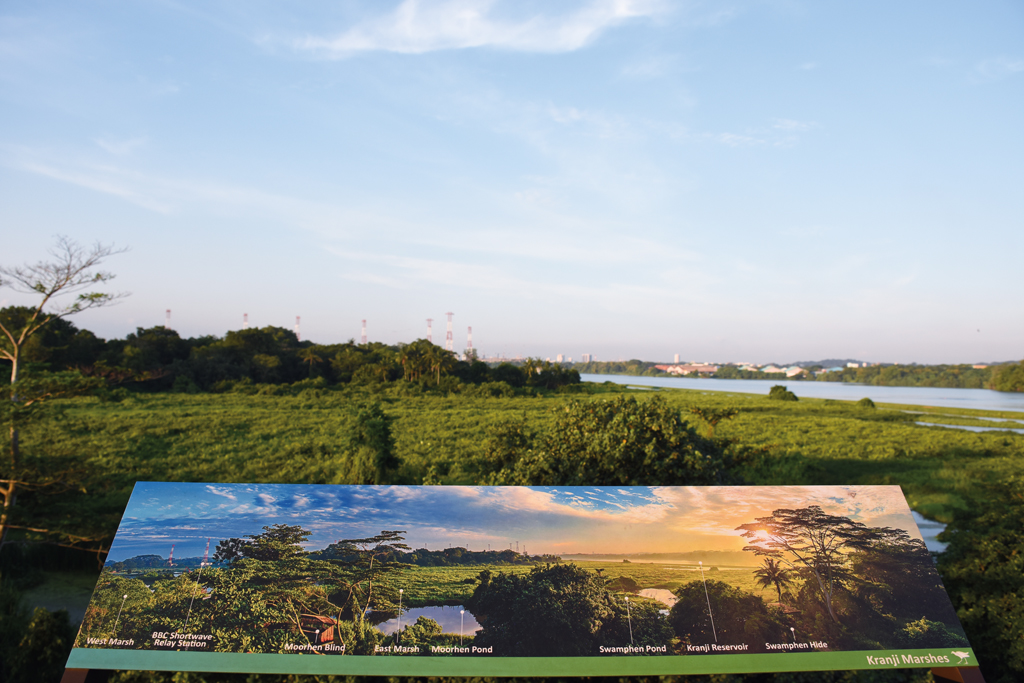 Kranji Marshes opened its doors this year on 1 February. This park is especially perfect for bird lovers or people who simply love walking through nature. But what many people may not know is that many areas of the park are still ecologically sensitive. What that means is that vegetation is still growing and the wildlife is not completely settled in.
The park is separated into the Neo Tiew Woods and the core conservation area. Neo Tiew Woods is open to the public while the core conservation area is locked up. And visitors can only enter the core conservation area by booking guided tours. "We just completed development and vegetation has not grown back yet and the wildlife are still coming back," said Mr Wong Tuan Wah, Director of Conservation at NParks the media recently.
And because the park is not completely accessible via public transport, there aren't as many amenities as other built up parks. So a trip there has to be planned and you need to take into account travel time. But it is worth a trip because walking through this area feels quite unlike anything else in Singapore. Vishva Saravanan, 16, has been to many different parks with his family. When asked what he thought about Kranji Marshes, he said, "it's a good place to just relax and get away from everything."
To protect the wildlife, visitors are not allowed to bring pets into the park. Cycling is also another prohibition because the park is ecologically sensitive by strictly not wanting people to disturb the wildlife.
While Vishva loves the nature walk at Kranji Marshes, he still prefers other parks such as East Coast Park where he can engage in more activities like cycling.
Bird spotting
While walking through Neo Tiew Woods, you will be able to hear different bird sounds. If you are lucky, you will even be able to spot some really rare birds. Signboards are placed throughout the park to indicate what species of birds you can spot.
One example of a bird you can spot is the Baya Weaver. It is impossible to miss the male Baya Weavers who are always singing. All you have to do is keep your head up and spot the black and yellow bird. And if you really want to, you can stay the night – by getting a camping permit to spot the various species. According to NParks, there are more than 170 species of birds, 54 species of butterflies and 33 species of dragonflies in the area so you can definitely expect those if you ever decide to go to Kranji Marshes.
The main highlight of the Marshes however has to be the Raptor Tower, leading straight from Neo Tiew Woods. Nearing the tower, you can either step on rocks to get across a river or just use a wheelchair-friendly path.
The highest point of Kranji Marshes is 59 steps high. The climb is rewarding because you get to see the whole park from a bird's eye view. Time your trip such that when you get to the top of tower at about 6.45pm, you can watch the stunning sunset.
Tips for great wildlife pictures
Isaac Benjamin Ong, a semi-professional photographer, has visited Kranji Marshes and blogged about it to share his experience. Isaac names a few must-go places for photographers going to
Kranji Marshes:
1. Near the entrance kiosk, where there is a large tree that seems to be a magnet for parrots and other birds
2. Along Neo Tiew Woods, which leads to a long straight path that's Instagram-worthy because of its symmetry elements
3. The campsite hideouts are perfect spots if you are hunting for birds, just be patient.
Kranji Marshes is only open from 7 am. to 7 pm for safety reasons. There are no street lamps to light up the park so it will be best to leave the park before 7 pm.
There is also no public transport near the park but you can board the Kranji Express shuttle bus to and from Kranji MRT at only $3. Do take note of the bus timings because if you miss the last bus, you will have to walk out to the nearest bus stop – and it's not a short walk.
Try the Northern Loop
For nature enthusiasts who want a fun way to keep fit, consider cycling (or walking) the entire Northern Loop. You begin your journey at the Lower Seletar Reservoir Park and end at the Woodlands Waterfront – or start at Woodlands and end at Lower Seletar. Altogether it is an 11km journey that is seamless – thanks to the park connector network. Along the way, you can soak in the scenic rivers, reservoirs, meet members of the wild (watch out for pesky monkeys!) and of course, stop to take beautiful instagram-worthy pictures. If you are cycling, the journey could take 1 hour, while walking takes about 2-3 hours. Depending on how long you stop and stare at the beauty you will most certainly encounter. Go to www.nparks.gov.sg for more details.