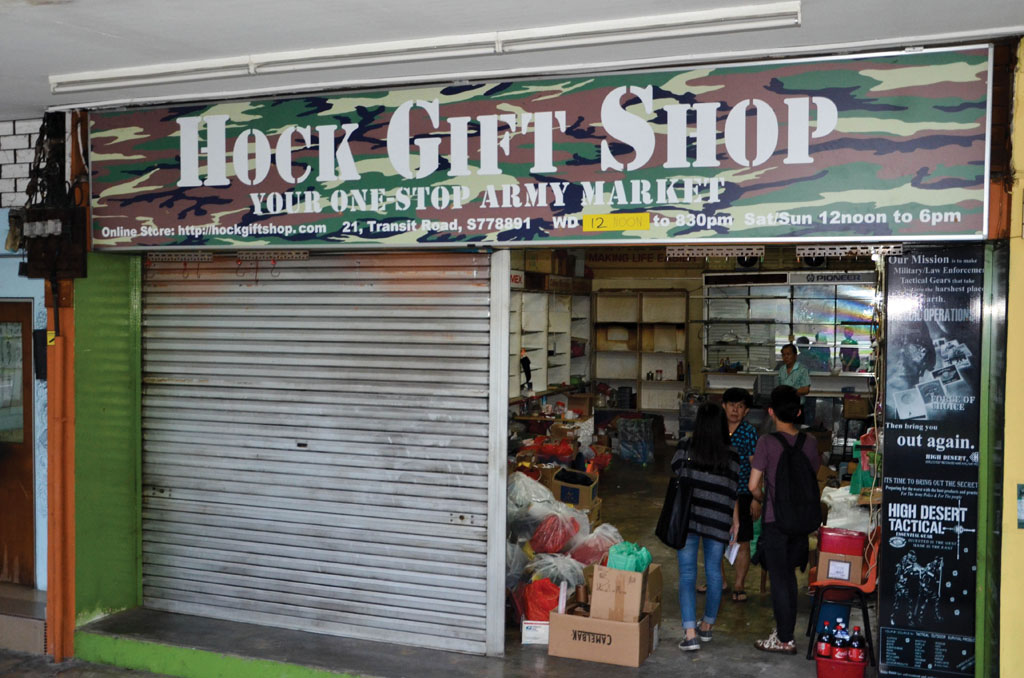 Along the corner of Nee Soon camp lies a small road stretching 50 meters that has been home to a row of shop houses for more than 30 years. Any army soldier from Nee Soon would be familiar with shops such as Hock Gift and Rambo Gift store where they would purchase necessities for enlisting in the army.
After nearly half a decade, these shop houses will soon end its journey. Recently, a successful tender for the land to be used to build a condominium meant that all shops along Transit Road will have to go. Established since 1981, the Hock Gift Shop has been one of the mainstays along Transit Road that sells a wide array of army essentials ranging from camping accessories to customisation of tags.
Throughout decades of their stay at Transit Road, the owners of Hock Gift shop have formed friendships with their neighbours and a sentimental attachment to the lovely leafy enclave in the north. According to newspaper reports, the area used to be quite an entertainment hub, especially in the 40s and 50s when the British were still around and there were pubs to cater to soldiers back then. Today however, the area is quiet and it will be the sound of construction that will be heard soon.
Sporting a worn-out checked shirt with an old fashioned bob hair cut coloured grey that embodied her age, 62-year-old Mrs Ng Suat Leng is the co-owner of Hock Gift Shop. Their main customers were the usual army boys and with their absence saw a drastic drop in revenue. Over the years, business has been affected not once but twice.
"We did not want to continue our business after closing this store but since we have managed it for so long, we thought that we should not give up on it that easily," said Mrs Ng.
The Tech Tsunami
The main reason is that online stores have gradually replaced physical ones as younger and more tech-savvy men easily get what they need online. With the rise of online stores to compete with, it has made it very difficult for older and more traditional stores like Hock Gift Shop to earn much from their stores alone. To keep up with the times, they too have set-up their very own web store and are pushing to publicize it.
Lacking the experience and knowledge of technology, Hock Gift Shop's online web store is managed by Mrs Ng's son. They sell mostly army camping items along with a variety of customizable tags and badges.
Also leaving is the Rambo Gift Store, one of the longest tenants along Transit Road of 30 years. They find it hard to reallocate elsewhere as the rent would be too expensive.
"Rent elsewhere would be thrice the cost of my current rent here which means I've to sell my products at three times its current price which would definitely not work out. I would not have any customers," said 47-year-old Mr Koh Aik Hock who runs Rambo Gift Store. The store will cease operations after closing down at Transit Road.
Many of the owners have spent a good part of their lives along this small stretch tucked behind Nee Soon Camp. However, the owners of Hock Gift believe that it's better to face the end with grace and acceptance than tears and a heavy heart.
"When it's time to leave, we simply have to let go," said Mrs Ng.