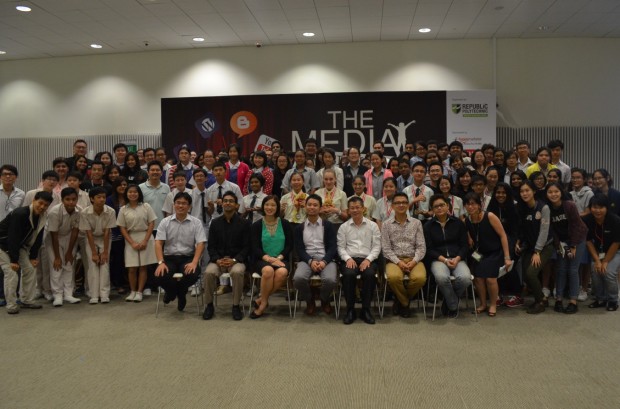 Secondary school students experienced a taste of life as a journalist in Republic Polytechnic's inaugural media competition.
They interviewed reluctant shop owners, took photographs in blazing heat, and hunkered over computer screens as they edited video footage. Just another day in the life of a multimedia journalist, except the people living it were secondary school students.
From June 4 to 6, these students from 15 secondary schools across Singapore took part in The Media Challenge (TMC), a competition organised by RP's Diploma in Mass Communication (DMC).  The event aimed to equip students with skills to be media practitioners. Participants had to submit a news package on the theme 'Singapore's Changing Landscape:  Our past, present and future'.
Shreya Sudhakar, 13, from Beatty Secondary School, said: "I have never experienced the pressure of squeezing time for an article, photo story, social media blurb and video in three days until the TMC experience."
In 18 teams of five, the students fanned out over Little India, Chinatown, Kampong Glam and the Civic District to get their stories. Before heading out, they received help and advice from industry professionals specially invited to the inaugural event.
Ms Jenna Boller, regional director and general manager at Ogilvy Singapore, spoke to the participants about today's media landscape while Mr Edric Sng, digital media editor at Today, touched on the life of a journalist and the definition of news.
Participants also visited the Urban Redevelopment Authority of Singapore, where its conservation director Mr Kelvin Ang talked about the history of the four districts.
Gwendolyn Tan from Singapore Chinese Girl's School was especially grateful for the workshops conducted by RP's own facilitators, attributing the more than 20 interviews she conducted in Little India to the Research and Interviewing Skills workshop conducted by DMC's Senior Academic Staff Mr Eugene Lim.
"You have to get to know them and introduce yourself because If you don't say your name and position, they are going to get uncomfortable and question your authority," said the 14-year-old.
Greendale Secondary School took home the main prize of Best News Package, bagging $1,000 cash, medals and a trophy. Beatty Secondary swept the Best Photo Story and Best Rookie Reporter awards, while Evergreen Secondary clinched the Best Video prize.
Ms Gan Koh, DMC's programme chair, said that the students' experience itself was a valuable takeaway.
"Even though it is a competition, it is not about winning," she said. "It's about what you have learnt at the end of the three days. If they want to be an aspiring journalist in future, they know what they are in for."
Mr Sng, who also headed the panel of eight judges, said the event was a good training ground for budding journalists in a multimedia age. "I think the ability to fit into any role will stand them in really good stead should they choose to go into the media industry," he said.
One participant who is more confident of pursuing a career in the media industry thanks to TMC is MacPherson Secondary's Sreejith Bala, 13. He said with a big smile: "I want to be a photographer now."