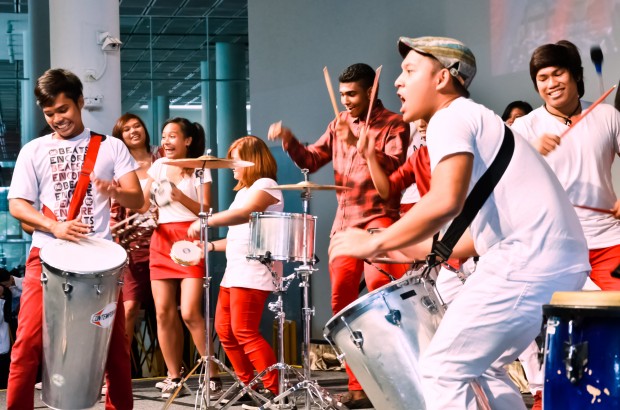 It was an event to mark the nation's birthday and it was done in eclectic style at the South Agora: drummers, two flying helicopters, a human flag and little children waving Singapore flags. Beats Encore IG kicked things off with their energetic performance that got the crowd tapping and moving to their infectious drumming. They were followed by Ron Tan, a second-year School of Sports Health and Leisure student who is also hearing-impaired. Ron played the keyboard, having learnt it by himself when he was 17.
Principal/CEO Yeo Li Pheow told staff and students attending RP's National Day Observance ceremony on August 6 that students like Ron personified the theme "Many Stories, One Singapore" because of his determination to succeed despite his disabilities and his desire to help others do the same.
The highlight of the afternoon was the formation of the Singapore flag by 240 staff, students and members of the Singapore Armed Forces, the Republic of Singapore Air Force and Republic of Singapore Navy.  As soon as it was time, everyone filed into their designated spots and waited for the national anthem to come on. An interesting sight was that of two little helicopters hovering ahead, one carrying a mini Singapore flag – simulating the flag fly-past at the National Day Parade – and the other filming the event. Called quad copters, they were operated by the School of Engineering and the Aero-Modelling Interest Group.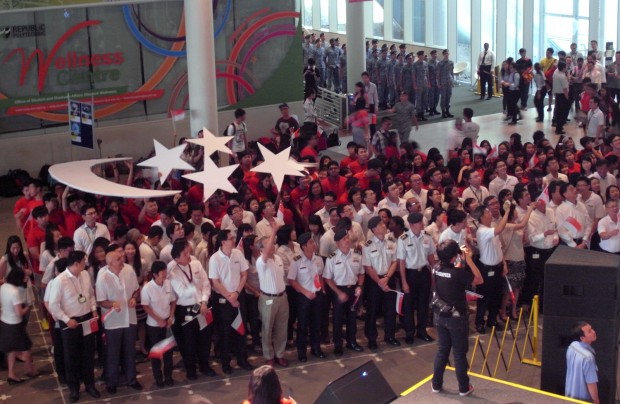 It was all over in an hour, but the participants were pleased to be part of the yearly event. Dr Ian Law, Deputy Director of the Office of Technology Development, was one of the staff involved in the formation of the flag. Having been in RP for nearly seven years, he has been to a few of these ceremonies.
"I am from the United Kingdom; I was raised and educated there. But I feel that my country of birth has played a significant part in the history of Singapore and there is a link between the two, so I am happy to be part of the celebrations,'' said Dr Law, a permanent resident.
And what did he like about Singaporeans?
"Singaporeans are kind, tolerant, humorous and a bit quirky, so I am quite at home here!"