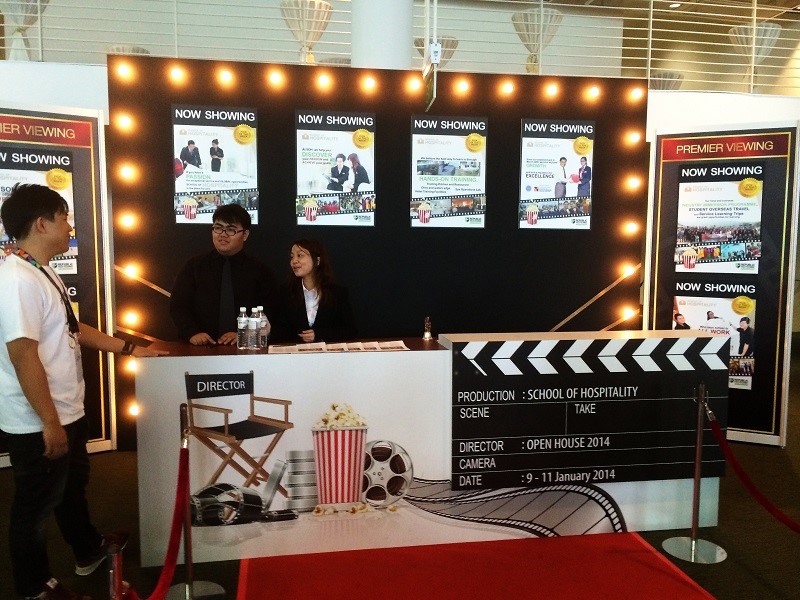 It was literally a red-carpet welcome for visitors at the School of Hospitality (SOH) booth. Eager O-level students and their friends were warmly greeted by smartly-dressed student ambassadors as they entered a film-inspired exhibition area.
Republic Polytechnic (RP) held its annual Open House from 9th to 11th of January 2014 to allow prospective students to learn more about the courses and get a better insight of what tertiary life has in store for them.
"We want to showcase the best of us, in a sophisticated way,"said Clarissa-Anne Teo, 19, a third-year student ambassador from the Diploma in Integrated Events Management, when asked about the set-up behind this year's SOH booth.
RP offers five diplomas under the School of Hospitality, which includes the Diploma in Hotel and Hospitality Management and the Diploma in Customer Relationship and Service Management.
Muhammad Fathur Rafie, 16, a student at East View Secondary School said that the set-up at the booth allowed him to know more about the different courses and their specialization.
But it wasn't just the usual briefing on the diplomas SOH offered. Visitors were also treated to bite-size pastries prepared by the students from the Diploma in Restaurant and Culinary Operations.
Students from the Diploma in Wellness, Lifestyle and Spa Management were also on hand to flaunt their skills as they provided pedicure and manicure services, back and scalp massages, giving visitors a real taste of what they learn in school.
All of this impressed Muhammad Bazil, 19, a year two Higher NITEC student from the Institute of Technical Education (ITE). "Going for the open house has given me a broader understanding of RP's courses and the Problem-Based Learning (PBL) system," he said. "I think that the SOH is very cool and I would put it as one of my choices."