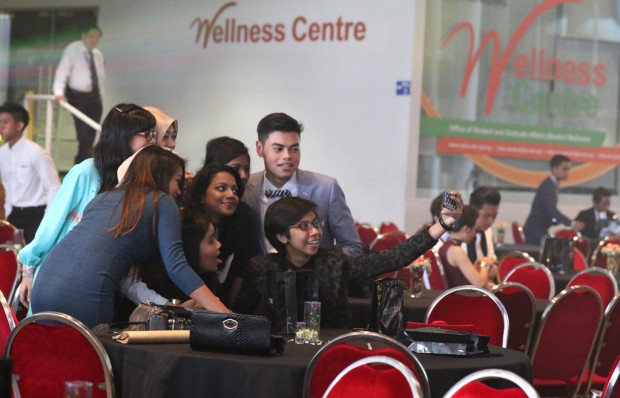 It was a sight to rival the Oscars as elegantly dressed ladies and gentlemen strutted down the red carpet. But the scene unfolded much closer to home – RP's very own South Agora. And the people dressed like a million dollars were the polytechnic's graduating students as they bid adieu to RP in a glamorous fashion.
On Mar 5, more than 400 graduating students attended Graduates' Night 2014. True to this year's theme "Dress for the red carpet", the ladies came dressed in flowing black dresses while men wore spiffy suits, bringing life to the usually empty hallways of South Agora during term break. They sat at tables draped with black velvet and sipped a special drink concocted by Petite Palate Interest Group (IG) called Lograr, Portuguese for "achieve".
The entertainment came from the talented members of RP's various IGs, including beat boxers from Rhapsody and Replug and hip hop dancers called Style Groovas Crew.
Audience member Samantha Ashwini Singham, 20, a Diploma in Sport and Exercise Sciences (DSES) student, said: "There were a lot of activities and a lot of dancing to keep us captivated. My favourite performance so far would be from the beat boxers."
The highlight of the event was when nominees for Prom King and Queen were announced and asked to perform their creative best with a chair. Their impromptu routine, filled with seductive moves, got everyone roaring with laughter. Haizannurah Bebe Bte Zuinuden, 21, was one those tickled by the segment. "Prom this year was fun because it had a lot of funny moments, especially during the prom king and queen ceremony performance," said the Diploma in Interactive and Digital Media (DIDM) student.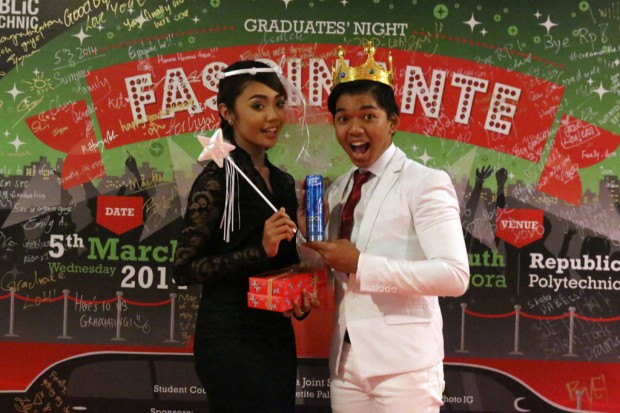 The event's finale was a jam and hop session by the Electronic Music Production IG. Amid the party atmosphere infused with dance tunes, some students started feeling nostalgic. "Thank you, RP, for giving me the opportunity to grow and to learn," said 20-year-old Chua Mu Fen Kelda from the Diploma in Information Technology (DIT) as the night wound down.