The first ever student-run fitness challenge to run concurrently with Republic Polytechnic's Open House took place on the morning of January 12 2019, attracting around 200 participants to the event.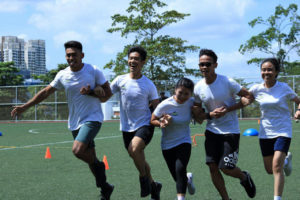 A fitness challenge, named Republic Ace, with the aim of communicating to students in Republic Polytechnic that being physically active is inclusive, and transcends all genders, ethnicities and fitness levels was organised by three final year project teams under the Diploma in Sports & Leisure Management (renamed as Diploma in Sport Management) on January 12, 2019.
Held on the AstroTurf of the level one sports complex, the fitness challenge consisted of two events; a relay race and a game of tug of war, where students formed teams of five to enter, with the choice of participating in both events or just the tug of war.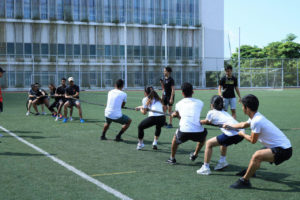 Mr Heinz Loy, who was the lecturer supervising the students for the project, said that the event was important for the participants to learn that fitness is not only for the physically fit but for everyone to enjoy.
"I realised that some of the students, before they joined Republic Ace were pretty shy," said Mr Loy. "They are worried about people judging them and giving them looks. But through this event we want to encourage them, to let them see that the fitness community is actually very inclusive and a very fun community."
The three final year project teams took three months to plan the fitness challenge, taking special care in deciding the games, the marketing and the flow on the event day itself. The sponsors for the event were Optimum Nutrium and Gymmboxx.
Mirza Ukail, who led the organising team, said that the team had planned for the fitness event with a fun approach.
"(At first) We were thinking of a race, but we wanted to incorporate fun elements so that it would not be boring, and students would be able to do some activities instead of just running. For the tug of war, we wanted to include the strength and teamwork element.," explained Mirza.
Mirza also added that the tug of war activity was a Freshman Orientation Programme (FOP) tradition that was later removed from the programme. However, the team wanted to bring it back due to its popularity.
Kesavi Annadurai, a first-year student from Diploma in Consumer Behaviour Research, was among those who joined the activities with her team.
"Since we are from the School of Management and Communication we are not really exposed to these types of events so when School of Sports, Health and Leisure plans these types of events it is much more exciting for us to join and at least win something for our school," she said.
The event saw around 200 participants and 22 volunteers of different physical fitness, gender and ethnicity coming down to stay physically active and participate in some friendly competition.