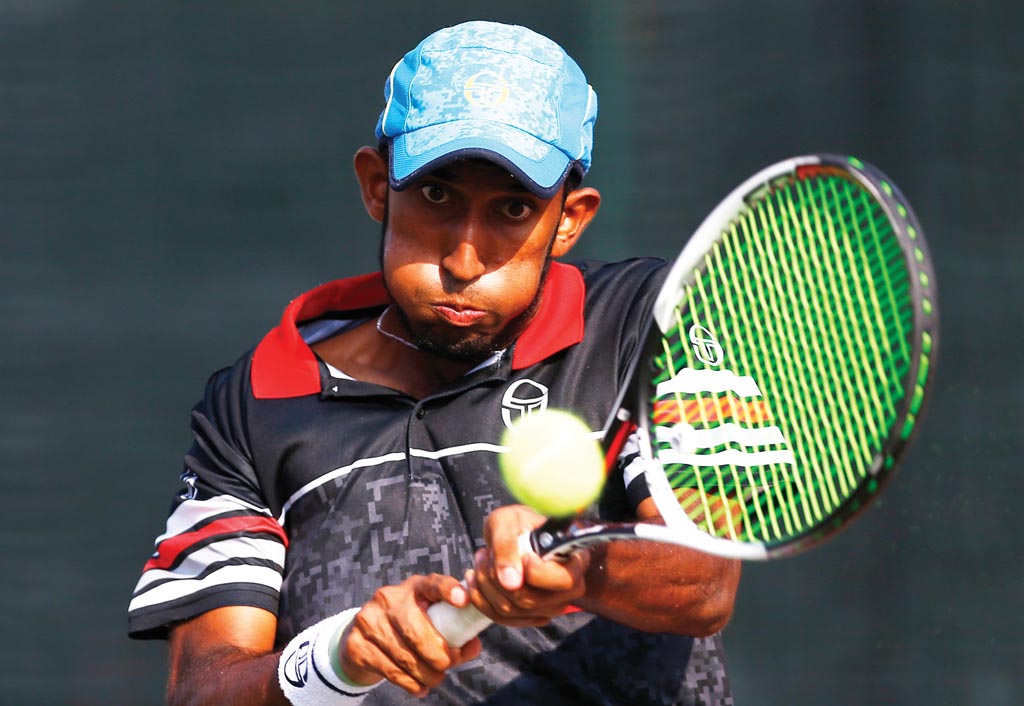 Shaheed Alam, a second-year Sports and Leisure Management student, loves the challenges tennis brings.
At the age of six, he competed against older opponents when he entered an under-10 competition – his first.
Even though Shaheed was good in cue sports – he made the national youth team – tennis has remained his
first love.
In October 2015, he became the first Singaporean male player to win an ITF junior singles title. Now, Shaheed has his sights set on turning professional and competing on the ATP World Tour. "(Tennis is) very competitive and it's one of the tougher sports," said the 18-year-old.
"There are a number of elements to deal with like the sun and the wind. You never know how long a match can go, ranging from one-and a-half hours to three hours."
Shaheed first started playing tennis when he was five.
"My dad used to play every weekend at Pasir Ris and would bring me along to play with him for an hour before he starts playing with his friends," he said.
When he was 15, Shaheed was selected to the national team. He is now part of a team that is gunning for Davis Cup promotion and winning a gold medal at the Southeast Asian Games in Kuala Lumpur, Malaysia.
Shaheed served notice of the team's intent when he won a gold medal at the South-east Asian Men's Team Invitational Tournament in March. Shaheed also won bronze in the team event.
"It was a good confidence booster for me," said Shaheed. "It's always an honour for me to play for the country, because not many people get the opportunity."
The team's achievements has earned the praise of Singapore Tennis Association's deputy general manager Wilson Tay. "This is probably the most well-prepared team we have for the Davis Cup," he said.
Life as a student-athlete, however, is demanding. "My daily schedule is always super packed because I train at different venues throughout the day due to school timings that occur inbetween," Shaheed said.
Shaheed's day begins with training at 7.30am at Kallang. After a three-hour session, he will travel to the Singapore Sports School in Woodlands where he has lessons between 12pm and 2.30pm. He then travels to Yishun for a two-hour training session that begins at 3.30pm. After training ends, Shaheed returns back to the Sports School for two more hours of classes which ends at 9.30pm.
Shaheed admits he does not have much time for a social life. "Weekdays are super packed so there's no chance for me to do anything basically," he said. "Sometimes in the weekends I'll go out with my friends but usually I would be super tired already and I just want to rest at home."
Other than turning professional, Shaheed also has plans to open his own tennis academy in Singapore to help other aspiring tennis players.
"I just really love playing tennis," said Shaheed, whose favourite player is 18-time Grand Slam winner Roger Federer. "It was my passion since young, and I really want to turn professional, which is why I go training every day to try and improve myself to reach my goal.