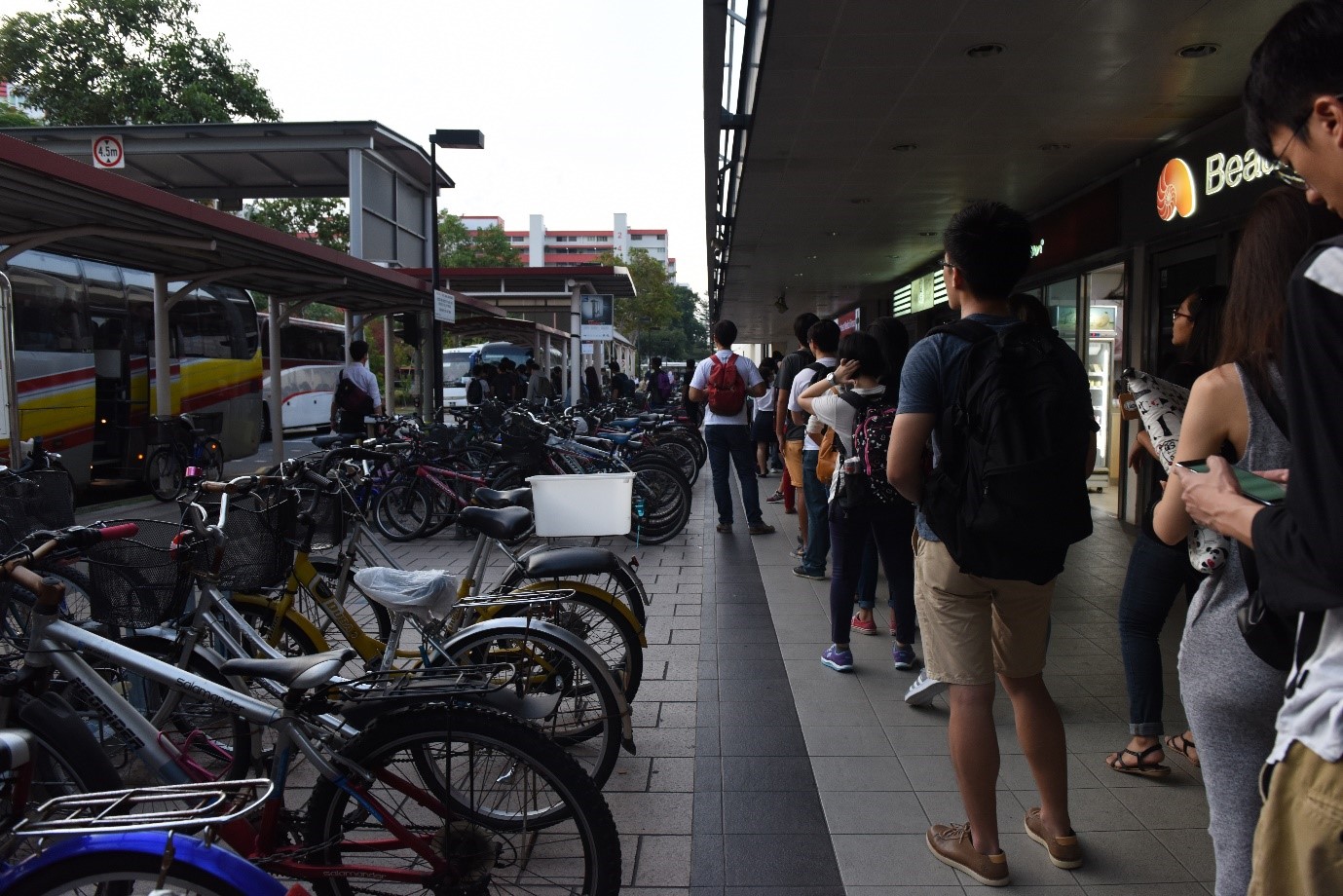 Unlike previous years when they had to make their own way to school, Republic Polytechnic students living in Tampines and Sengkang were offered another travel option at the start of the new academic year.
A free one-way shuttle bus service was rolled out by RP and it offered students who live in the east and north-east of Singapore a direct commute to the polytechnic's Woodlands campus.  
Students can choose from seven designated departure times to board the 45-seater buses. In all, there are nine buses – five from Tampines and four from Sengkang –plying the service.
The new shuttle service, however, hit a speed bump on its first day of operations as traffic slowed to a snarl due to an accident. A cement mixer had crashed into the centre divider on the Seletar Expressway before the Upper Thomson Road exit which resulted in a massive traffic jam on both directions of the expressway. Some shuttle buses took a detour but this meant that the commute took longer than usual.
Some students were also confused about the queue at the pick-up points. Goh Yu Wei Titus, a second-year Consumer behaviour and Research student, queued at the wrong queue at Sengkang. The pick-up point at Tampines MRT is shared with two other polytechnics, while students from Temasek Polytechnic board from the same pick-up point at Sengkang MRT. "They should have a clearer signage to show this is for RP students," said Titus.
Arts and Theatre Management student Wan Dina Syukrina, who took the bus from Tampines, felt the buses could stop at another area instead. "As RP is sharing a common bus dock with other schools and organisations, they should have the bus to be docked at another area instead," said the second-year student.
While students were told about the new service through publicity banners outside the library, emails and SMS, first-year Integrated Events and Management student Rebecca Yeo Xue Ni suggested the school could state like how the bus looks like, to differentiate them from the other pickup buses. She took the bus from Sengkang.
Despite the confusion and long travel times experienced on its first day, students said the service improved in the days after.
First-year Biomedical Science student Nur Billah Ria, was one of the students who continued to take the shuttle bus from Sengkang after the first day. "The shuttle bus took 30 minutes of travel while it would take me 30 minutes to an hour if there is a traffic jam by public bus," she said.
Another student, Clarine Teo, who took the bus from Tampines said: "It is very convenient because I will not have to change buses just to get to school." The second-year Outdoor Adventure Learning student added: "This allows me to have a pleasant and refreshing ride to school."
The shuttle bus service will be on trial for a year. More details about the shuttle bus service such as pickup point areas and bus frequencies are available on www.rp.edu.sg/shuttlebus – With Additional Reporting by Siti Zubaidah.