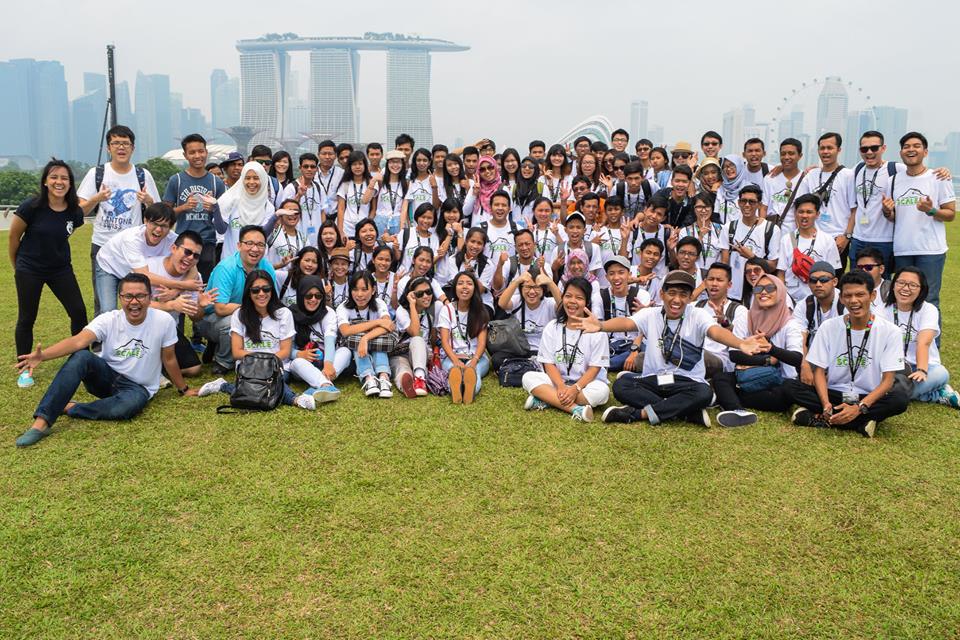 It started out with a modest selection of students and was confined to just two ASEAN countries. TFSCALE 2015 marked a new milestone with the inclusion of Myanmar into its ranks. It started as a leadership exchange programme for young people, with the key objective to learn from each other and come up with innovative projects and ideas that can help indigenous communities.
Kicking off the inbound programme, the first leg saw a total of 75 scholars from Cambodia, Myanmar and Indonesia coming down to Singapore work on specialized projects with 75 Republic Polytechnic (RP) students from three main schools: School of Infocomm (SOI), School of Engineering (SEG) and School of Applied Sciences (SAS). Helping them document the process by writing articles, taking photos and videos are 12 embedded student journalists from Centre for Enterprise and Communication (CEC).
From the time they arrived on 5th October, the TF scholars from ASEAN have hit the ground running – by working extensively on their respective projects – which ranged from coming up with a chip that can sense movement to help keep track of frail elderly, to coming up with ideas for sustainable sources of water and energy. All these projects will be tested or delivered in a practical setting when the Singaporean students head to the various countries during the outbound portion of the trip in March 2016.
Dr Mervyn Yeo Vee Min, 39, a Biomedical Science lecturer from SAS said: "As the students are immersed in the 3-week inbound programme, they get to learn more about Singapore, be it culture, language, as well as technology. It was our aim to allow good contact time for students to learn and experience new technology in various industries and how they are applied to enhance efficiency and innovation."
In order to get their understanding up to speed, the students went to various key industries – like the NEWater plant, an old folks home and Singapore Discovery Centre.
"I want to take the things from Singapore and bring them with me," said Ban Teav, 18, a Cambodian student. "NEWater is so useful. I want to recycle water to help my community in Cambodia."
Not all work and no play
The spirit of cultural exchange was one of the key objectives of TF Scale and the overseas scholars spent a sizeable amount of time exploring Singapore with the local students. For many, this was their first time in Singapore and they marveled at what a clean, green and orderly city it was. Students also enjoyed the key tourists' sites like Marina Barrage, Marina Bay Sands and Resorts World Sentosa.
"When I visited Marina Bay, I felt inspired to be a better engineer," said Fauzan Ali, 21, an Indonesian student. "I am very interested in Engineering so when I look at the tall buildings that are built, I want to also go back to Indonesia and learn how to build the buildings there as amazing as the buildings here in Singapore."
It was safe to say that beyond the projects that the students worked hard on, the enduring takeaways were in the friendships forged. Throughout the three weeks, there were lots of exchanges, meals and laughter. Something many scholars will remember about their time here.
Rahadyan Anom, 21, an Indonesian student said: "The most unforgettable moment is when I met my new friends here. We did some activities together and now we are like a family."
Here's the full special edition newsletter of TFSCALE 2015:
TFSCALE1