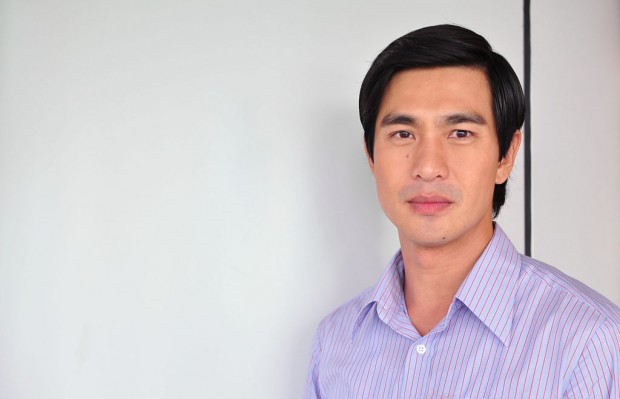 He is no stranger to the entertainment industry after starring in numerous blockbuster dramas locally and abroad for over 18 years. Having won the Best Actor award at the recent Star Awards, this veteran actor is now going back to his roots.
Singaporean actor Pierre Png, 40, will star in the upcoming second season of Channel 5's Mata Mata, a drama series set in post-independent Singapore in the 1970s. It's an era that the actor is familiar with, leading him to call this a "full circle" moment in his career.
"I started my acting career with a movie called Forever Fever," Png explained. "It was my debut in the entertainment industry and it was set in the 70s, and now I am back in the 70s in a TV drama." He added that he likes anything that has to do with nostalgia.
The actor of Peranakan descent has also gone back to his English-medium roots, after 13 years of crossing over to Channel 8.
There, he starred in a slew of shows including Holland V, The Little Nyonya and the recent The Journey: A Voyage that bagged him the Star Award. Png said: "I needed to go through the training on Channel 8; the fast-paced environment and the scripts being changed here and there, and just everything happening so fast and so precisely so that when I come back on Channel 5, I am on top of my game."
Even though he has come a long way since he first started out, Png seems untainted by fame. He was all smiles throughout the interview with The Republican Post and made an earnest effort to remember his interviewer's name. This, despite him admitting that being in social situations wasn't his strongest suit.
Png said his lack of comfort with strangers is something he shares in common with his Mata Mata character, Peter Bay.
"We are quite anti-social and we only do things when we are confident or if we feel like doing it," he explained with a smile. "Believe it or not I am very socially awkward when it comes to people that I am not familiar with. I am only comfortable at home or if I am in character."
Despite having ventured into other businesses such as his own floral company, Belmont Flora, and a beauty and spa centre, Png's first love remains acting. He has given the responsibility of the businesses to his wife and former actress, Andrea De Cruz, in order to focus on his skills as a thespian.
He said: "I just want to concentrate on my career and constantly hone my craft and hopefully get better at it. I will be in this industry for as long as people still want to see me".
Catch Pierre Png in the new season of Mata Mata, which premieres on Channel 5 on Sept 1 at 8pm.
Watch this space for more stories on the cast of Mata Mata and The Noose.