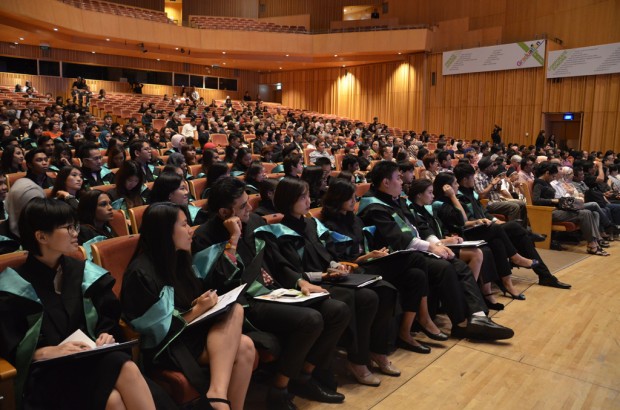 Republic Polytechnic (RP) has a lot to be proud of this year. Two graduates were accepted into NUS medical school, one achieved a perfect score and a lot more stories of sheer grit and determination were heard.
At its ninth graduation ceremony on 19th of May, guest-of-honour Mr Lawrence Wong, Minister for Culture, Community and Youth and Second Minister for Communications and Information was present to grace the event and made a speech to remind graduates to have resilience, passion and care for others.
In an exclusive interview with the Republican Post, Minister Lawrence Wong highlighted graduates who distinguished themselves by doing well both academically and in their other pursuits.
"Students such as Isabelle, Kenneth and King Yi have all distinguished themselves and done very well not just academically, but also in their other pursuits – be it sports, contributions to society or overcoming their own individual challenges and adversities," he said. "It's very inspiring to see all the graduands and I'm sure there are many others with many inspiring stories."
Related Story

Also making his keynote speech on day one of RP's graduation ceremony was Mr Yeo Li Pheow, Principal and CEO of Republic Polytechnic, who shared the three ingredients to achieve success: embrace change, embrace opportunity and always keep an open mind.
And this embracing change is something that Mr Juan Enrico Cacho Feliciano knows clearly about. Living alone in Singapore, 'roller-coaster' was the word he used to describe his journey in RP as a Micro and Nanotechnology student.
"I live alone, and sometimes I just want to pack my bags and head home," said the Ngee Ann Kongsi award winner. "But my passion and motivation to contribute something meaningful in the engineering industry enabled me to push myself further and do well."
With a perfect 4.0 Grade Point Average (GPA), Juan's success is by no means a walk in the park. Instead, it resonates with Minister Wong's speech.
"You can do well no matter what your circumstances are, if you are resilient and work hard."
Amidst the 4,430 graduands who were conferred diplomas this year, 14 valedictorians delivered their speeches over the week-long ceremony.
For more stories on our graduands, click Final Graduation Pull-Out or view our graduation video