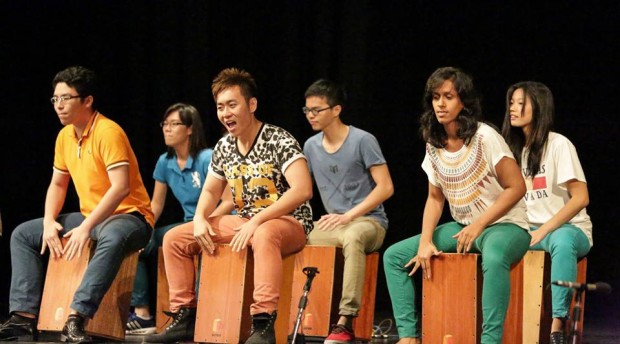 The crowds who turned up at the BOX' OUT 2014 cajon festival on Aug 31 at the Ground Theatre in *SCAPE received a rather unusual goodie bag at the door – it was filled with blindfolds and ear plugs.The audience wasn't going to be just passive spectators at this event, and these items in the bag would soon be put to good use.
The Cajon Society, under the auspices of BEAT'A BOX, a social enterprise group that presented the festival, used music to raise awareness of special needs individuals by letting the audience step in the shoes of the hearing and visually impaired in society. Around 400 attendees from the public were present at the evening session and 1,000 invited guests attended the day session.
The evening kicked off with a group of visually and hearing impaired performers ranging from young to old performing with the cajon, a box-shaped percussion instrument that is beaten with hands and fingers. The audience, who were also seated on cajons, then got a piece of the action, as they were encouraged to play the instrument but with their eyes or ears covered.
Republic Polytechnic student Nur Humaira Bte Abdul Wahab, 19, was one of those whose eyes were covered while playing the cajon. The second-year Mass Communication student said: "I can really visualize being blind when playing the cajon blindfolded – I do not know where to smack the cajon. I really look up to these visually impaired performers. This event really shows that music is one language for everyone."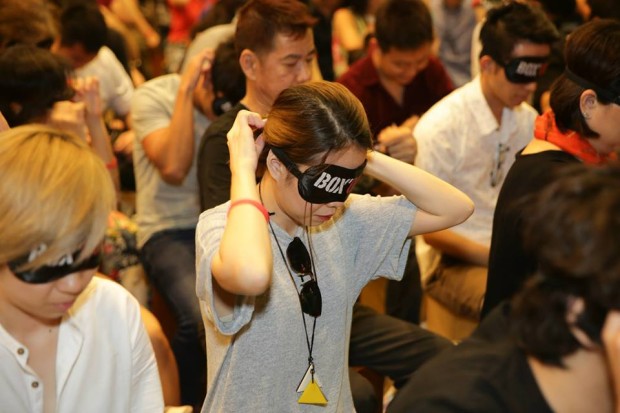 Joby Daniel, 21, a student from MDIS, reflected on his experience after playing with earplugs on: "I really feel fortunate after this event and made me able to empathize with the hearing impaired in society."
Other cajon performances included seasoned players from BEAT'A BOX and home-grown talents such as SASS and Extraordinary Horizons. Mr Arthur Choo, the founder and managing director of BEAT'A BOX Group, said: "Playing the cajon in different genres such as pop, rock, jazz and even classical is one of the fundamental ways to bring people together. This can also be used as a platform by local talent to go into the music industry."
A record was also created that night – 431 cajons were played in a single session, setting a new entry in the Singapore Book Of Records.