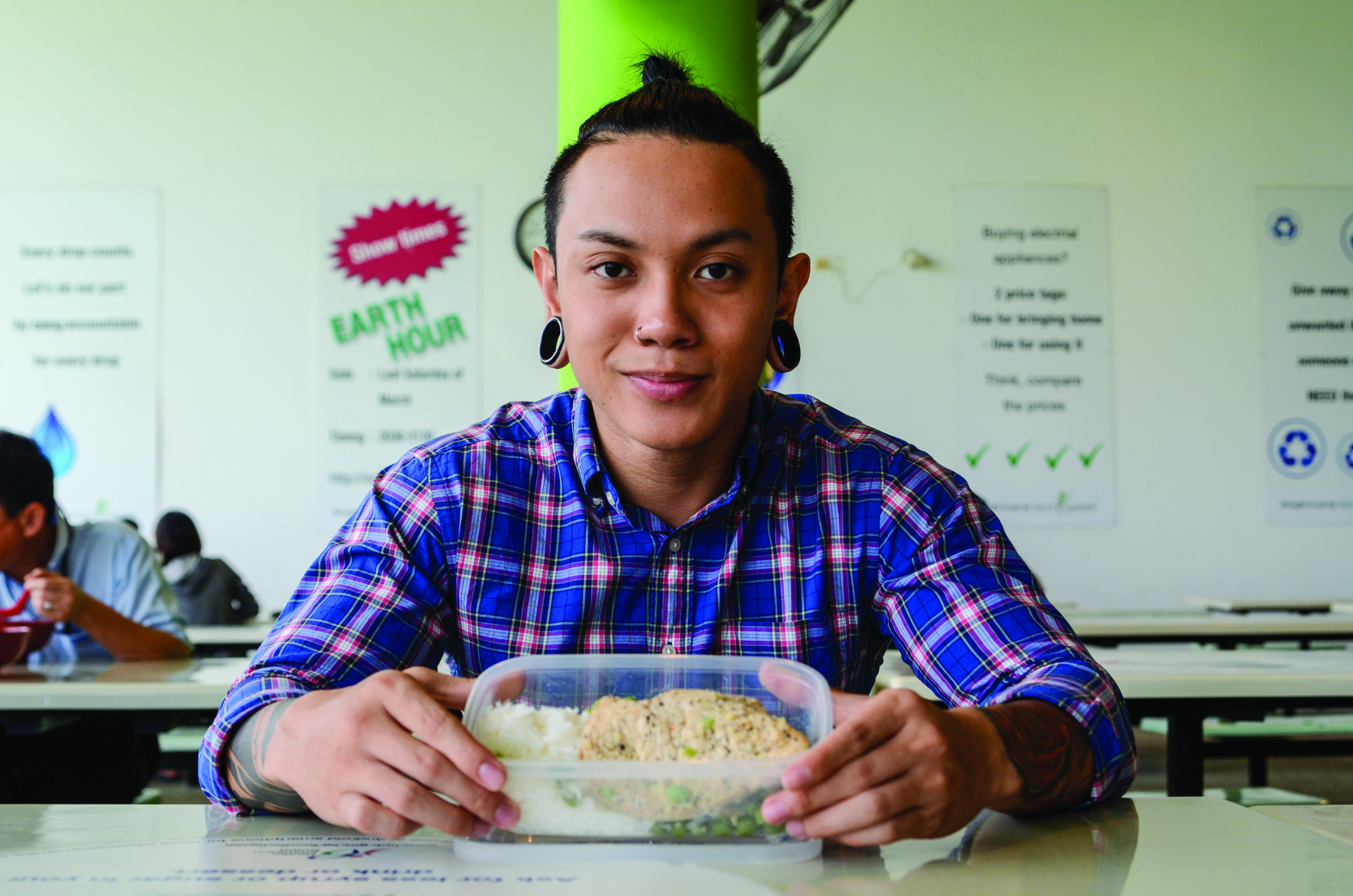 Marcus Chew goes great lengths to stay in shape. Besides exercise and weightlifting, he places much emphasis on his diet, to the point of counting calories.
The sound of weights clunking, along with deep grunts from men and women can be heard throughout the gym. As you walk past the water cooler there's a lingering smell of sweat and Gatorade in the air.
"One more!" shouts his workout partner. With his hair pulled back into a man bun, Marcus Chew makes his final repetition at the squat station before doing some stretches against a rack. He then takes a short break before beginning his next set.
Marcus is a year two student studying Diploma in Health Service Management and spends a lot of time in the gym here in RP. It is his love for bodybuilding competitions that motivates him to keep fit. In January this year, he was placed runner up in the ON Fitness Model Search held in RP. Now, Marcus is preparing for his next competition, Physique War.
However, his preparation does not only focus on bodybuilding. A large amount of his effort goes into counting the number of calories he consumes on a daily basis.
"The hardest part about bodybuilding is your diet," explained Marcus. In preparation for the ON Fitness Model Search, Marcus had to "go clean" with zero carbohydrates, fats and sodium content for 10 days. His only source of energy was protein.
Most meals had to be bland. "I had cut my chicken breasts and thrown it into boiling water. I ate it as it was. No pepper, no sauce, nothing," said Marcus. His preparation for the competition pushed him to his limits.
The food in RP may not be suitable for his diet but Marcus makes do with what is available. "On my "bulking" days, I eat any kind of meal as long as it is high in protein. An example is chicken chop spaghetti or chicken breast rice with extra chicken and half boiled eggs," elaborated Marcus. During his "cutting" period however, he brings his own food because there are not enough options on campus.
Marcus also uses an app called "myfitnesspal" to count his calories. He keys in any meal that he has consumed, inclusive of drinks, and it will automatically record the total number of nutrients and calories found.
However, Marcus takes one cheat day a week, three times a month. "Among all three cheat meals, one meal is allowed to be fast food whereas the rest are meals such as teriyaki chicken and deep fried chicken cutlet," said Marcus.
Support Crew
There are times when Marcus wants to give up. However, his supportive girlfriend recently started counting calories for him as well, in order to encourage him.
"She is very supportive with whatever I have to do to boost my training. Sometimes she even finds out nutrients found in different kinds of food to help me decide what I can or cannot eat," said Marcus. "I know dieting is not her interest and that she is doing it out of love," blushed Marcus.
Also supporting him are his friends, the Jacked Monkeys Crew. The crew consists of a group of guys who are passionate about bodybuilding.
"We did not know each other at first but we were always at the same gym training and from there we formed a bodybuilding crew," said Marcus. The crew has members who compete in different fitness competitions involving physique, bodybuilding and powerlifting.
Marcus credits his success to the support he has received. "If it wasn't for them, I would not be where I am now.''
Jacked Diet:
800 g of chicken breasts for the day (about 280g of protein)
1 bowl of rice (80g of carbs)
Pre-workout meal: 4 hard-boiled eggs and 3 chicken breasts (721 calories/109g of protein)
Post workout meal (dinner): Snack bar, canned tuna and 2 scoops of protein powder shake. (531 calories/72g of protein)
After 6pm, no carbs
Only when hungry: Oatmeal and two tablespoons of peanut butter. (348 calories/12g protein)