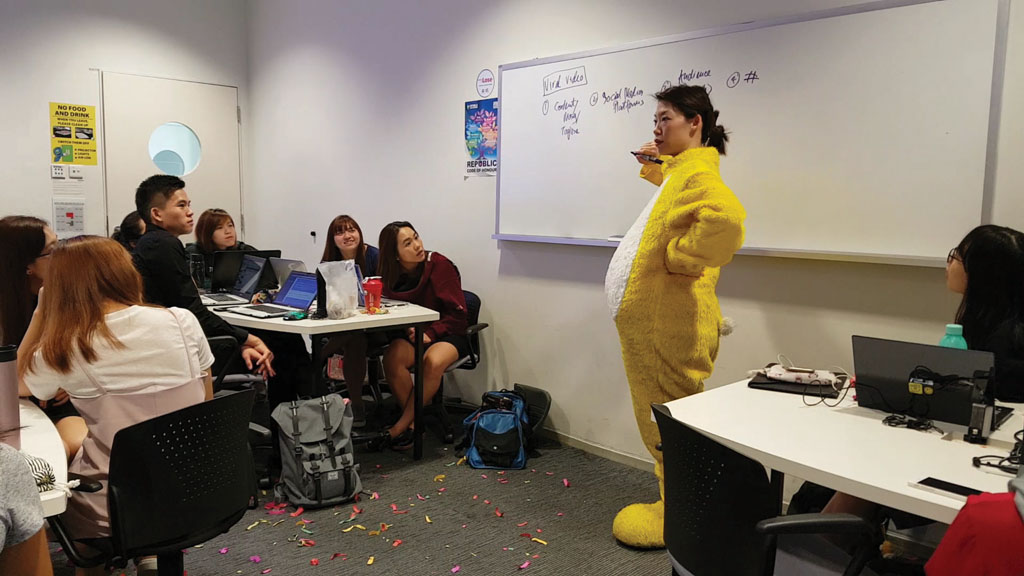 Case studies and worksheets are a lecturer's daily resources to teach a class. But Ms Teeny Teh would go a step further.
In January, the Diploma in Integrated Events Management lecturer showed up in class wearing a bunny mascot costume. Along with her husband, the couple danced to K-pop girl group 2NE1 song I Am The Best to louds cheers and laughter from those present. The video of the dance went viral on the Internet, where it garnered over 128,000 views and was shared close to 2,000 times.
Last year, Ms Teh wore a chicken costume to class and danced to Big Bang's Bang Bang Bang. The post garnered 20,000 views on Facebook.
Other videos of her entering the class as a witch, horse and even in a gorilla costume have been shared widely across different social media platforms.
While previous acts were solo performances, Ms Teh felt she needed a partner for her latest one. "If I did it alone again by myself, it probably won't go viral because it's not bigger, it's not better and it's not more exciting so I needed somebody else to help," she said.
Initially, she wanted to get her colleague to be her dancing partner since both of them teach the same module. However, the lecturer had an injured knee and was not able to proceed with the plan.
Ms Teh then decided to rope in her husband, Mr Christian Lee. They spent almost two months to practise the dance routine. "We would practice at night after our kids go to sleep. And because we are not very good dancers, we had to spend a little bit more time practicing," said Ms Teh.
Ng Wan Ling, the student who captured and posted the video on social media, knew about her lecturer's plan beforehand.
The 20-year-old said: "I was the first one to know about the plan. But I was shocked that she actually brought her husband along too. Because I thought she will just do it alone like the previous times."I kinda had arrangements with her beforehand. So I was the first one in class to know about the plansI kinda had arrangements with her beforehand. So I was the first one in class to know about the plans
Though it all seemed like fun and games, these wacky performances were part of the learning objectives of the class. Through the videos, Ms Teh wanted to share about various marketing strategies that can work in events marketing.
For instance, the recent video of the dancing bunnies ended with a message: In events, teamwork makes the dream work.
Choosing to dance to 2NE1's I Am The Best was no random selection. "Everyone is talking about it (2NE1) now," said Ms Teh. "We teach them that they must look at what is trendy and try to leverage on that. So maybe that one also helped with the viral effect."
As the video had gone viral, Ms Teh was able to connect with her ex-students. She said that some even came back to visit while others contacted her through Facebook.
Jacson Juay, 19, a Diploma in Customer Relationship & Service Management student who is currently on internship, said: "She helps us learn in the best possible way and that's why I've always tried to not miss any of her lessons. I've definitely missed her lessons."