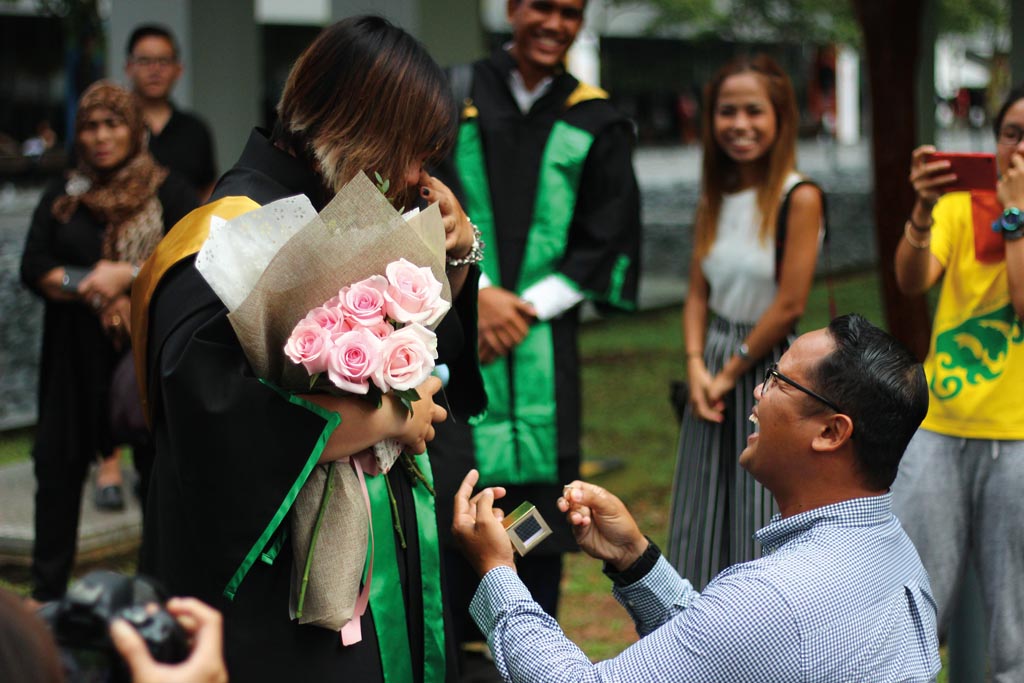 While many recent graduates from the School Leisure were socialising among themselves at the reception at South Agora during the week-long RP Graduation Ceremony, Germaine Ong broke down in tears outside the hall.
The 25-year-old's boyfriend, Mr Muhammad Razif Mohamed Sarib, had gone down on his knees and asked her to marry him.
Cheered on by many friends, Germaine's answer was an unequivocal yes. The Diploma in Outdoor and Adventure Learning graduate said: "I knew a proposal was coming because he said he has gotten a ring but I didn't know when, where, how it was going to happen."
The pair had met in camp at St. John Island when Germaine was working as a freelance outdoor instructor for Mr Muhammad Razif. They soon fell in love. She liked his humour, while he loved the way she cared for him.
After five years dating, Mr Muhammad Razif started planning for the proposal last year when he approached her friends. By early this year, he had of Sports, Health and drawn up a plan and decided to notify Germaine's lecturers about the occasion.
Mr Muhammad Razif, 32, said: "She said I wasn't romantic for five years when we're together. So I wanted to do something big and different. I definitely needed her friends to be around her so it is always best to do it when there is already a celebration going on."
When the big day arrived on May 5, Mr Muhammad Razif brought Germaine out of the reception, saying he wanted them wanted to take pictures outside of South Agora.
Germaine's friends then appeared and started giving her roses while some others were holding onto a message which said, "Will you marry me". Mr Muhammad Razif then got down on his knees and brought out the engagement ring.
A video of the proposal, filmed by Mr Gabriel Lean from Temasek Polytechnic, went viral on the Internet. Uploaded on Twitter, it has been shared over 4,000 times.
When asked if there was anything he wished he could have been done better, Mr Muhammad Razif said: "That was already the best that could be done. I am a reserved person so for me to take that step and to do the proposal in such a big way, it took a lot from me."
The couple plans to hold an official wedding ceremony in the next year. Germaine, who is looking for a job and planning to convert to Islam before her big day, said: "It is going to be an exciting journey with my annoying other half. Till fatness do us part."