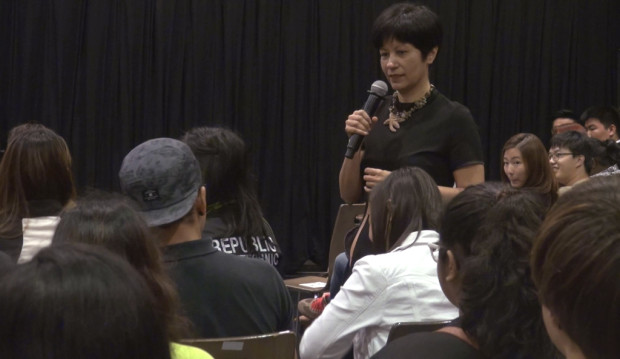 The need for a degree in Singapore may not be so indispensible anymore, at least
according to Miss Indranee Rajah, Senior Minister of State for Law and Education.
Miss Indranee was in Republic Polytechnic (RP) at a town hall event to attend a dialogue session involving student ambassadors from RP as she gathered responses to the Applied Study in Polytechnics and ITE Review (ASPIRE) committee.
The 51-year-old Member of Parliament, who led the committee tasked with improving the quality of education and job prospects of ITE and polytechnic students, found time to speak to The Republican Post as she shared her views on the need for a degree here.
"It's correct that for the longest time that has been the perception that is the only path but as employers will tell you that's not all they look for. There are some jobs and some industries where obviously the degree is relevant and necessary," she said when asked about how things have changed.
"There are some other jobs where you may not need the degree immediately or you may not need it at all," she added.
One of the committee's 10 recommendations involves helping students make more informed education and career choices. To that end, the committee proposed placing more trained career guidance officers at polytechnics and ITE college to provide counselling session and activities. The Government, which has accepted the recommendations, believes the proposals will provide more opportunities for Singaporeans to realise their potential.
Woon Jie Min, 18, a Diploma in Mass Communication student was at the town hall dialogue session and had her sights set on a degree. "I feel that there is still a need for a degree in Singapore, especially now with the competitive job sector, I feel that having a degree will help boost my resume," said Jie Min
When The Republican Post spoke to her mother, Mrs May Lai, an accountant, she echoed her daughter's sentiments and felt that a degree represented a full circle in an individual's education.
Mrs Lai said: "During our children's kindergarten graduation, they wore a graduation
cap. They need to wear a graduation cap during their university graduation days too, and then their education cycle will be considered as complete."
She continued: "I personally feel that being a degree holder will give you the edge over others."
It was just this mindset that ASPIRE has to address. Miss Indranee, however, believed an alternative pathway is vital for the nation.
"After graduation from Polytechnic you work and you can either progress just based on the skills and experience you learned on the job or you can supplement this with professional certifications or supplement it by going for further studies. There
are multiple pathways and not one size fits all," she said.