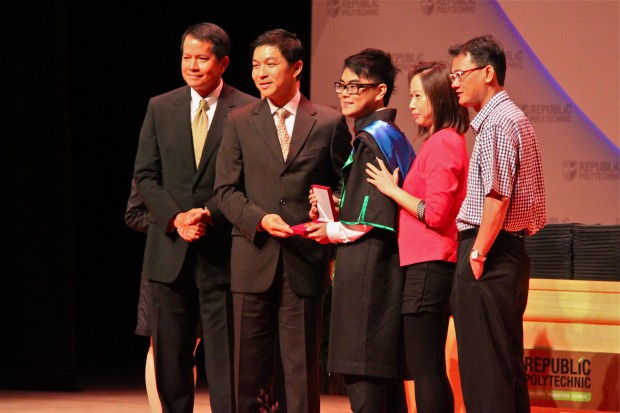 Thousands donned their gowns and graduated with family and friends cheering them on. A select few were medal winners. We caught up with one such graduate.
When Xavier Tan Khen Leong was called up for an interview for the Tay Eng Soon Gold Medal award, given to top polytechnic graduates who come through the Institute of Technical Education (ITE) route, he was sure he would not be shortlisted, much less win the award.
Medal winners usually have an impressive list of leadership positions and a slew of Co-Curricular Activities (CCA) to show for. But Xavier's resume was painfully empty. As he explained to the panel before him, he had a good reason: he needed to work to support himself and help out with the family's expenses.
"My mum was raising three children alone and that I was old enough to take care of my own expenses. But that meant I couldn't handle having anything more than work and studying,'' said the 22-year-old who graduated with a Diploma in Aerospace Avionics earning a 3.92 grade point average. He has a place at the Nanyang Technological University (NTU) to study engineering.
From the time he came to RP, Xavier had a fairly punishing routine: Right after school, he headed to Northpoint Shopping Centre's game arcade, Timezone to start his shift at 5.30pm, ending the day at 10.30pm. On weekends he pulled a full shift and had a single day off – either a Saturday or a Sunday.
"I had to make sacrifices. I slept less and definitely couldn't go out with my friends. But I had no choice. I needed the money for my meals, transport, clothes, everything,'' said the oldest of three children. He has a brother, 14 and sister, 12 and their mum is a sales executive in a jewellery company.
Seeing the Light
Xavier's journey in life has not been a smooth one. Things started going downhill when his parents split up when he was about 13. The tumult of his home life, the sadness of being "left out" led him to slip up in school.
"I managed to get into Chung Cheng High but I started failing badly in secondary 2 as I started to play truant.'' He passed his O-levels with an aggregate of 28 and that was when it dawned on him that he was stuck. With only a nursing course in poly on offer, he decided to do engineering in the ITE. While there, Xavier continued to struggle. At the end of his first year, he managed a measly 1.4 GPA. However, he found a reason to pull up his socks in his second year.
"I met someone who motivated and coached me, so I started putting in effort, and seeing the result made me feel good. I climbed up to a GPA of 3.4, and received a Good Progress award," he said, declining to reveal more about the girl who helped him. They eventually parted ways.
But once he started doing well, there was no turning back. "One of the positive traits about me is that I am very determined. And when I started to see results, I felt good and wanted to keep having this feeling of achievement.''
Finding Meaning in RP
Xavier admits that Aerospace Avionics was not his first choice but he learnt to love what he was enrolled in. "I told myself to try to fit in because this time I was finally given a chance to go to polytechnic," he says.
The highlight for him was to land an internship with Rockwell Collins, an Avionics company, where he did so well they extended his stint.
Just as he passes another milestone in his life, Xavier already has plans for his future. "In future I would like to take some leadership courses and hone my management skills, and hopefully I can lead a team."
The bright young man sees some dark clouds on his horizon. He worries about paying for his university fees but between now and then, is working hard to squirrel away money. But he is sure that he can overcome the odds. After all, he has been doing it most of his life.