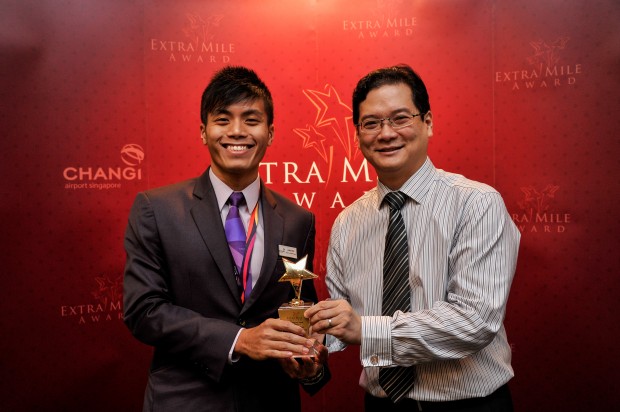 When he was a student in Republic Polytechnic's Diploma in Civil Aviation, James Tan Hua Yong was like most strong students – he excelled in class, was a good team mate, and also did well in his IG – Canoeing. He was made team captain when he was in his second year and won six medals in various competitions, netting the Sports Excellence Awards in 2012 and 2013.
So it came as little surprise to his facilitators that he landed a golden opportunity with an internship at Changi Airport. As a duty terminal manager, his job was to ensure a smooth experience for passengers waiting to board flights and dealing with complications that often came up. Little did he know however that this internship would be a real eye-opener into the kind of work he wanted to do because it gave him a real sense of purpose, helping people.
James was so impressive during his stint that he became the first intern to be hired full-time by Changi Airport Group since the commencement of its Youth Ambassador
Programme, beating 35 interns from the four other local polytechnics.
Perhaps a hallmark of James's work ethic would be his fierce commitment to his work, which manifests in how he goes out of his way to help those at the airport. Something which might have been a deciding factor that led to his hiring.
"During my internship, there was an old man wandering about in our office area. I was called in to assist him and found that he had soiled his pants. So, I helped him in changing his pants and packed up his soiled clothes before bringing him to the airport police. In the end, we found out that he was a missing person from a report made at the Ang Mo Kio police station. We eventually managed to reunite him with his family, which I thought was a very meaningful thing to do, it was an amazing feeling,'' said James, 26 who graduated from Hillgrove Secondary school in 2010.
Another common group of people he came across was old folk who lost their way. "Sometimes, they almost missed their flight but we rushed to the plane and requested the pilot to hold until the passengers got on board, and thankfully they managed to catch their flight in the end,'' he said.
These and other instances of him going the extra mile is what that led to James becoming a recipient of the Extra Mile Award in 2012 and 2013, an award given to employees who have shown commendable and uncompromising service.
'I'm happy to get the awards, but I don't want to become too proud because of it,'' said James.
Although appreciative of the awards, James's excellence at work is not driven by the prospect of accolades, but rather by a simple and innate passion for service.
James' supervisor at the Changi Airport Group was Ms Rachel Ling who singled his ability to problem-solve as one of his best strengths.
"James is very service-oriented and has a hands-on approach when handling incidents. He takes the initiative to acquire technical knowledge of airport operations.''
She added that in a service industry like airport operations, his well-mannered likeability is a big plus. "He has shown himself to be responsible for his work and he is willing to take up additional roles if requested."
James is a good example of how the polytechnics train students to be ready for the workforce, a topic at the heart of the ASPIRE committee reviewing polytechnic and ITE education. For more information, go to http://www.moe.gov.sg/aspire/