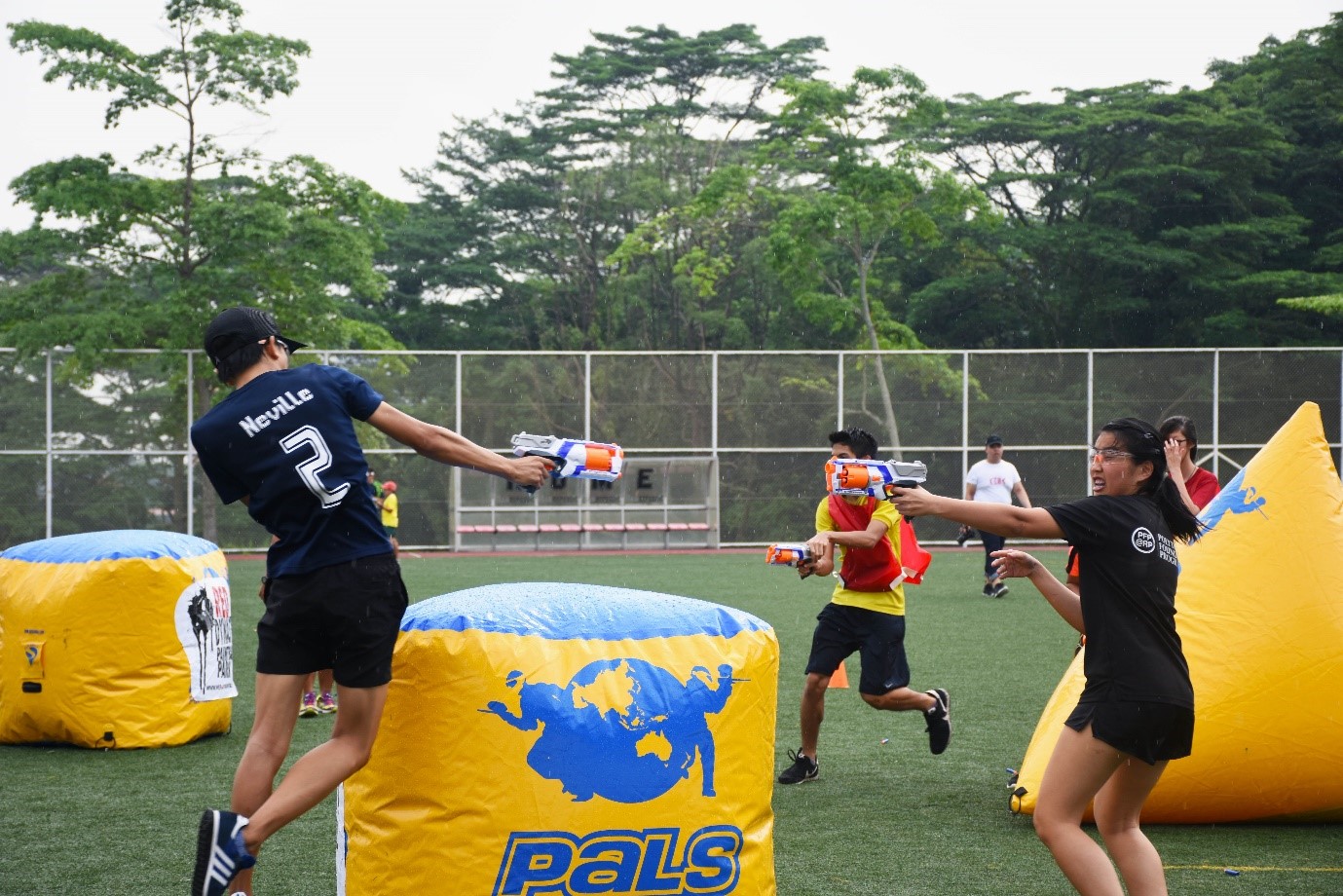 Current Polytechnic Foundation Programme (PFP) students at Republic Polytechnic were among the first to practice their shooting skills with nerf guns for their inter-class games on Jun 1, 2016.
This marked the first time new games were introduced for the students' inter-class games. The new games included nerf guns and inflatable obstacles sponsored by Red Dynasty Paintball Park.
The games were introduced to promote camaraderie amongst students and provided a different experience from their usual games of basketball and football.
Asked about the difference between the nerf gun game and the traditional games, PFP acting programme chair Shereen Ng said: "I guess this is something new and still allows students to work out. There's more of a challenge as compared to regular sports."
Not only did students experience fun whilst playing the nerf gun game, they also spoke of its benefits.
Lim Ze Ling, a PFP Aviation Management student, said: "I learned how to strategise, become a quick thinker and learned more about team work. Friendship bonds are also made stronger after today's game."
Although two types of games were played at the inter-class games, nerf gun appeared to be the favourite among students.
Priscilla Koh Ling Yi, a PFP Environmental Science student, said: "I think they are all tiring to be honest but the nerf gun game was very fun because it is very exciting. There's adrenaline rush."
The students from different classes were split up into three different teams. During the game, they would have to shoot their opponents to "freeze" them and tap on their team members to "unfreeze" them.
The intensity of the game was high as the students had to freeze their opponents whilst making sure that their team members remained unfrozen within a brief time span of three minutes.
PFP students said they were looking forward to other new games. Teo Wee Chien, Bryana, a PFP Integrated Events Management student, hoped there would be "surprises" coming up.
Priscilla also suggested some games. She said: "I think invasion games are fun, maybe steal a flag or something – Team A versus Team B; Team A has to invade Team B's territory to attain the flag. It is similar to nerf gun but the main goal is just to get the flag."