We all know the struggle of finding that special spot to keep our focus as we prepare for our exams. The spot must have sufficient power sockets and be a cosy corner with minimal distractions.
As we approach the End-Semester Examinations, we've sussed out five study venues away from RP. An advisory though: Try to go during off-peak times so as not to hog the seats and the tables.
1.    Piety Bakery & Cafe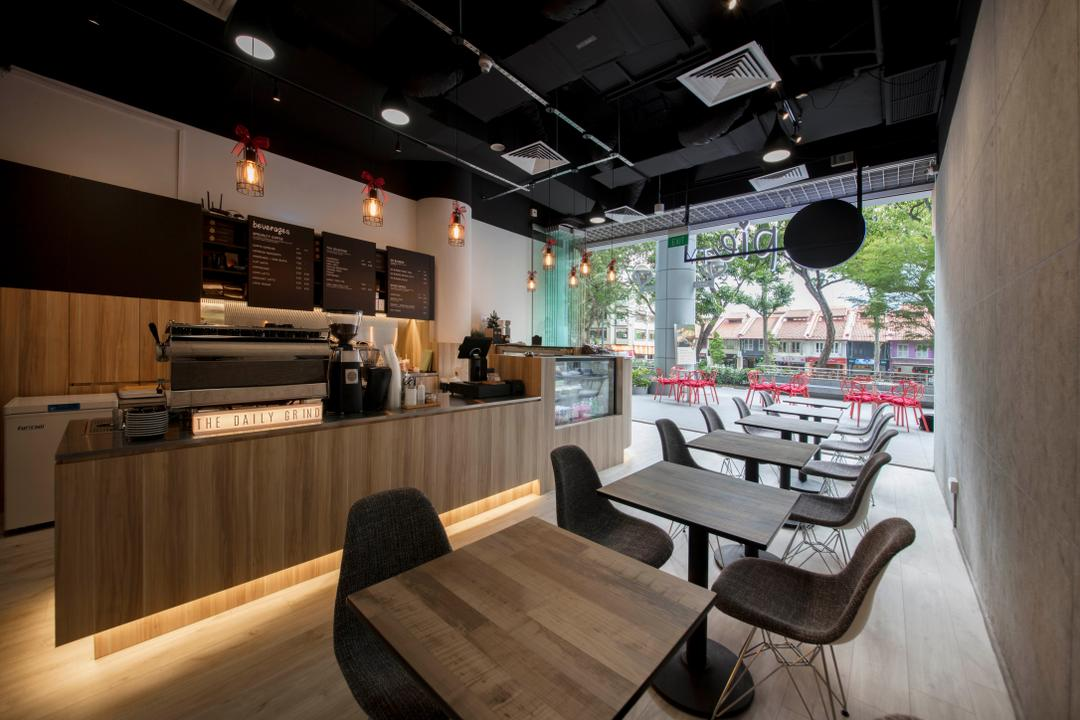 Image Credit: Qanvast
Nestled right along the lobby of The Concourse, Piety Bakery & Cafe is one of the latest additions to the Jalan Besar – Haji Lane myriad of cafes. Boasting a selection of homemade pies and puffs, studying here can definitely cure your hunger pangs as you mug for the exams. Thought it may be crowded during the weekday lunch hour, the cosy atmosphere here on weekends brings about an atmosphere of warmth while you work on your laptops. You can even ask the cafe's friendly staff for access to their WiFi!
Address: 302 Beach Road #01-07, Concourse Skyline, Singapore 199600
Nearest MRT: Nicoll Highway
Opening hours: Mon – Fri: 9AM – 7PM | Sat: 12PM – 5PM | Closed on Sun
2.    Twenty Eight Cafe @ Wilkie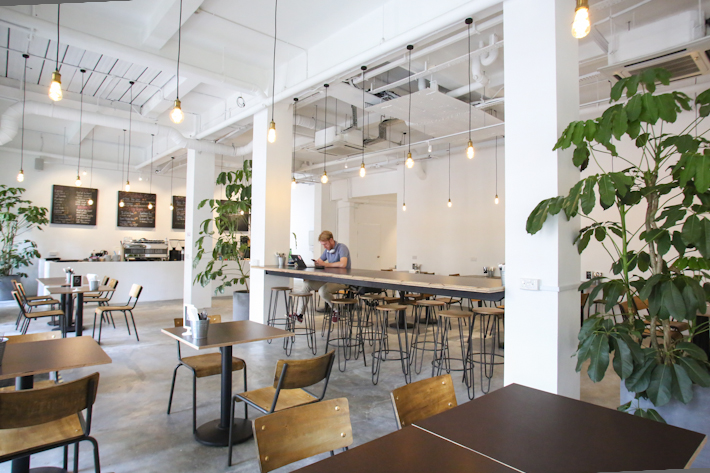 Image credit: Lady Iron Chef
Not to be confused with the Italian restaurant 28 Wilkie, Twenty Eight Cafe @ Wilkie boasts a far more industrial-chic vibe than its neighbour. Serving up classic cafe fares such as Baked Avocados ($22) and the Common Breakfast ($22.90), the cafe also provides its patrons with numerous power sockets – a guarantee that you will be able to stay here to finish up that overdue practice paper for as long as you need.
With minimalist decor and far from the sights and sounds of town, Twenty Eight Cafe @ Wilkie allows you to fully concentrate on your work at hand without being tempted by the numerous shopping bags-touting taitais taking a weekend stroll along Orchard Road.
Address: 28 Wilkie Road, Singapore 228051
Nearest MRT: Dhoby Ghaut
Opening hours: Mon – Fri: 7:30AM – 5PM | Sat – Sun: 8:30AM – 6PM
3. Lee Kong Chian Reference Libraries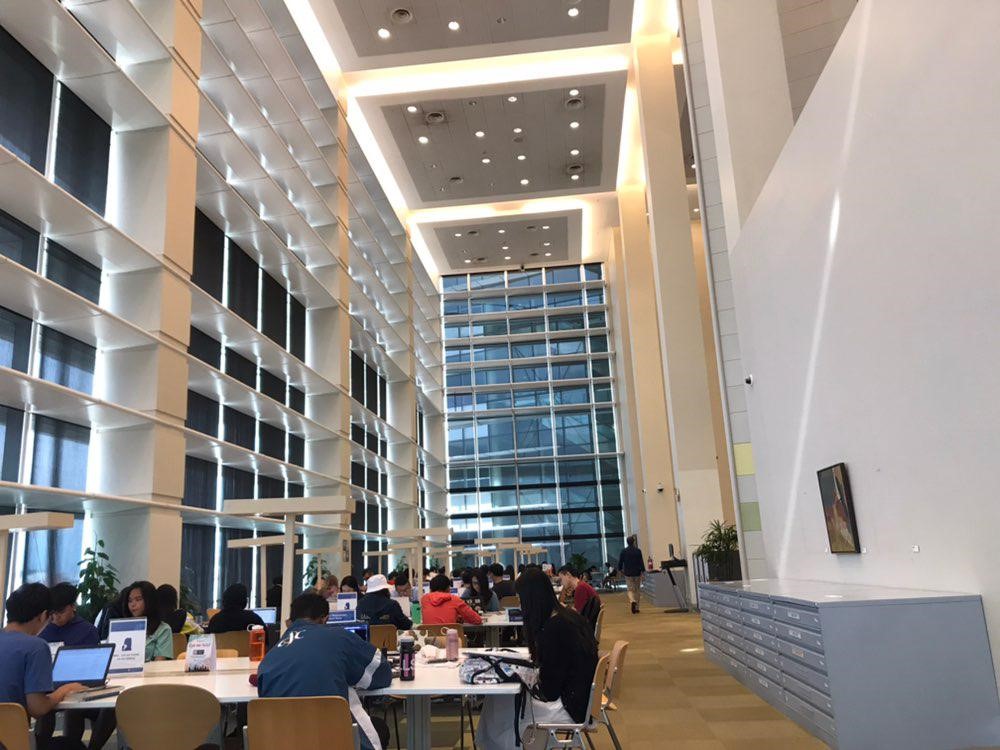 Who could forget the OG of all studying places – The National Library of Singapore. Though countless references have been made, a special mention has to be given to the Lee Kong Chian Reference Libraries.
Spanning across levels 7 to 11, the Lee Kong Chian Reference Libraries have got areas specifically meant for studying out of the Library's study room. This means that pocket sockets are aplenty and you'll definitely get the peace and quiet needed to concentrate on your lecture slides. Nothing here can distract you, other than the sound of the occasional pin drop.
Address: 100 Victoria Street, Singapore 188064
Nearest MRT: Bugis
Opening Hours: Mon – Sun: 10AM – 9PM
4. Starbucks Boutique Store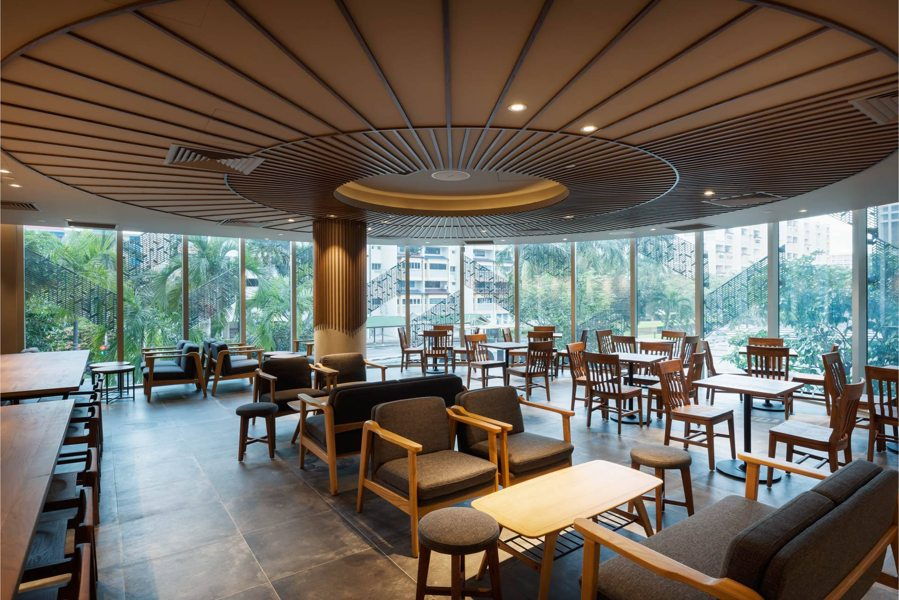 Image credit: Must Share News
As part of Starbucks Singapore's 22nd Anniversary, the newly-opened Starbucks Boutique Store has three appeals: High co-working tables, comfy armchairs, and outdoor-facing tables.
And of course, the coffee is bound to keep you awake. With several new hand-pour brewing methods introduced here, you're bound to find a perfect blend to accompany throughout the study week.
Address: 4 Tampines Central 5, #01-50 Singapore 529510
Nearest MRT: Tampines
Opening hours: Sun – Thurs: 7:30AM – 11PM | Fri – Sun: 24 hours
5. Mellower Coffee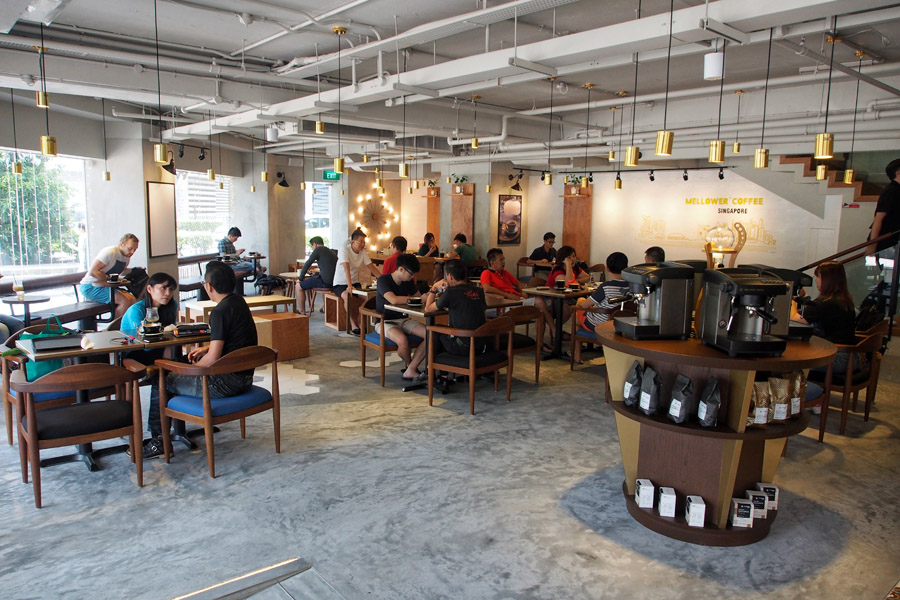 Image credit: Daniel Food Diary
You might have heard about Mellower Coffee as the café is famous for its creations such as the Guinnesspresso ($9.80) – a combination of stout and espresso – or the Sweet Little Rain ($9.80), which boasts a ball of candy floss above a warm cuppa.
Just like the rest of the locations on this list, Mellower Coffee provides its patrons with not only readily-available seats but also power sockets. And if you need a welcome distraction from your work at hand, simply order up their creations and you'll be able to #IGLife away.
Address: 108 Middle Road, #01-01 Singapore 188967
Nearest MRT: Bugis
Opening hours: Mon – Fri: 8AM – 7:30PM | Sat: 9AM – 4:30PM | Closed on Sun