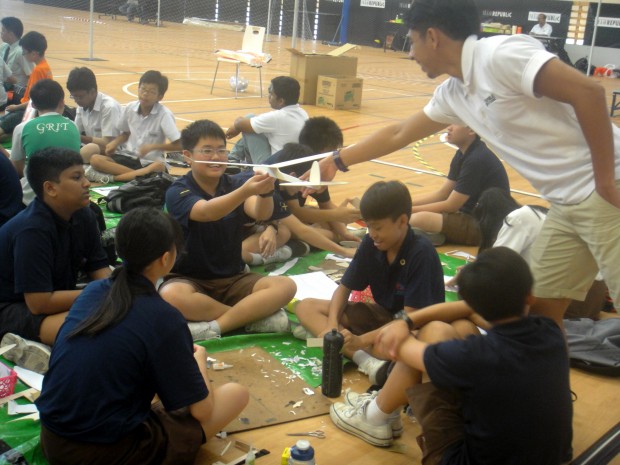 RP's flying-glider competition, GliderFest, was back with a bang this year. Held on 16th October at the Indoor Competition Hall, the competition attracted a total of 17 schools, with 45 teams competing. Organised by the School Of Engineering, it served as a platform for secondary school students to understand the aviation industry better and to promote RP's aerospace diplomas.
The event started with an opening address by Dr. Wang Jianguo, director of the School of Engineering, followed by an introduction to RP's aerospace diplomas. The students attended a hands-on workshop that taught them how to construct a glider from pieces of Balsa wood. When the workshop ended, the students were given time to create their very own glider. Generally, a glider that can fly as far as possible in a straight line had a better chance at winning.
"I felt excited about the competition and thought that it was something new," said Nicole Garcia from Naval Base Secondary School. Several other students expressed the same sentiment as Regent Secondary School's Dion Tan, who said: "I am here for the experience and entertainment.''
Team 25 from North Brooks Secondary School emerged as the champions, followed by Team 11 from Fuchun Secondary School and Team 3 from Bukit View Secondary School. In addition, Team 8 from Evergreen Secondary School was awarded the "Best Aesthetic" prize for their creative designs.
The teachers accompanying the students were also pleased with the competition. Mr Ravin, a teacher who teaches Mathematics and Design and Technology at Woodlands Secondary School, said: "This competition is a good way to arouse interest in the aviation industry and there is a lot of learning taking place."