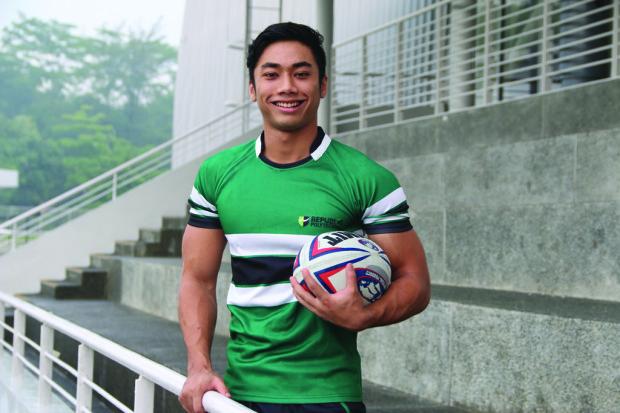 Only professional sportsmen know the punishing nature of pressure. Many overcome it but some are so rattled it temporarily knocks them out. Jay-Hykel Jailani knows exactly what that is like. The Diploma in Sports and Leisure Management graduate found himself dealing with the stress monster in 2007.
He was playing for Saint Andrews Secondary School in the final of the National 'C' Division Championships. Lining up a penalty to get his side back into the match, Jay miscued his kick, resulting in his side losing the tie to their bitter rivals, Anglo-Chinese School (Independent). The manner of the defeat left him so dejected that he walked away from the sport, albeit temporarily. After quitting the Saint Andrews Rugby team when he was in Secondary 2, the former Tampines Rovers Under-16 player turned to football, going on to represent the school team in the B Division football championships.
However, fate had other things in mind for Jay. After completing his O-levels and entering RP (in 2011), he came face to face with his first love again. RP had a strong rugby team and needed good players. It helped that he had some old friends there too.
"I saw old friends I played rugby with and against previously like Marah Ishraf and Khor Jia Jun and I just wanted to get back to the fun times," the 20-year-old explained with a smile. "RP definitely made me fall in love with rugby again."
And fall in love he did. Jay went on to play a pivotal part of the all-conquering RP rugby team that won three straight Polytechnic-Institute of Technical Education (POL-ITE) Games titles from 2011 to 2013.
There was more to come. In March this year, he was selected to be part of the Asia Pacific Dragons at the prestigious Hong Kong 10s tournament, where he played alongside top players like former Wallaby George Smith and Samoan Alesana Tuilagi.
"I was taking care of my granddad when I received a call from the Singapore Rugby Union. I thought it was a joke and I had to pinch myself," recalled the Saint Andrew's Secondary School alumnus. He is training with the national team in preparation for the SEA Games, but plays in an amateur league for a club called Saints RFC.
Jay started all five games for the Dragons' developmental team before losing out in the final to the senior squad in what he described as a fruitful and eye-opening experience.
"The level of quality and professionalism they had was something you can't describe and I hope to replicate that in my game," he said.
Passionate about the local rugby scene, the speedy winger, who counts former New Zealand star Douglas Howlett as his idol, championed the need for more trials and opportunities for younger players. "This will allow more players to know that there is a future in rugby," he said.
Having made his international debut against the United Arab Emirates in April, the stage is set for Jay to parade his explosive pace and win over new fans of rugby in front of the massive crowd at the spanking new National Stadium next year at the SEA Games.
"The SEA Games is one of the highest achievements a rugby player can get in Singapore and the team and I definitely want to put on a good show and show our calibre in front of a large crowd," he said enthusiastically. This time, having conquered the burden of high pressure games, he is more than ready to take on the challenge of representing his nation in what is the biggest competition in Southeast Asia.