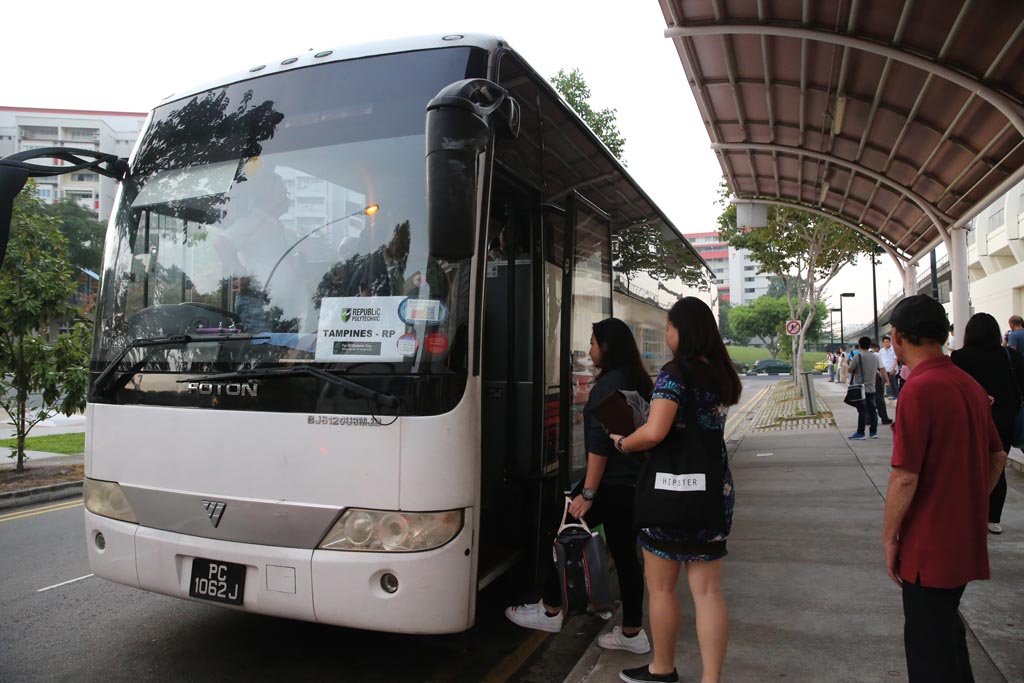 An additional bus will be added to the free one-way shuttle service running between Tampines and Republic Polytechnic.
The increase in frequency comes after the successful launch of a trial in April. Under the initiative, students can board free 45-seater buses from Sengkang and Tampines to RP. There were nine buses – five from Tampines and four from Sengkang –plying the route when the trial started.
In response to queries from The Republican Post, Dr Soh Thian Ping, Deputy Director of the Office of Student Support at RP, said the pick-up rate has been "good for both locations". The buses from Tampines were all full while the buses from Sengkang were almost full, he added.
"There is a higher demand for Tampines and students taking the shuttle bus from Tampines are requesting to increase the frequency," said Dr Soh. "RP will increase the frequency from 5 to 6 for Tampines and students are reminded not to wait beyond the departure timing of the last bus."
The two locations have been chosen for the trial as students living in the east and north-eastern part of Singapore have no direct MRT access to Woodlands. In addition, the public buses – services 168 & 161 – are usually very crowded during morning peak periods, especially at those bus stops in the vicinity of Sengkang and Tampines MRT stations.
Dr Soh said: "This service will help the students (especially the incoming Year 1s) from the two identified locations overcome their transportation challenges, and adjust to the new learning environment smoothly."
Students who have been taking the free shuttle from Tampines welcomed RP's move to increase the bus frequency.
Nurrul Hidayu, a first-year Infocomm Security Management student, said she often has to queue for the shuttle bus as early as 6.50am – five minutes before the first bus leaves for RP. "But I have no chance to take the shuttle bus since the queue is very long and I am only left with the last bus (at 7.15am)," she said.
Lee Xuan Liang, a second-year Social Enterprise Management student, added: "By increasing the frequency, more students will be able to reach school on time as I noticed that when I board the last shuttle bus, there were students who were unable to board the (full) bus."
Dr Soh said RP is monitoring the situation and will make some "fine adjustment" to the schedule. "The updated schedule will be available at our intranet site," he added.
More details about the shuttle bus service such as pickup point areas and bus frequencies are available on www.rp.edu.sg/shuttlebus