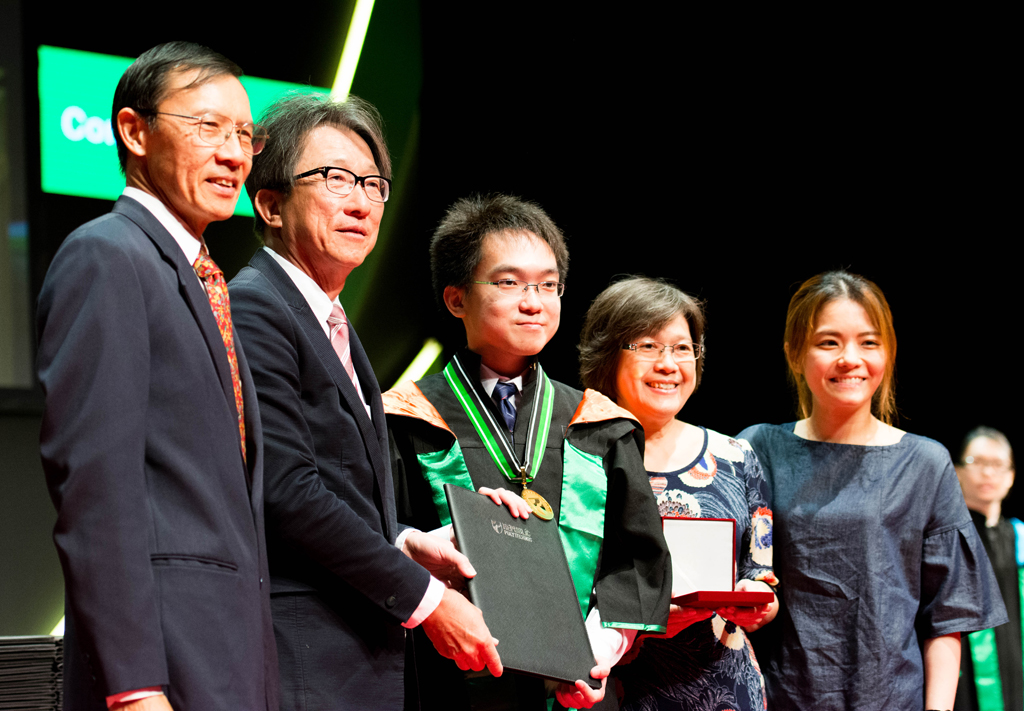 For Tnay Teng Long, graduation was a bitter-sweet moment. The 29-year-old was one of School of Infocomm's three top students and was also awarded the Tay Eng Soon Gold Medal, given to outstanding graduates who were previously from an Institute
of Technical Education (ITE).
But Tnay's father died from a heart attack on April 19 2017, two weeks before the graduation ceremony.
"He could not attend this ceremony in person," Tnay said. "But I'm very sure he is watching over me now."
Tnay, who is the youngest of three siblings, said his father encouraged him to follow his interests and chase his dreams. "He told me to do whatever I think is correct. And now I am able to trust my own instincts and to work my own life out," Tnay said.
Tnay first entered RP in 2006 to study engineering. Ten weeks later, Tnay left to study Information Technology at ITE College West (Dover) as he could not adjust to RP's Problem-Based Learning pedagogy.
He said: "During secondary school, I was very introverted and I could not work in groups and project work were rare then. Coming to RP, I had to work with teams and solve problems on my own. Back then, I could not cope with this change and the pressure."
After he completed his ITE studies, Tnay went to serve his National Service. In 2012, he enrolled in Singapore Polytechnic to pursue a diploma in Aerospace Electrical Engineering but dropped out after a semester as he could not comprehend the syllabus and was more interested in information technology (IT). He then spent a year teaching IT to pre-school and primary school kids before he enrolled in RP's Diploma in Business Information Systems in 2014.
Tnay's best memory of RP? A chance to help other students in their studies. "One of my deepest memory was to have a chance and give a lecture in a lecture theatre to my fellow course mates who are weaker in their studies. I also managed to pull together my closest friends and conduct peer mentoring sessions," he said.
Tnay, who is working as a client engineer for digital solutions at AddOn Systems Pte Ltd, cited the Singapore Armed Forces' Officer Cadet School motto – To Lead, To Excel, To Overcome – as a piece of advice he would give to RP students. "On any path you have chosen, you must always overcome setbacks. There will be a lot of obstacles along the way what matters most is to always look on the brighter side and focus on the path you are taking," he said.