You may have heard about the Prudential Marina Bay Carnival, which has been billed as Singapore's largest carnival. The Republican Post's NUR SYAFIQAH MAZLAN picks three rides and three games you can check out after the exams.
Rides
1.Star Flyer ($10)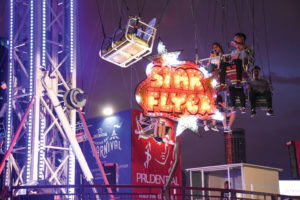 This ride brings you 35m up in the air, where you can enjoy a 360-degree view of the Singapore skyline. Overall, it was an enjoyable ride that wasn't too fast so I was able to take many Instagram-worthy photos. It was certainly one of my favourite rides as I managed to see a gorgeous view.
Thrill factor: 6/10
Location of ride: The Promontory
2. Das Fun Schiff (Pirate Ship) ($9)
This ride reminded me of a timeless classic at the pasar malam (local night market). I was seated at the last row of the Pirate Ship, and swinging up a steep incline before experiencing a drop gave me the feeling that I was momentarily floating. I held onto the handle throughout the ride as I felt I could be thrown off anytime. This is definitely worth a try if you're up for an exhilarating ride.
Thrill factor: 7/10
Location of ride: Bayfront Event Space
3. Mach 5 ($14)
This is a ride you mustn't miss if you are an adrenaline junkie. The ride spins you as if you are in a washing machine. And when you are suspended mid-air at a height of 55m, a rotation will catch you by surprise. I desperately wanted my feet to touch solid ground again at one point as I felt I might crash during the three-minute ride. But overall, I still enjoyed it for its speed and the satisfaction of conquering this gravity-defying ride.
Thrill factor: 10/10
Location of ride: Bayfront Event Space
Games
1.Spill the Milk ($5)
Knocking down all the milk bottles with bean bags was definitely not an easy task. The bottles were filled to the brim and the bean bags were heavier. It took me two tries before I won a prize – a South Park plush toy. The trick to scoring real quick is to aim for the middle and throw the bean bag hard before going for the bottom. This way, you can easily clear the top half and bottom.
Level of difficulty: 3/5
Location: Bayfront Event Space
2. Lobster Pot ($5)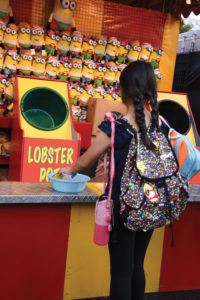 Here, you have three chances to land the ball in a green tub. Sounds easy but be careful of the bounce of the ball as it left me empty-handed after my first few tries. I won a medium-sized Minion after lightly tossing the ball into the tub.
Level of difficulty: 2/5
Location: Bayfront Event Space
3. Break a Plate ($5)
Again, the name of the game makes it sounds easy. But it was quite difficult for me to break a plate with a ball as the opening, where the ball has to pass through, was small. After a few rounds, I realised I had to throw a fast one and aim a little higher than intended to break a plate.
Level of difficulty: 2/5
Location: Bayfront Event Space
Food Stalls
1.Hyde & Co.
I snacked on a Bolognese Nachos ($8) and the chips were served with a good amount of savoury bolognese sauce, despite the steep price. The stall also offer other food items such as pasta and drinks. Located at The Promontory, you can even watch 'live' performances while you enjoy your meal.
2. Kreyv
The Mango Float ($8) was great to quench my thirst. Topped with fresh mango chunks, the float was a refreshing and instagrammable moment for me. At the Bayfront side of the carnival, they are located at the furthest corner of the food area. You can't miss them as there is constantly a queue lined up for their famous Unicorn Float.
3. Potato Head
For all you burger and meat lovers, don't leave the carnival without trying the Bun DMC aka Dirty Melon & Cheese burger ($12). Stacked between toasted brioche buns, the juicy Angus beef patty was paired well with cheese, fried onions and watermelon relish. Its unique watermelon relish surprisingly tied in all the flavours together. You can find their stall located at the Bayfront area of the carnival.
Verdict

Though you would have to fork out quite a bit for the full experience at the carnival, it's still definitely worth a visit. Admission to the carnival is free but rides and games cost between S$4 and S$14. Some of the rides have been brought in from overseas and are not seen at some of the fun fairs held in the heartlands.
However, it would be great if there was a locker system for visitors to store their prizes and roam the carnival's two locations – The Promontory and Bayfront Event Space – hassle-free. The carnival, which opens between 4 p.m. and 11 p.m., is here till April and there's no doubt I'll head down again for more fun.