It is no secret that most students have little to get by from their part-time jobs and so having a holiday with their friends might seem impossible. But with some planning (and consistent saving) it is possible to go on a short trip. The key is to book early – often budget airlines have sales and prices go up during peak travel season. Another thing to do is to compare with different airlines and book the cheapest quickly. We have put together three suggestions for travelling with friends for less than $400.
Bali, Indonesia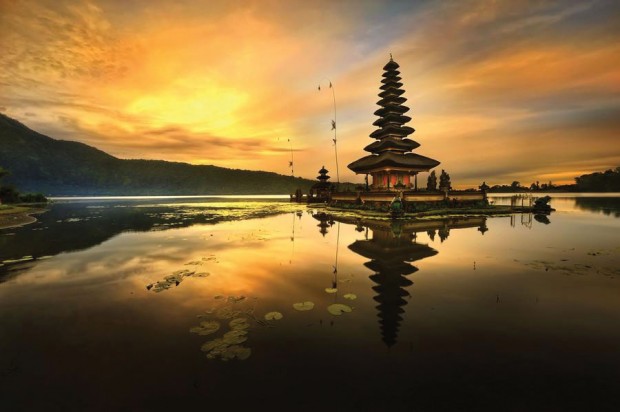 Culture, art and natural beauty are all on offer in this very popular Indonesian resort. Pristine white-sand beaches and excellent temple architecture welcome travellers who are keen to have a holiday that is fun yet affordable. Do be aware that there are locals who quote you "tourist prices" – do some research and remember to bargain. Flight tickets can be as low as $98 (tigerair.com) per trip.
Outside of the main tourist spots, simple rooms at homestays are about $10 (Private Dorm Legian, $16). For a more luxurious choice at a villa, it's $21 a night in Budget Bungalow Room 2 (travelmob.com) – if it's split between four people, it's only $5.25 a night!
For the more adventurous, White Water Rafting is at USD68 (about S$90). Go surfing and rent a surfboard at about $9.30. Don't know how to surf? No problem! Surfing lessons in Bali is offered all around the island for about $26 per lesson!
Palawan, Phillipines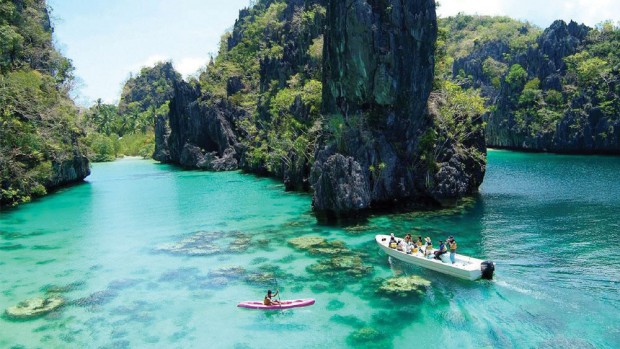 Palawan stays loyal to the Philippines' tag line, "it's more fun in the Philippines." The biggest dilemma you and your friends would have is whether to dive, snorkel or swim. Once you've seen one part of the island, it's hard not to explore the rest.
Island hopping is a great way to spend time with your friends. Each island – like Luli, Starfish, Cowrie and Pandan – are all great for snorkeling but they offer their own unique attractions of polar opposite tides, starfishes, slugs and just plain tambay area, a colloquial term for Singapore's lepak, respectively. Learn why when you visit!
Don't miss walking up and down 150 steps to swim in the clear turquoise waters of Kayangan Lake, which boasts its natural beauty. Enter for only P200 (about S$6). Flight tickets are around $170 on Cebu Pacific Airlines. Stay in villas such as Eco Room in Puerto Princesa (travelmob.com) for $25 a night ($6.25/person if you share it with 3 other friends).
Also, when it comes to eating, experience the Filipino Culture and eat like the locals: using your hands! They say it tastes better that way.
Phuket, Thailand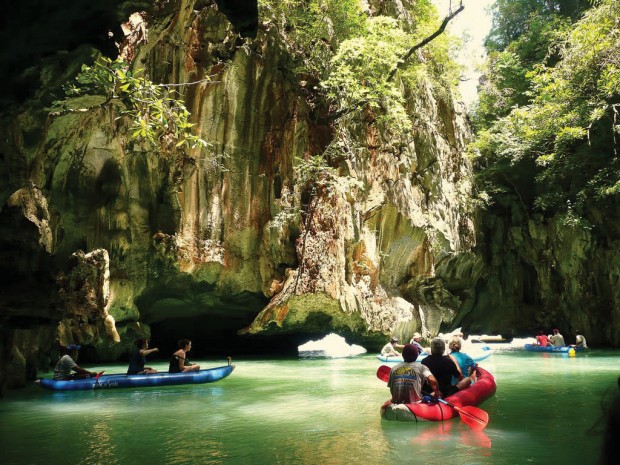 Dubbed as Thailand's most popular beach destination, Phuket now offers more activities such as golfing, watching muay-thai boxing matches or riding elephants. Of course, nothing beats what the island is truly well-endowed with: hidden lagoons.
Discover lost worlds in collapsed cave systems by exploring Phang Nga in kayaks.
John "Caveman" Gray, a pioneer of sea canoeing in Phang Nga Bay and environmental activist, found the hidden lagoons and has made it accessible to all travellers.
His all-day guided tour costs 3000 to 4000 baht (S$120). It may be a little pricey but the package is complete with food on-board.
Flight tickets are about $98 (tigerair.com) per trip. A studio in Karon Beach costs $27 a night from travelmob.com. Split four-ways, that's only $6.75 a night!