Sometimes, confidence can be elusive, victory fleeting and pain a constant companion.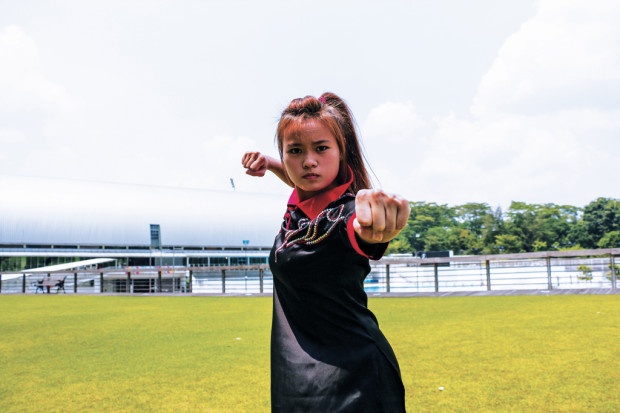 A decade ago, Tan Yan Ni was overweight and a target for bullies. The Republic Polytechnic student is now having the last laugh.
Yan Ni overcame a last-minute injury to clinch a bronze medal in wushu at September's Asian Games, making her one of the best in the continent in the Chinese martial art of changquan. The 17-year-old had clinched a silver medal at the South East Asian (SEA) Games in the same event last December.
Yan Ni was nine years old when she picked up the sport. She was having a meal at a food court with her siblings when a commotion nearby prompted her to find out more.
"It was a wushu class," Yan Ni recalled. "So my two older brothers and I decided to pick it up together on my birthday."
Yan Ni picked up wushu with the initial aim of losing weight and living a healthier lifestyle, but her progress impressed her coaches and eventually led to a national team call up when she was 12.
However, Yan Ni's initial national team experience was far from rosy. "I felt quite demoralised because I wasn't selected for any competitions when I first made the national team," said the Diploma in Sports and Exercise Sciences student. "I only managed to go for my first competition after five years in the national team."
Her big break came at last December's SEA Games in Myanmar, where she claimed Singapore's first silver medal at the Games. Yan Ni almost didn't make the team – she had initially been rejected by Singapore National Olympic Council selectors because of a lack of results. An appeal was then lodged and Yan Ni eventually made the team.
Yan Ni's success in Myanmar did not go unnoticed and she was selected to represent Singapore at this year's Asian Games in Incheon, South Korea.
The Asian Games also provided its share of challenges for Yan Ni. In the days leading up to the event, she developed a painful bone spur on her toe. Instead of a shot of adrenaline, Yan Ni was plagued by constant thoughts of withdrawing from the competition.
"It was a horrible period because I wanted to withdraw one week before the event," she said. "But I spoke to one of my coaches who talked me out of quitting."
At Incheon, Yan Ni paid meticulous attention to perfecting the minor details of her routine. She also applied multiple layers of sponge to protect her toe from the injury. Up against seasoned competitors from across Asia, Yan Ni set her sights on a top eight finish. But she defied expectations when she won a surprise bronze – Singapore's only medal in wushu, and the Republic's first medal in the sport since the 2006 Asian Games.
Yan Ni's latest success has garnered her more fans, especially among members at Pioneer Wushu where she coaches part time.  "I gained more respect from people after the Asian Games," She said.  "It was sweet to receive a hero's welcome from the children and their parents when I returned."
Despite her sporting achievements, Yan Ni places an equal emphasis on her studies. "I feel that everyone has their own commitments outside. But we should still treat ourselves as students that have a responsibility to uphold when it comes to our studies," she said.
Yan Ni's hectic schedule has not stopped her from doing Team Republic proud.  She represented RP in the National Wushu championships in 2013 and won a gold medal in the women's Changquan category.
Wushu has given her plenty to cheer about thus far, but Yan Ni's sights are firmly set on more success. Asked about her next goal, she has her sights on glory next year when the SEA Games will be held on home soil.  "I am aiming for a gold medal," Yan Ni said.