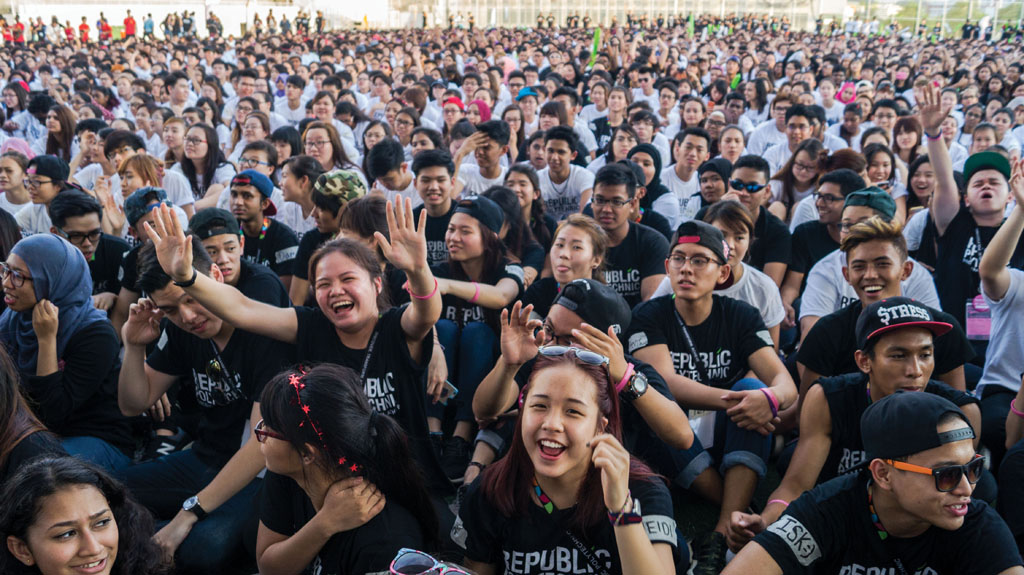 The stadium at Republic Polytechnic's sports complex does not just serve as a venue for sporting events. In April, it also played host to Jam and Hop, the first time the highlight of the annual Freshmen Orientation Programme was held at the field.
Even though most students welcomed the change in venue, the two-hour music and dance extravaganza encountered minor hiccups.
A 10-minute disruption in electricity supply occurred in the middle of music interest group Jammerz Arena's set. "We didn't know what to do as it was so sudden," said Muhd Ja'afar Siddiq Bin Omar Yusoff, 18, a second-year Arts and Theatre Management student and bassist of Jammerz Arena.
Determined to keep the show going, the group's lead singer got down from the stage to rally the crowd and led them in an impromptu sing-along. "Our seniors taught us in Jammerz Arena, we should always carry on the show as professionally as possible despite what will and can happen. So we just acted as if nothing happened," said Muhd Ja'afar Siddiq.
Held on the second day of the orientation programme, this year's Jam and Hop featured performances from several music and dance interest groups. Marcus Chew Chin Yin, a second-year Health and Services Management student from Electronic Music Production (EMP), felt the event was "the highlight of his life so far" – the crowd of 5,000 students was the largest group the 21-year-old had performed in front of.
Marcus added: "I heard some feedback that the music wasn't loud enough for the people at the back, so it wasn't projected fairly to the whole area as the field is too big."
Nevertheless, some in the audience were impressed by the performances at Jam and Hop, as well as the week-long Orientation Programme organised by student leaders.
"I enjoyed the mass activities, in particular the Jam and Hop," said Yeo Kun Han, a first-year School of Infocomm student. "I feel it adds a creative and unique touch to the orientation programme."
Agreeing, first-year Common Engineering Programme student Muhammad Ridha Bin Ismail said the EMP performance at Jam and Hop was the highlight. "The DJs really put up a good show and mixed the songs well. It was like they were professionals," said the 18-year-old.