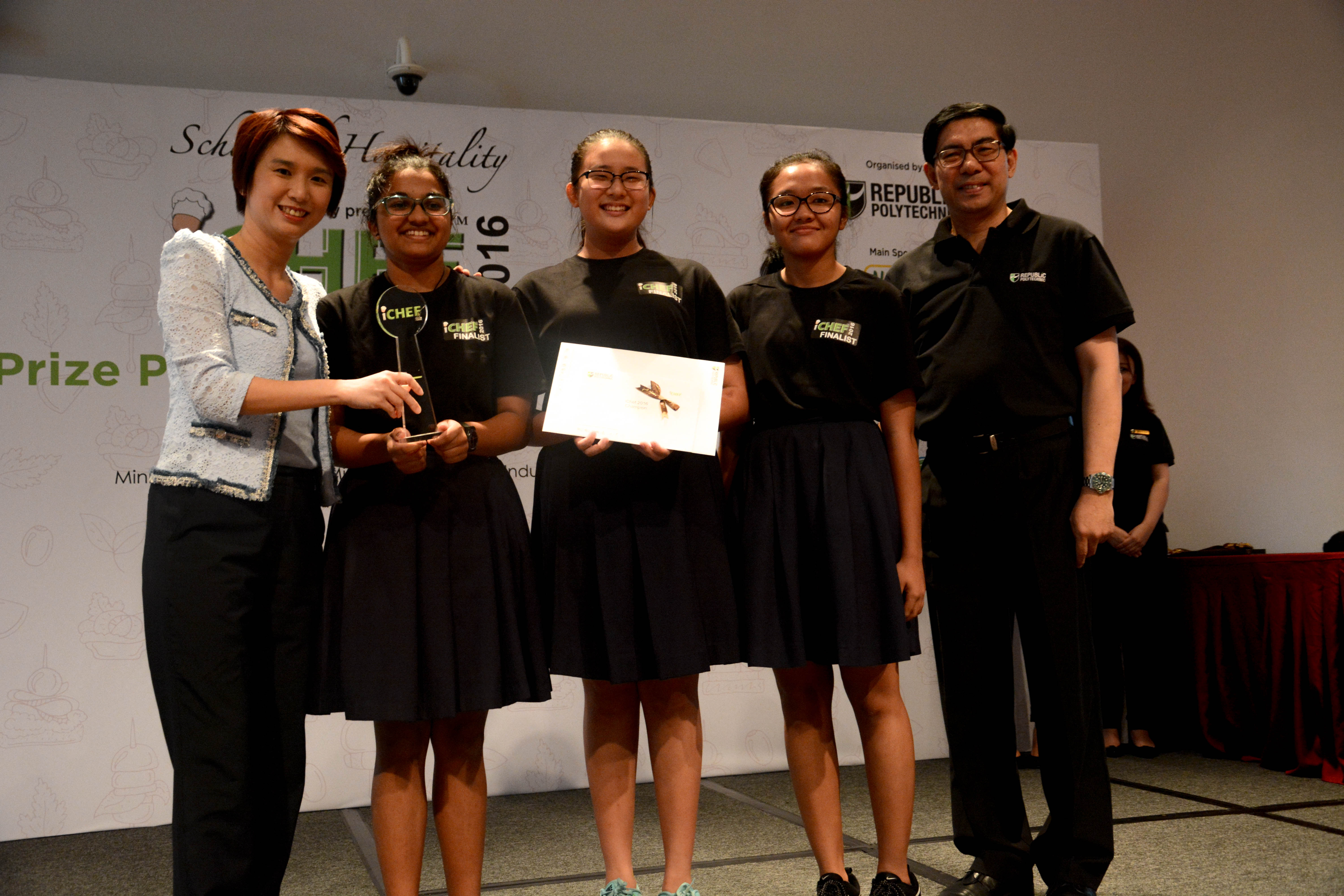 JunYuan Secondary turned the tables at iChef 2016 with its successful infusion of Western ingredients into Eastern cuisine to clinch the top prize of $2,000 worth of Cold Storage vouchers.
The school that did not pass the quarter rounds in the cooking competition last year stunned the judges this time around with an amazing array of diversity in their menu that included exotic dishes like you tiao with pesto cheese and racquet leaves.
Back for its sixth year, the annual competition hosted by Republic Polytechnic (RP)'s School of Hospitality (SOH) saw 10 teams from 10 schools cooking up a storm at RP's Olivia Training Restaurant.
Started in 2011, the competition was an initiative started by staff and students from the Diploma in Restaurant and Culinary Operations (DRCO) to promote interest in the area of culinary arts.
The theme for this year's competition, which was held on Jun 8, was East Meets West. Teams had to combine eastern and western elements in their final dishes. Students had to display their culinary prowess, as well as a profound understanding of ingredients, to present five different types of gourmet canapes.
However, this was not the only game changer in the competition.
This year's competition also allowed three-men teams. Besides laying out their canapes on a table setting, the teams also had to incorporate a mystery ingredient which turned out to be butter, salt, yoghurt and cream cheese.
"The difficulty lies in how [the students] incorporate the mystery ingredient into their menu," said Ms Yeo May Lee, Admin Manager of SOH, who has been part of the competition since its start in 2011. "The challenge is adding the ingredient in without disrupting their recipe."
Teams were judged on basic components like taste, texture, presentation, arrangement, preparation, innovation and composition. To help them, there were workshops organised in the preliminary rounds that covered skills like bread-making and menu development.
The winning team from JunYuan Secondary, which calls itself Team TAG, stood out as they made use of exotic ingredients which were hard to find and rarely used in daily cooking. They had spent months developing their menu and having after-school practice sessions.
"To look for various ingredients, we went down to authentic markets like Tekka Market, to source and get inspiration for our dishes," said Miss Sarah Cheng, the teacher-in-charge of Team TAG.
Its winning menu also included minced chili crab with popiah skin base, mantou base with wagyu beef and truffle mustard sauce, vol-au-vent with Korean sesame chicken and fatty tuna with yuzu juice.
"Our mystery ingredient was cream cheese," said Tara Laxmi Prasob, 14, a member of Team TAG.  "We combined it with our pesto cheese and racquet leaves before spreading it over the you tiao."
Chef Angela May, founder of Angela May Food Chapters who was a first time judge in iChef, said: "The competition was a lot of fun. I liked seeing how creative the students were and to use the different ingredients in a way that was completely out of the box and unusual."