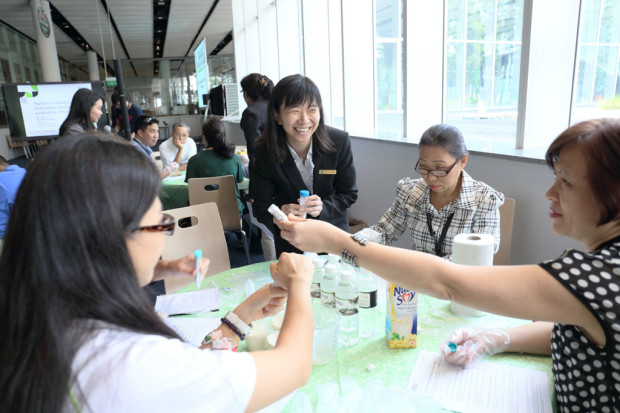 When you drink your favourite creamy, omega-fortified soya bean milk, do you wonder where and how such foods are processed?
At RP's Technology Day 2014, the staff from the School of Applied Science (SAS), gave event participants a taste of what goes into the creation of what they called "functional" foods – basically, every day foods that people consume but done in a healthy way.
After explaining what are functional foods, they moved on to a "show and tell" segment – where SAS Lecturer Ms Chaitra Jagdish, showed participants how soy milk is fortified with prebiotics and omega-3 fatty acids – not only to make it healthier but also to make it taste good. SAS offers the Diploma in Biotechnology where students learn to revolutionise food supplies through the innovative use of technology.
When asked about her experience, Adeline Hartin, a participant, said: "We can try it and see it's not that easy."  Being a scientist from the French Embassy, this was not something new for Hartin, but it was valuable for her to learn about product developments in Singapore for possible collaborations in the future.
After segment two, participants tasted their creations and did the sensory evaluation test. For participants like Connie Chen, the test allowed her to gain new insights. She said: "It is not easy to get something that is healthy and liked by many people."  Being in an occupation which deals with food packaging, Chen said she was able to learn more about food preparation and how technology works hand in hand with that.