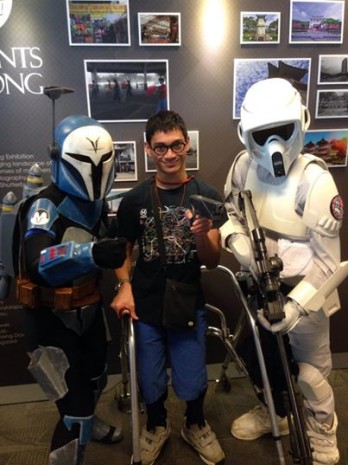 It was Sunday, May 4. To most people, it was just another day in the calendar. Over at the Jurong Regional Library though, a group of Singaporeans were wielding lightsabers and donning white and black outfits from a galaxy far, far away. Occasionally, a cry of "I am a Jedi!" would punctuate the air. For these people, May 4 was no ordinary day. It was Star Wars Day.
Local Star Wars fans dressed up as their favourite characters as they headed to Jurong Library to attend a day-long series of events celebrating George Lucas' beloved sci-fi film series. These include a screening of the documentary Plastic Galaxy, where viewers were treated to the history of Star Wars toys, a display and sales of the actual toys, and storytelling sessions.
A highlight was lightsaber choreography group FightSaber teaching the participants how to fight a la the good-versus-evil duels in the movies.
Participant Don Eu, 32, a teacher at Anderson Secondary School who grew up watching the original Star Wars Trilogy, was thrilled to channel his inner Jedi. "Star Wars is magical because of memorable quotes like the ones said by Yoda," he said.
The origins of Star Wars Day had something to do with late former British Prime Minister Margaret Thatcher. When she took office on May 4, 1979, her political party placed a congratulatory advertisement in the newspapers saying "May the Fourth be with you", which is a pun on the movies' iconic line "May the force be with you".  Star Wars fans wasted no time in declaring the day Star Wars Day, the first one officially starting in 2011 in Toronto, Canada. Since then, it has become a global celebration, with countries such as the USA, Italy, Mexico, Spain and Britain joining in the fun.
Also spotted at Jurong Library was Dominic Zou, 36, head of costuming organization 501st Legion that is dedicated to all things Star Wars. He said: "The Force is forever, for all generations."
The Star Wars franchise continues with the next movie installment slated for release in December 2015.