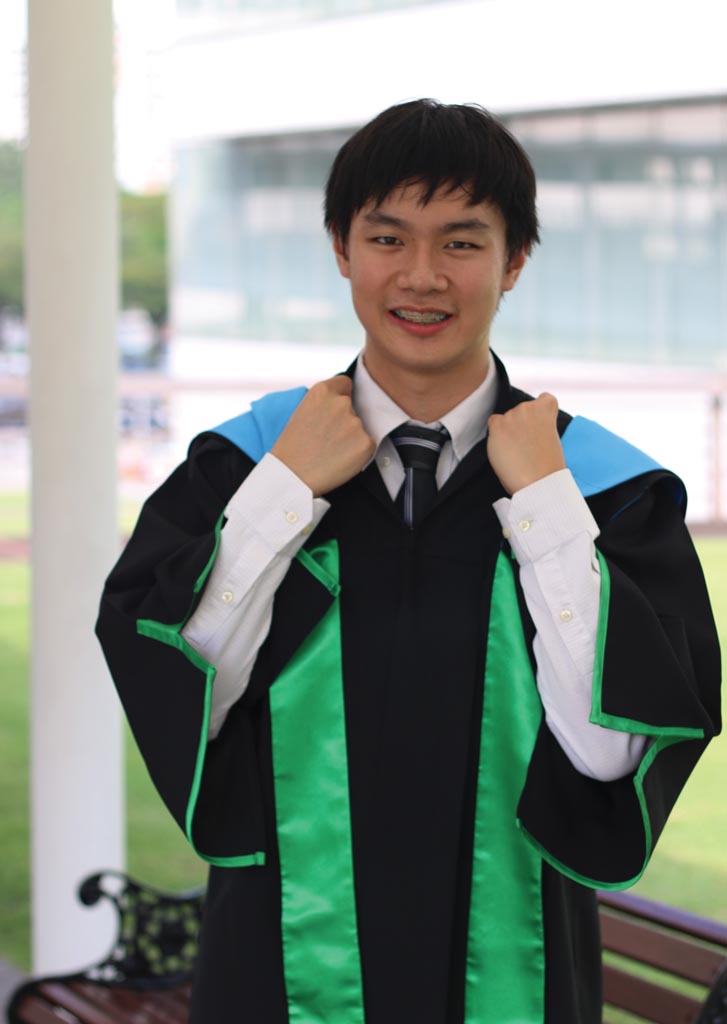 School of Engineering graduate Nigel Leno Gasper's favourite memory in RP was scaling the rock wall at the Adventure Learning Centre using only one hand.
Born with a congenital amputation of the fingers, Nigel has four missing digits on his left hand and three shortened digits on his right. The climb in Year 1 was his first time making to the top of the rock wall.
"A few years ago, I tried rock climbing but within a few minutes I just fell off," Nigel said. "But this time, I was able to do it without falling down. I reached the top. I took a while, I took 30 minutes because it's hard to grip with just one hand but I managed to do it.
"From that point of time, I was reassured that my limitations will be there but I am able to overcome it when I put my heart into it."
The 21-year-old graduated in May with a Diploma in Industrial and Operations Management with Merit.  Not only did he overcome his physical disability, Nigel also overcame a learning difficulty to succeed in RP.  He was diagnosed with dyslexia at the age of 10.
Nigel said he has never viewed his disabilities in a negative way. "In fact, I see it as an advantage to prove myself that I can achieve anything that people would usually not expect me to achieve," he added.
Others, however, were not so kind with their remarks. "It's not a physical bullying kind of thing but rather the remarks that people make about my disabilities," said Nigel, who was taught from young to ignore the comments.
Nigel entered RP through the Polytechnic Foundation Program. In RP, Nigel was on the Director's Roll of Honour every semester, won two module prizes and was awarded two scholarships – one from Lee Foundation and the other from NTUC U Care Fund.
He graduated with a GPA of 3.86 and was among the top five students of his cohort. He intends to pursue a degree in Supply Chain Management in Singapore Management University after his National Service.
Mrs Catherine Gasper, Nigel's mother, said: "We expected him to do well but to do this well was unexpected as he struggled a bit with his studies in secondary school."
Due to dyslexia, Nigel was given extra time for all his examination. But he could not do the examinations online. Instead, he did them on paper.
"At first I thought it will be a disadvantage as spelling is not my strength but it actually helped me to be more careful and take the time to read the questions and answer it," Nigel said.
Beyond excelling in his studies, Nigel was also heavily involved in co-curricular activities. He a member of RP's bowling Interest Group and the Engineering Leadership Programme.
Under the programme, Nigel and his peers organised an amazing race for disadvantaged children from Care Corner.  "In my life, I have met many people who have helped and inspired me.  With this spirit, I am called to give back to the society. This is why I love volunteering as I get to help others and leave an impact on their lives as well," said Nigel.
Mrs Gasper said: "If there is one thing that I learnt from Nigel, is to be perseverant and not be disheartened when things don't work out the way we want."