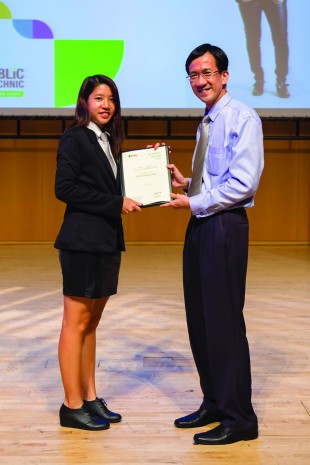 On 5 July the first of the academic awards ceremonies kicked off at the TRCC. This event was attended by the Deputy Principal of RP Mr Heng Guan Teck and principals from various secondary schools and ITEs.
A total of 39 students were awarded a scholarship at this year's Academic Awards with 33 getting the RP Freshmen Scholarship and six obtaining the new Polytechnic Foundation Programme (PFP) Scholarship. The latter is awarded to the students in the PFP programme who have outstanding GCE N-level results as well as a good CCA record.
Former Swiss Cottage Secondary School student Jolene Soh Yen was one of the PFP recipients. "I feel very happy to get this award as I did not even expect to get into PFP because I did not hit the requirement score during the prelims," said the Diploma in Biotechnology student.
In his speech during the award ceremony, Mr Heng encouraged the PFP scholars to do well. "As pioneers, you are the ones who hold the responsibility to help not only your classmates but also future batches of PFP students to become leaders," he said.
Recipients of the RP Freshmen Scholarship were also honoured. One was Chan Jun Hao, 20, a former Higher-Nitec events management student who said that his time in RP so far has been like a roller coaster ride mainly because of the PBL approach in RP.
Said Jun Hao: "PBL is something that may seem easy at first but is really challenging."
Comment on this story