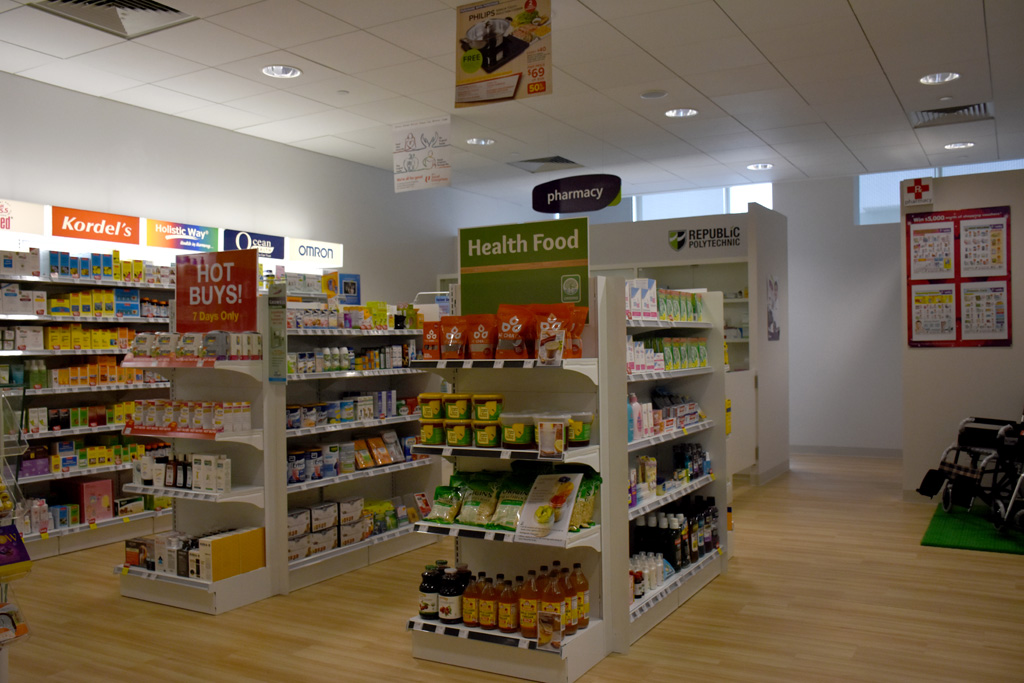 At its Open House 2017, Republic Polytechnic together with NTUC Health Co-operative launched the RP-Unity Teaching Retail Pharmacy.
It is the only such dedicated facility among the polytechnics here and will give students in the Diploma in Pharmaceutical Sciences (DPHM) more hands-on experience and training in retail pharmacy operations.
Students will take on pharmacy technician and retail executive roles and receive practical training in a simulated retail pharmacy setting with a dispensary, patient counselling area, retail floor, and teaching space for discussion and experiential learning.
"This new facility simulates actual retail pharmacy operations and provides an industry-based setting that further deepens our students' skillsets in pharmaceutical practice, enhancing their employability," said Principal/CEO of Republic Polytechnic, Mr Yeo Li Pheow.
CEO of NTUC Health, Mr Chua Song Khim, said: "The RP-Unity teaching retail pharmacy will enhance the way training is conducted for retail pharmacy executives. It provides a practical and conducive environment for students to engage in hands-on learning, honing their skills above and beyond the classroom."
Students in DPHM already have access to a hospital teaching dispensary, a replica of a hospital environment where they focus more on prescription-only medicine. That facility was launched in 2015 in collaboration with Khoo Teck Puat Hospital.
But now, with the establishment of the teaching retail pharmacy, the students will have the opportunity to be trained in handling the retail aspect as well.
"I think it is more fun to see the actual products in the actual environment, but without the customers," said Miss Ho Sz Ting, lecturer in DPHM. "Studying about dietary supplements, learning about herbs and the effects can be quite boring when it is just on textbook and slides. This will be more intriguing and helpful for my students."
The students will also have the opportunity to be trained in telepharmacy, a system where customers at the store can contact pharmacists who are not physically present.
Guest-of-Honour, Mr Chan Chun Sing, Minister in the Prime Minister's Office, who officiated the launch of the RP-Unity Teaching Retail Pharmacy on Jan 5, the first day of the three-day RP Open House, participated in a 'live' telepharmacy video call with a pharmacist from Unity Pharmacy.
Students from DPHM are looking forward to be start using their new teaching retail pharmacy.
"We are all quite proud that we have this facility as we are the first school in Singapore to have this," said first-year DPHM student, Ong You Jia, 17.
"This definitely also benefits my learning because we are able to apply everything we learn in school to reality. When we apply these in real life in this room, we will get more experience and as we graduate from school, we can apply it during our working career."