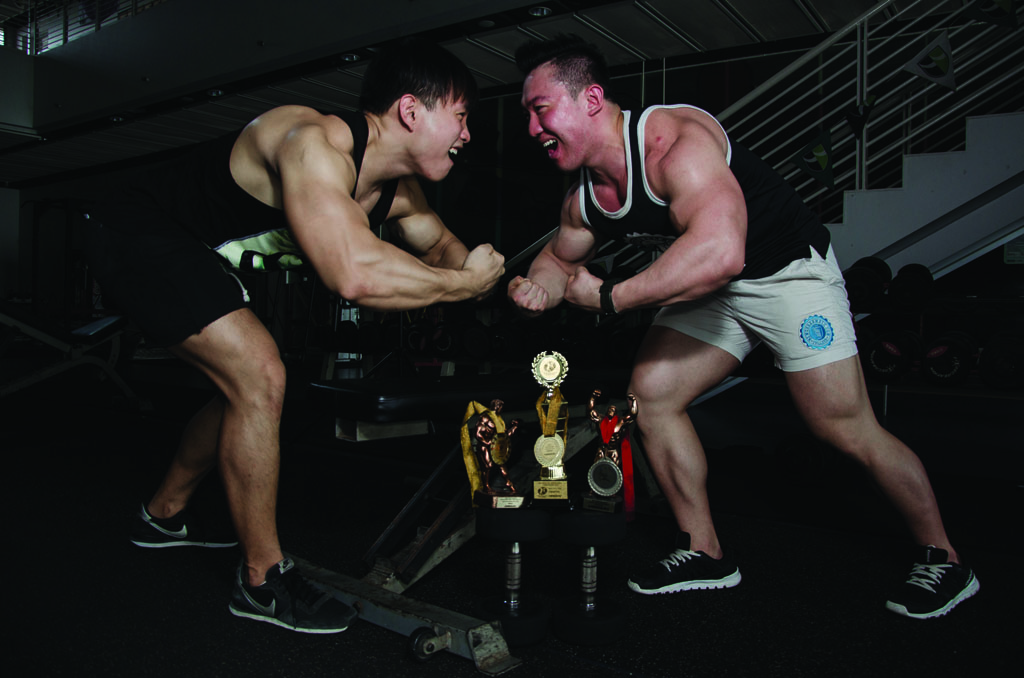 Gym, eat, sleep and repeat – this was the daily routine for two Republic Polytechnic (RP) students in recent months as they prepared for a national bodybuilding competition.
The routine seemed monotonous, but the hard work eventually paid off for third-year Engineering students Tong Fu Hong and Tan Kha Seng at August's Mr Singapore Bodybuilding Championship.
Fu Hong and Kha Seng emerged runner-up and second runner-up respectively in the Mr Singapore Junior 2015 category. Fu Hong, 22, also won the Juniors over-70kg title, while Kha Seng, 23, clinched the Juniors under-70kg title.
Kha Seng entered bodybuilding in 2013 while Fu Hong joined a year later as they sought a new challenge after a stint on the ITE College West dragon boat team. They found the journey to success was not plain sailing.
The duo trained six to seven times a week, kept a strict diet and spent little time with their families and loved ones. Kha Seng's decision to enter bodybuilding was not well-received by his parents.
"At first, they didn't approve of it because they didn't like it," he said. "But after a while, they started to encourage me because at the end of the day, this is what I'm passionate about."
Fu Hong and Kha Seng are not the only ones passionate about bodybuilding in RP. The gyms at the sports complex are usually filled with students working out. Sometimes, staff could also be seen lifting weights.
Mr Heinz Loy, a lecturer from the School of Health and Leisure, is a recent entrant in the bodybuilding scene. The 33-year-old, however, has built an impressive resume. In August, he was crowned the champion for Singapore Fitness Model Search (SFMS) 2015 Sports Model as well as second runner-up for both SFMS 2015 Sports Model overall and Asia Fitness Model Search 2015.
A gym goer since his army days, Mr Loy began to take bodybuilding seriously when he and his best friend made a pact. He promised his friend that he would compete in a bodybuilding competition if she participated in a local mixed martial arts competition. An agreement between friends soon turned into a passion for Mr Loy.
All three men are strongly against doping in their sport. Instead, they felt bodybuilding has taught them several lessons about hard work and sacrifice. "Muscles don't grow overnight. Bodybuilding teaches us that there's no shortcuts in life," said Fu Hong.
As they spend long hours on campus, all three bodybuilders usually prepare meals at home, such as steamed tilapia and chicken breasts, to bring to school. But they also rely on canteen food to supplement their needs. Mr Loy, for example, is a regular at the South and Lawn canteens. "The kind aunties at Koufu know my diet – four eggs and 1 kopi-o kosong. I also frequent the salad stall at Lawn canteen," he added.
All three bodybuilders shared a similar tip to those who are planning to start a healthier lifestyle – develop a positive mindset.
"If you would like to be fitter, do something about it and not fantasise or look at others with envy," said Mr Loy. "Start off with something small such as using the stairs to your classroom or office. As long as you are doing something, you have taken the first step."