Halloween has finally arrived. Wondering where you can go to celebrate the spooky season without having to burst your budget? Gear up your guts with these five spooktacular events we picked out for you:
1. Nightmare on Bugis Street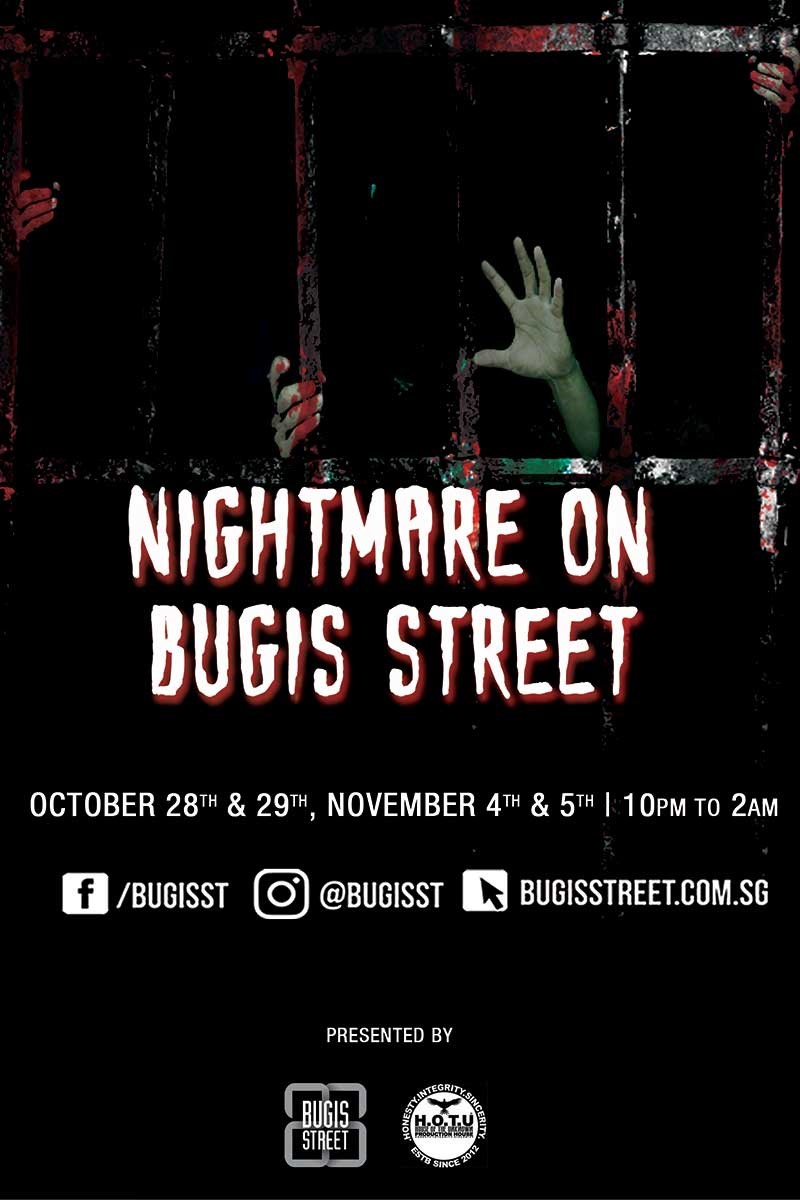 The shutters may be down, alleys pitch black but that does not mean the Street is vacant. Back for its second year running, witness the bustling shopping paradise transform into your worst nightmare.
Separated into two scare zones within the confined space of the second and third level, it is said to be scarier than ever with roaming puppets and gory-looking prison inmates.
Immerse yourself into some retail therapy after all the shivers in fright with the late night flea market happening on all four nights too.
When: 28th – 29th October 2016, 4th – 5th November 2016, 10pm – 2am
Where: Bugis Street
Price: $35 per ticket for all students, purchased via SISTIC 
More details on the event here: http://escaperoomies-sg.com/nightmare-on-bugis-street
2. SCAPE Museum of Horrors VI: The Doll Factory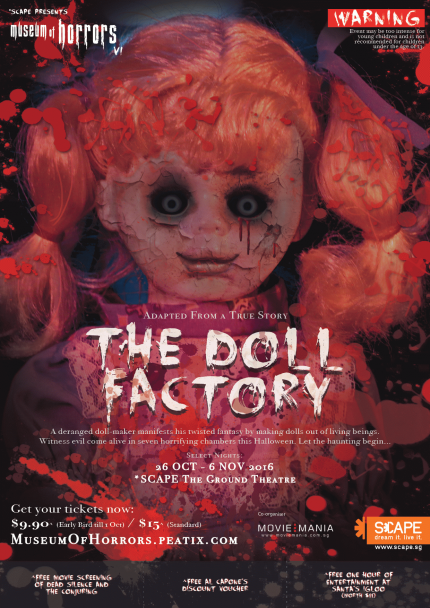 If you think dolls are all cute and pretty, think again. Explore the doll factory of an insane doll-maker, who slaughtered and preserved his family members into dolls to add to his personal collection.
Venture into the seven dioramas maze, which includes The Human Trap – where you helplessly hear the cries of his victims.
If you are curious about how the doll-maker turns his victims into dolls, be sure to head down to the Production Floor and Doll Showroom. Do be wary of his victims hiding at every corner, always ready to scare you.
When: 26th October – 6th November, 7pm – 10pm
Where: SCAPE The Ground Theatre
Price: $15, purchased via peatix
More details on the event here: http://www.scape.sg/online/survive-doll-factory-museum-horrors-2016/
3. Crosswoods Haunted City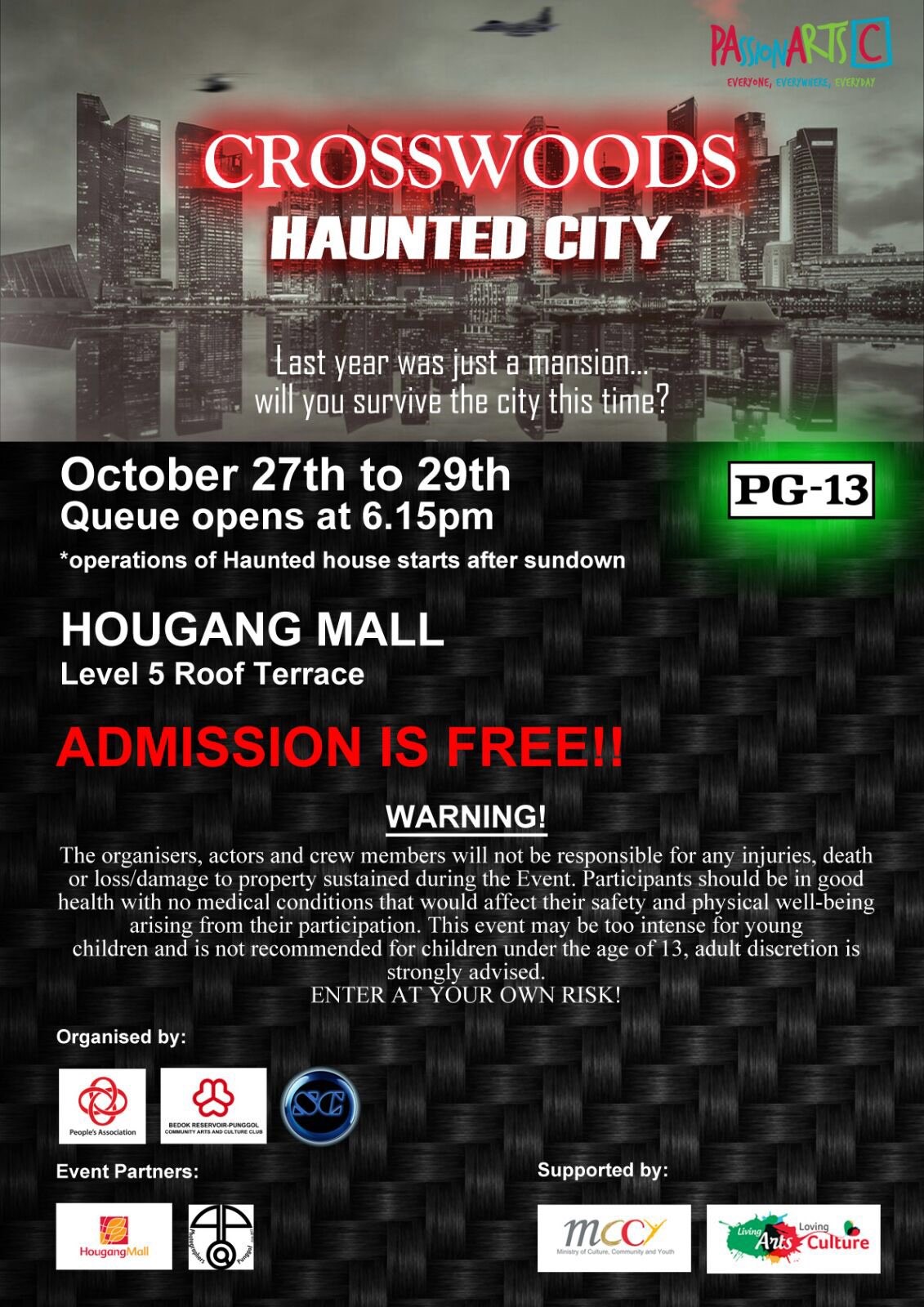 Roof tops are usually a calm and chillout destination from the crowd in malls. Who knew, it could eventually be turned into a hideout for the uninvited "mall-goers".
With over 8 haunted houses, supposedly to be part of a city – Neraka Forest ("Hell" Forest in Malay), Jigsaws Revenge, The Slaughter House, School of the Undead, Wedding Bells (just to name a few), the Halloween event has greatly upgraded from a mere mansion as compared to last year.
With most Halloween events happening in the west and central part of Singapore, North-East residents, here's one just for you!
When: 27th October – 29th October 2016, 6.15pm onwards
Where: Hougang Mall, Level 5 Roof Terrace
Price: Free Admission
4. Asian Civilisations Museum After Dark: Horror Mash Up
Experience Night At The Museum come alive this year, at Asian Civilisation Museum's annual Halloween offering. With this year's theme being East-Meets-West, be prepared to be scared off by a fusion of local and western ghosts.
Apart from that, be entertained by activities and performances inspired by the exhibits from the galleries. Strike poses with your friends at the dress-up booths and make your own spooky souvenir to take home.
When: 29th October 2016, 7pm – 11pm
Where: Asian Civilisations Museum
Price: Free
More details of the event here: http://acm.org.sg/programmes/festivals/acm-after-dark-2016
5. SPINCITY: Raveyard 2016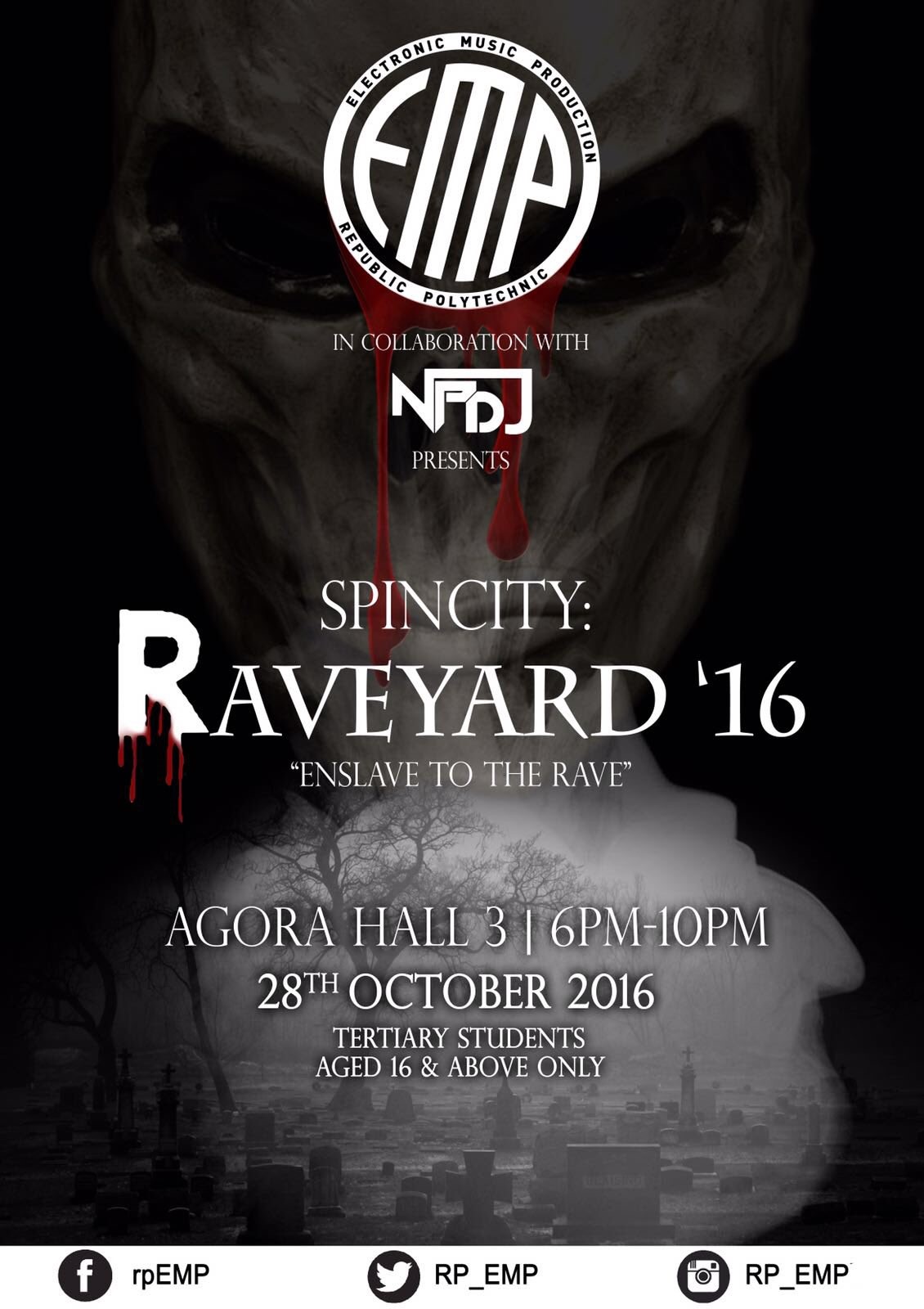 One thing's for sure, even if school assignments are in the way there is always some time to spare and immerse in the Halloween spirit.
A collaboration between student DJs from Ngee Ann Polytechnic (NP) and Republic Polytechnic (RP), tertiary students can look forward to a night stand of electronic dance party in coordination with a spooky dress code.
If you prefer to stay up in school, grab some friends and rave all night long.
When: 28th October 2016, 6-10pm
Where: Republic Polytechnic, Agora Hall 3
Price: Free Admission
*No slippers are allowed and all patrons must be above 16 years of age.
More details on the event can be found via RPEMP's official Facebook Page.