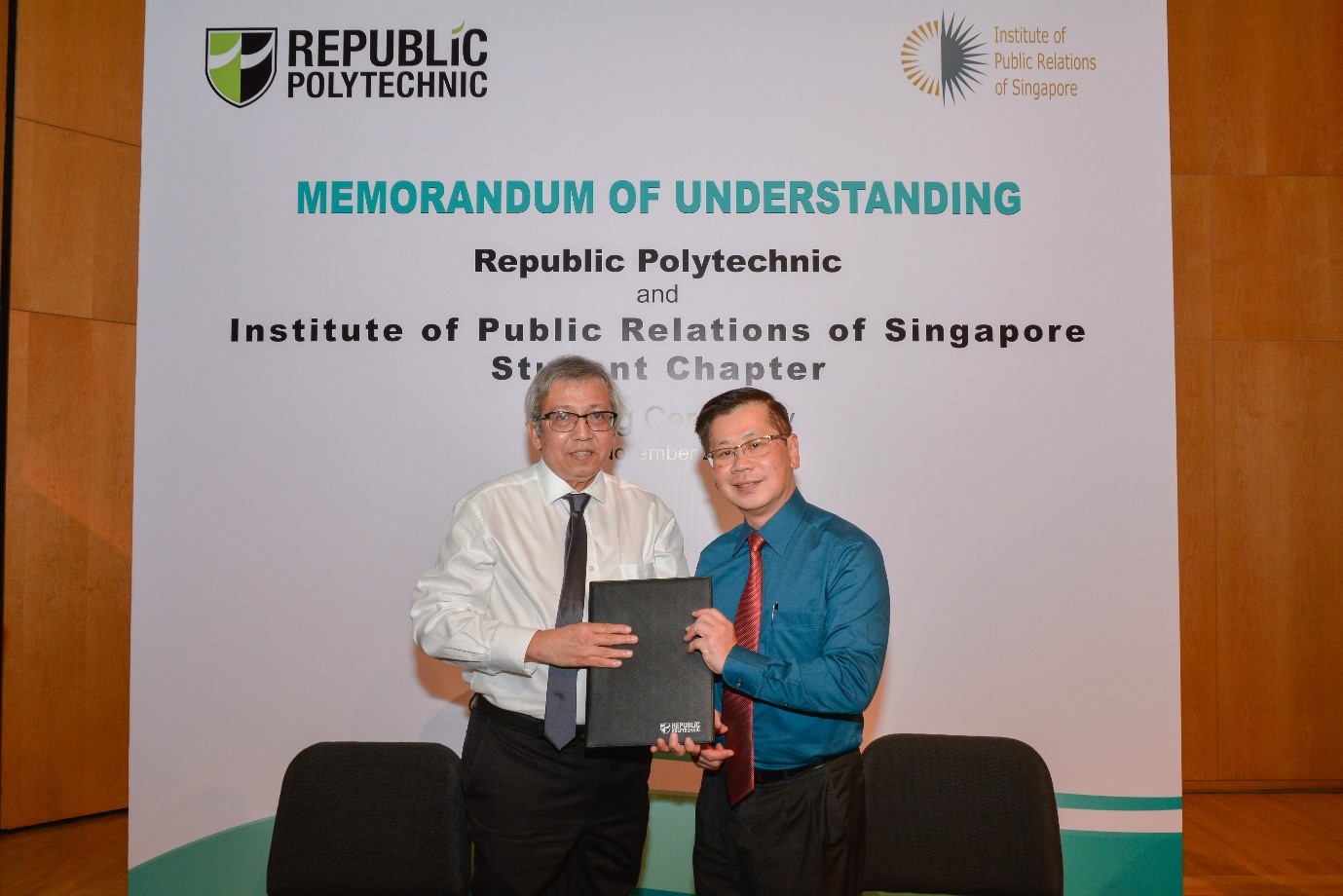 When he started his career two decades ago, public relations veteran Robert Conceicao wished there were industry professionals he could seek advice from.
Now, Republic Polytechnic students who are keen to pursue a career in public relations have an avenue to do so. The School of Management and Communication on Nov 22, 2016 inked a Memorandum of Understanding with the Institute of Public Relations of Singapore (IPRS) to establish a Student Chapter at RP.
Mr Conceicao, who is president of IPRS, said the Student Chapter would create communication channels to contact industry professionals and help students cope during internships. "I wish it was there when I started PR; someone that I can just sound out without him telling my boss," he said.
The Student Chapter gives students a chance to tap into the professional knowledge and experience of IPRS' 300 active members.
The mentorship system will be based on students' needs. Enforcing a mentorship where everything is set will not work as "after a while, these formal structures will crumble," said Mr Conceicao, who is director of Majic Communications. Students can instead initiate projects and approach their industry mentors to attend these events.
At the recent signing ceremony, W Singapore marketing communications director Lin Liang Min gave a lecture on how the hotel uses social media to engage millennials in the hospitality industry.
While Ms Lin's speech was focused on using social media to help a company stand out, she felt PR is constantly evolving. "These days, it's all about integration, so you can't do just solely PR, or just social media, or just advertising," she said. Ms Lin urged the over 150 students present at the lecture to be adaptable to changes and receptive to new ideas.
Second-year Mass Communication student Teo Teck Kuan, who has been appointed president of the Student Chapter, said he is planning on holding a networking session between students and industry professionals.
Teck Kuan, who aspires to be a PR professional, hopes to inspire others too. "I aspire to grow up to be a mentor and have my own mentees as well, to be able to shape the new generation," he said.
RP is the sixth education institution with a Student Chapter. Besides RP, IPRS has Student Chapters at Temasek Polytechnic, University of Newcastle (Singapore), National University of Singapore, TMC Academy and PSB Academy.