Incorporating the theme "layers", Reflections 2016 showcased its performances, exhibitions and workshops in an artistic manner that delves deep into its theme. The Republican Post's RADIAH MARIA BELAK explores more.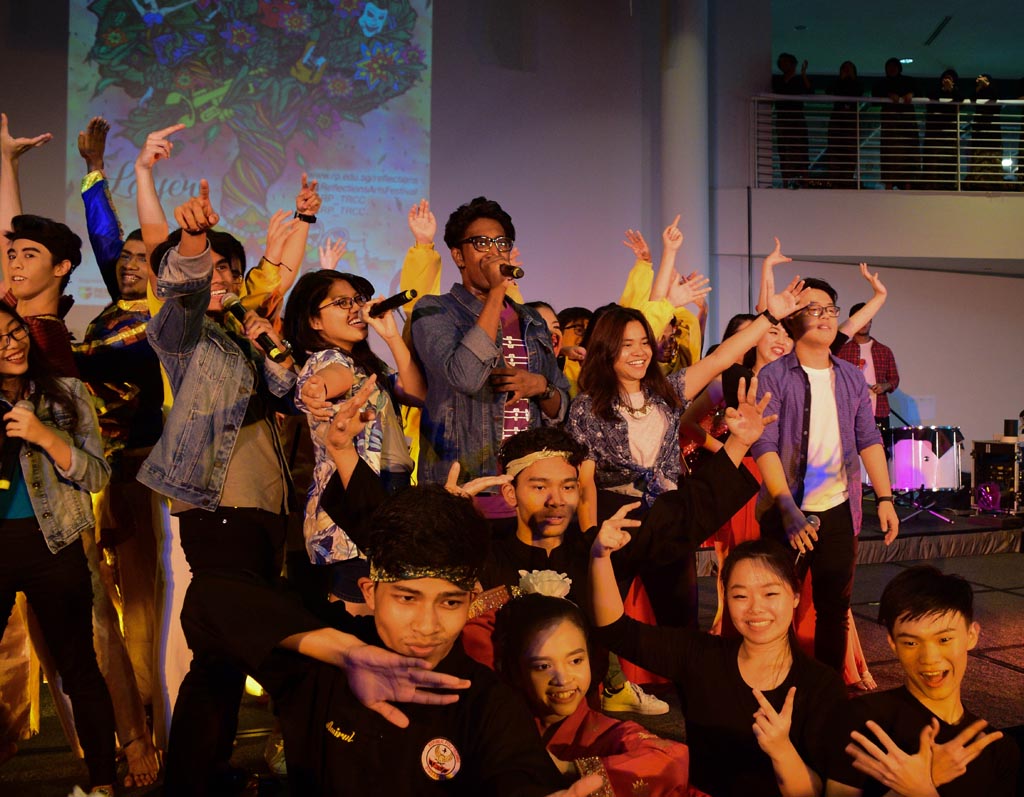 The annual community arts festival, Reflections, kick-started its 10th anniversary celebrations with a grand opening launch at Republic Polytechnic's (RP) South Agora on Oct 21, 2016.
The opening launch involved dance and music Interest Groups (IG) such as String Ensemble and Gamelan Ensemble, amongst others, basking around RP before marching in a single file towards South Agora.
Zing0 Festival Drum Group, Beats Encore, Rhapsody, Replug, Hip Hop, Tarian, Latin Dancesport, Modern Dance, Capoeira, BBoy and Indian Cultural Group also put up performances during the opening launch.
The launch was attended by about 3000 spectators who clapped and sang along to the performances.
Shaun Tan, 18, a second-year Aviation Management student, gave the launch a thumbs up.
"I've been watching the opening launch for two years and I have to say, this year has been the best. It was how I feel an opening launch should be," he said.
The theme of last year's festival was 'Layers', which Mr Ganesh Kalyanam, director of The Republic Cultural Centre (TRCC), felt was apt.
He said: "Each performance that we present has many layers of appreciation and meaning. Some of us will just enjoy the entertainment layer but others may want to delve deeper into the history and meaning of the topics or genres being presented."
'Layers' was represented by a string of events – 'An Evening of Music', 'Fun & Friends', 'Quintessential VI: Timeless', 'MUSE VII', 'Evolution', 'Symphonie De Republiqe IX', 'The Anthology: Turntables', and 'Siapa Curi Tudung Neelofa'.
One of the highly anticipated events, MUSE VII, was held on Oct 27 at TRCC. The event saw a turnout of around 1,000 people. It featured RP's Capoeira, Hip Hop, Tarian Dharma Endari, Modern Dance, Salsa, Indian Cultural Group, Wushu and Latin Dancesport IGs. ITE College West's Korean Dance Wave was featured as well.
The success of the spectacle was not without its challenges. Stanton Toh, 20, a Capoeira performer and also a third-year Biomedical Sciences student, said: "A lot of us got injured during the process but we all kept on pushing and motivating each other. Strength in numbers is why we're able to go through with the show."
Apart from theatrical and musical performances, there were also a variety of workshops and exhibitions ranging from kickboxing, storytelling, fitness to rubber carving, to celebrate Reflections' 10th anniversary.