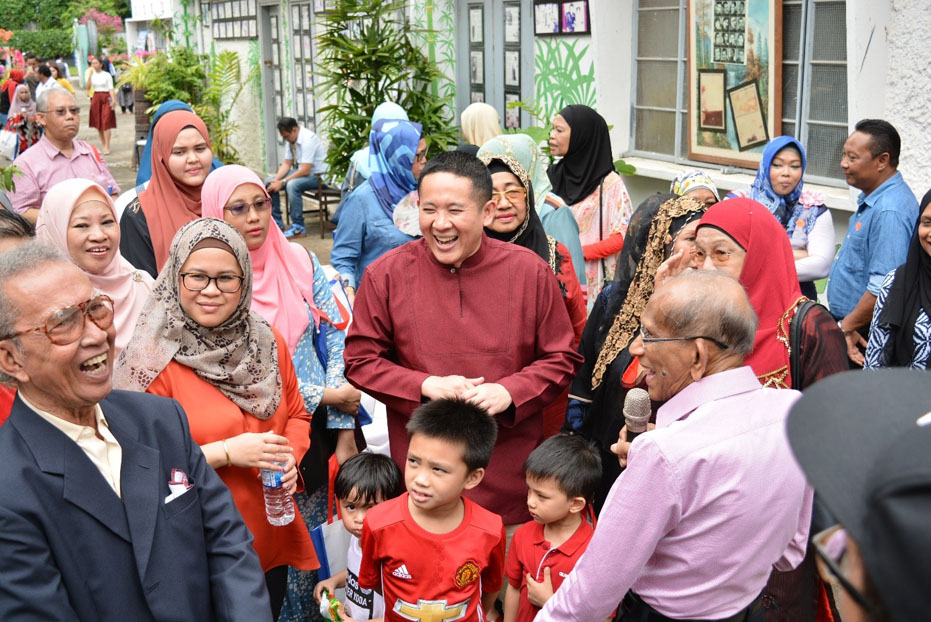 A slice of Singapore's golden movie heritage was revisited on Aug 13, 2017 as some 160 people toured Shaw Brothers' Malay Film Productions studio at 8 Jalan Ampas.
Opened in 1947, the studio at Balestier Road would go on to produce more than 150 Malay films during the post-war period.
Film industry veterans such as Yusnor Ef, K Fatimah, Zaiton Abdullah and Zaini Sattar graced the event which was organised by Woodlands Community Club's Malay Activity Executive Council.
While most of the 160 people who attended the event were from Singapore's pioneer generation, there was also a number of youths who took part.
"I think it's a great opportunity for me to see the studio for myself, instead of just listening to my grandmother's stories," said Ms Shariffah Gamar. The 24-year-old is the granddaughter of legendary Malay actress Zaiton Abdullah.
Ms Shariffah was not the only youth to participate in the walk. Parliamentary Secretary for Home Affairs and Health Amrin Amin brought his young nephews to the event.
Mr Amrin, who is also the advisor to grassroots organisations in Sembawang GRC, said: "This is a place of cultural heritage and a special place where the stars are born. So I think the young ones should be here to see and experience the beauty and vibrancy of the culture."
During its heyday, the Jalan Ampas studio was the most successful Malay film production house in the region. Legendary actor-director P.Ramlee starred in 42 films and directed 16 at the studio. Malay Film Productions shut down in 1967 as Kuala Lumpur became the new Malay film hub.
Mr Jumaat Abu Bakar, 75, has been the caretaker of the studio since 2012. He said: "Today, I feel very satisfied when the visitors came to look around to see what I have done for the studio with my own hands."
Mr Jumaat hopes to see more people, especially the younger generation, visit the studio. "In the future, I would like to see more people from the younger generation taking walks here and appreciating this studio while it is still here," he said.
Prominent Singaporean lyricist and film researcher Yusnor Ef echoed Mr Jumaat's views. "It is important that the youths experience and gain some knowledge because if there is no past, there will be no future," Mr Yusnor said.