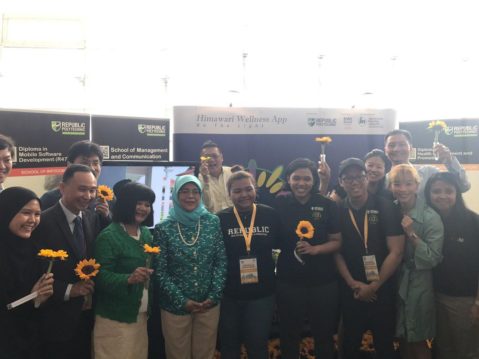 A Republic Polytechnic team has developed a mobile app to support mental wellness.
Developed in collaboration with the Institute of Mental Health (IMH), the Himarawi Wellness App will allow users to track and monitor their appetite, mood, sleep quality and intake of medication. The records would come in useful for consultants and counsellors at IMH to review their patients' progress. Himarawi is the Japanese word for sunflower.
School of Sports, Health and Leisure (SHL) lecturer Teresa Shiu is the leader of the project. "We feel that it is very important for mental health patients to have social support," she said. "But often times in Singapore, people find mental health a taboo topic, and don't know how to help."
A social element has thus been incorporated in the mobile app, where users will be allowed to nominate their own social support group to use the app together. The support group, who can comprise the user's employers, friends or family members, will be able to record their own observations of the users. If there is a discrepancy, the app will prompt both users and the support group to meet and initiate a conversation.
The Himawari Wellness App was showcased at the Singapore Mental Health Conference on Jan 30 2019. SHL students explained to President Halimah Yacob, who was the Guest of Honour at the Conference, how the app worked.
To fund the project, RP had obtained a research grant from the Tote Board in October 2017. In April, 2018, RP started collaboration with IMH on the project.
Students and staff from the School of Infocomm (SOI) and the School of Management and Communication (SMC) were also roped in to work on the app. SOI developed the application interface and experience, while SMC helped in the app's marketing by producing a video to educate users.
Ms Shiu said students benefit too from working on the app. "Not only is it meaningful to do something for patients, it allows students who are involved in this to know that mental health is not a taboo topic and awareness needs to be built and subsequently we can get more students to use this application," she added.
Adriel Goh Bing De, a second-year Mass Communication student, agreed with Ms Shiu. "After producing the video, the key takeaway from this project is that we as a society should not shun those with mental illness away, but it is important to re-integrate and better understand them," he said.
The team is now conducting tests on the app and aims to launch it to the public in the third quarter of this year.