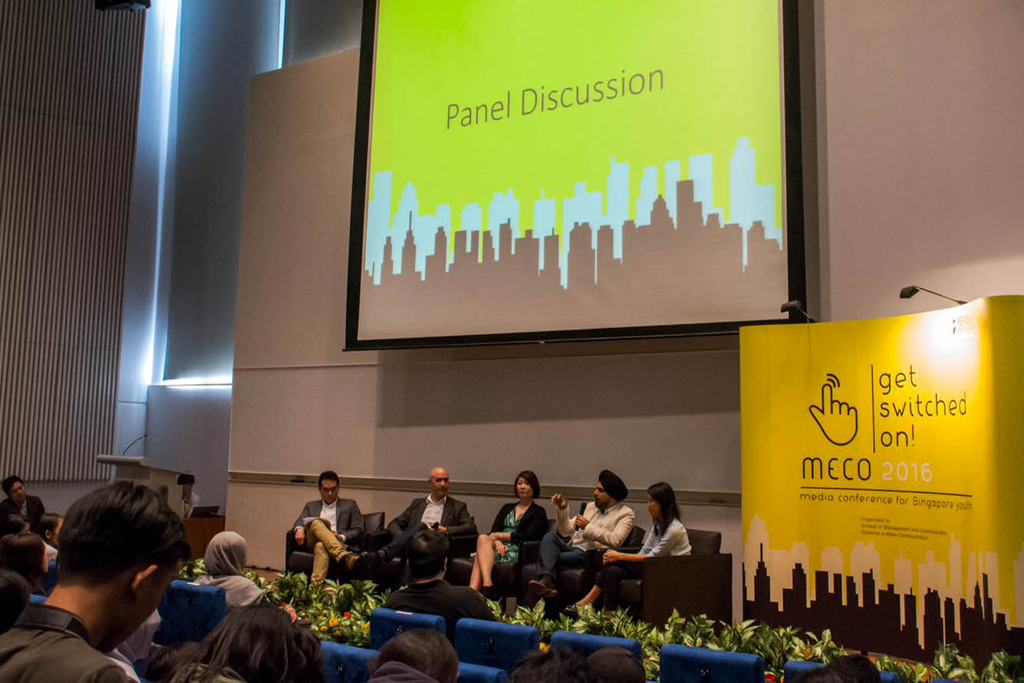 Over 250 delegates attended the first Media Conference for Singapore Youth (MECO) on Sep 8, 2016 held at Republic Polytechnic (RP).
Organised by RP's School of Management and Communication, the conference aimed to help aspiring communication practitioners learn more about the media industry beyond what they had learnt in their classrooms.
The one-day event also provided a platform for industry professionals, including policy makers, industry practitioners and researchers, to share their perspectives.
In her keynote presentation, Ms Angeline Poh, the assistant chief executive of Media Development Authority, urged the delegates to build connections with other media professionals so as to succeed in the industry. Citing the examples of popular artists like Jack Neo and Irene Ang, Ms Poh also urged those present to be adaptable to changes in the media environment.
Ms Poh then joined other panellists for a discussion on the skills required in the media industry in the 21st century. The other panellists included MediaCorp chief digital officer Shane Mitchell, Bolt Media chief executive Chan Yi Wen and Publicis Media's head of analytics and insights Harpreet Singh.
The panel shared their insights on trends, such as the evolution of social media and freelancers in the media industry, during the hour-long discussion.
Students found the discussion beneficial. Second-year Mass Communication student Teo Teck Kuan, 19, said: "MECO gave the participants valuable insights towards the media industry in Singapore. The most interesting thing was to be able to get close-up interviews with experts from the industry."
Besides hearing from industry experts, the delegates were also put through their paces through a series of workshops. The future of advertising, the skills needed to be a digital journalist and how to use data to tell a story were among the topics covered.
Those who attended the workshops found the tips given useful. First-year Mass Communication student Nathalie Evangelia D'Souza, 17, said: "It was really an eye-opener into the media industry. I got to hear from professionals who have been in this sector for many years, who tell it like it is."
Nellie Goh Jing Ying, a first-year Mass Communication student, added: "I was able to engage myself with the speakers by asking them questions to know more about the workshops."