It is open house season among polytechnics as scores of secondary school students look at diplomas that interest them. SAMANTHA LOH finds out some of the sights and sounds at RP on day one.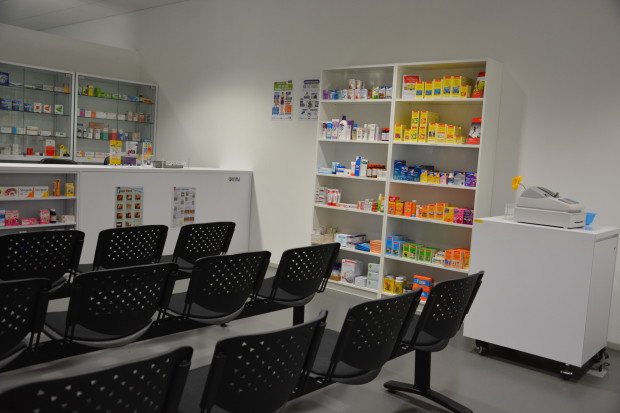 The display case was stocked with various types of medication, reminding one of a typical pharmacy setting. Standing behind the counter, an RP student in a white lab coat provides medication dispensation advice to a "patient". Just like a real pharmacy, there were three rows of seats in front of the counter for patients to wait as their medication is packed and dispensed.
This is the new RP-Khoo Teck Puat Hospital training dispensary, which is the first of its kind in a Singapore polytechnic. It was a proud moment for the staff and students of the Diploma in Pharmaceutical Sciences at RP. The dispensary, launched in collaboration with industry partner Khoo Teck Puat Hospital (KTPH), simulates a hospital pharmacy and is stocked with over 600 types of medicines that provides real life training for students from the Diploma in Pharmaceutical Sciences (DPHM).
"I'm glad that such a facility is finally open. We are the first polytechnic to provide such a teaching facility and it is really quite a milestone in our history," said Jeremy Choo, a lecturer at the School of Applied Science(SAS) in RP.
Education Minister visits RP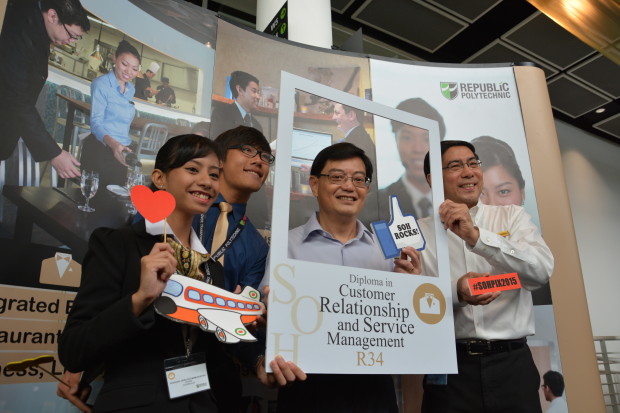 RP's open house started bright and early with a visit from a very special guest –Minister for Education Mr Heng Swee Keat. The Minister took the time to visit the booths, stopping to interact with students and staff. He then stopped by the School of Engineering's (SEG) booth to launch the 'Hybrid Mini Rapid Transit System', a model digital train system which simulates the operation of an automated metro line. The model will be used to train students from the new Diploma in Engineering Systems and Management in train control and programmable logic controller (PLC) programming.
The Republican Post asked the Minister how an 'O'-level student might choose between going to a polytechnic and a Junior College (JC). He said it depended very much on the personal abilities of each person and his or her preferred learning style.
"The polytechnic and junior college options have a different focus. A poly curriculum has a more hands-on, practical applied learning focus. And as I spoke to many of the students, they are actually very enthused by this hands-on approach. The JC curriculum is more academic and theoretical in nature and so, some students may enjoy the more hands-on applied learning ," said Mr Heng Swee Keat.
For students who are unclear about their intended education path and where to go, there is good news. The Minister announced that a team of six dedicated career counselling staff will be available in all polytechnics and ITE by the end of 2015 to help students make better career planning decisions.