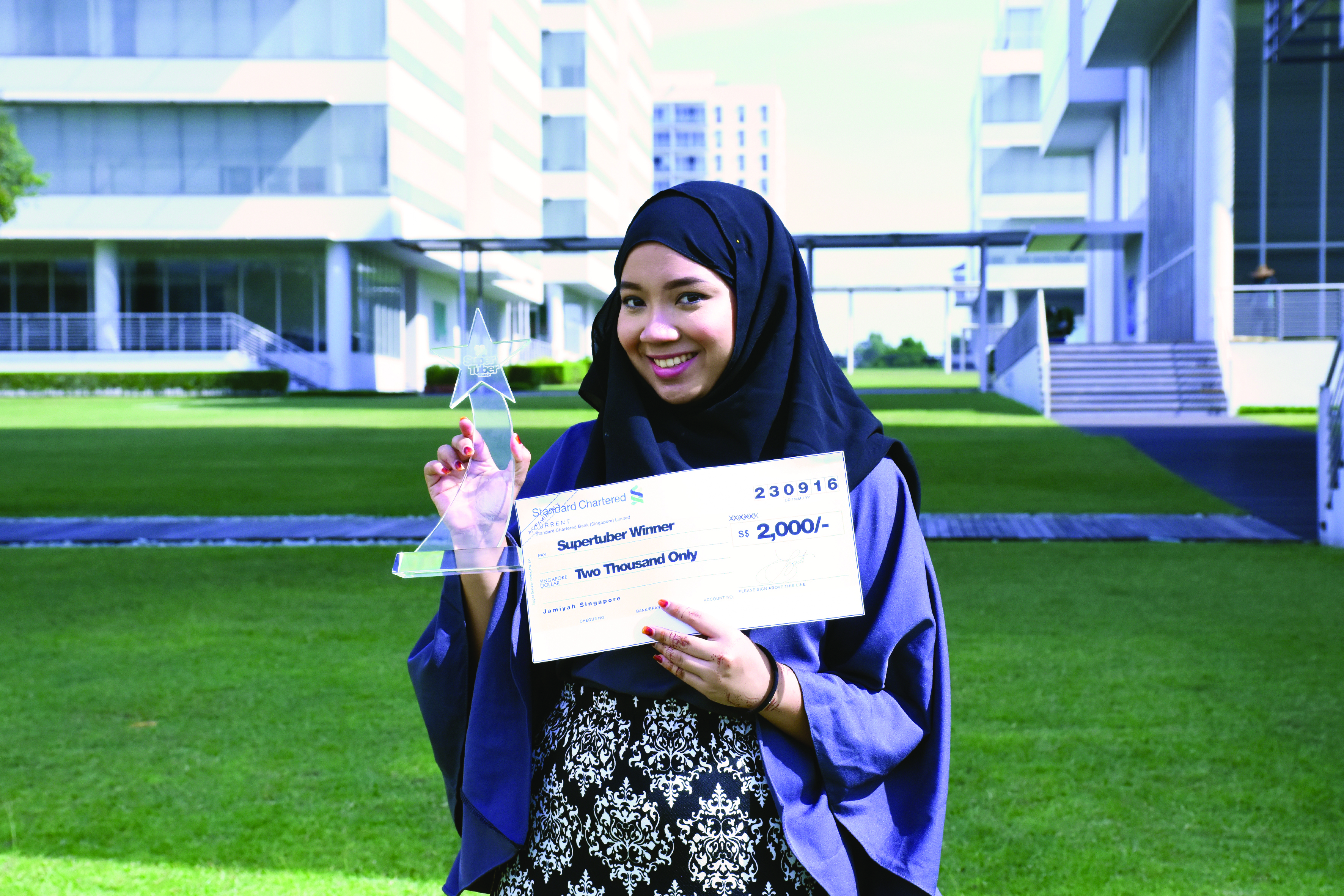 Having submitted her video a day before the deadline, Republic Polytechnic student Nurul Farahin Ramli did not expect to emerge as the overall winner at the Singapore's SuperTuber competition.
Farahin, who entered the short film contest with a friend, did not have the time and budget to source for a professional camera and tripod.
"I used an iPhone 5C to film," said Farahin, a first-year Mass Communication student. "We didn't even have a tripod to stabilise our phone camera. In the end, we had no other option but, to head down to Daiso and get a cheap tripod for just $2. At least it held our handphone firmly."
But the entry impressed the judges and the pair won a DJI Osmo Camera and a $2000 cash prize.
Organised by Jamiyah Singapore, a non-profit organisation, the short film competition encouraged youths to submit a five-minute long video which advocated values such as compassion and selflessness.
Equipped with just skills and knowledge she had picked up from her Single-Camera Production module in her first semester in RP, Farahin decided to take part in the competition.
She roped in Nur Alisya Rosli, 21, a first-year Early Childhood Education student at Ngee Ann Polytechnic, to script, direct and edit the video. The pair had met one another at the Institute of Technical Education College Central two years ago where they both enrolled in the Early Childhood Education course.
Alisya also had little knowledge in film-production and as a result, the duo was under pressure to outdo their opponents.
Alisya and Farahin's short film revolved around two strangers who had a misunderstanding. There was a twist at the end when one gave a taste of her own medicine.
The filmmakers said they were inspired by a story which they had read from the acclaimed Chicken Soup series.
Unaware that there was an online voting component on Jamiyah Singapore's website – which played a part in determining the winners – both Farahin and Alisya were unable to spread the word in time to garner support and votes from family and friends.
While other participants managed to amass as many as 600 votes, the duo had only received 57 votes for their video.
"I did not expect to win because some of the competitors were from the Singapore Institute of Management or were majoring in film production at various polytechnics," said Farahin. "We, on the other hand, were just like some random people with little or no experience so it was very unexpected."