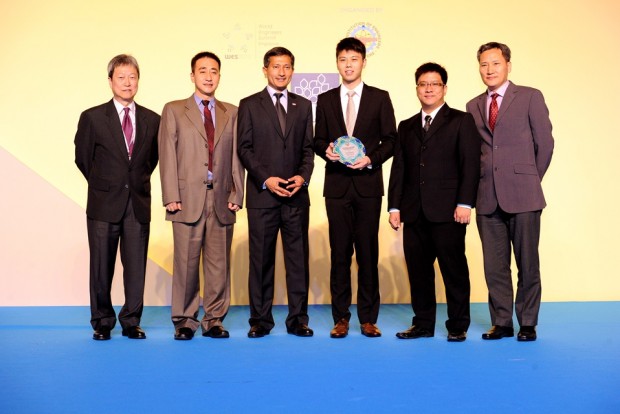 Creating a brain-controlled device sounds like the stuff of sci-fi films, but a team of four RP graduates from Diploma in Biomedical Electronics (DBME) managed to turn fiction to reality by creating an award-winning software known as 'Brain-Controlled Home' last year.
Led by 23-year-old Ren Shu Heng, the group designed 'Brain-Controlled Home' specifically for handicapped patients. This software allows the user to control household appliances through thought. For example, the thought of pushing something could be activated by a sensor which in turn sends the signal to be processed by the system. This signal will then be transformed into an electrical signal to turn a particular household appliance on or off.
"When we visited Khoo Teck Puat Hospital for one of our modules, we saw that many patients could hardly move without any assistance,' said Shu Heng. "This is what motivated us to come up with an idea of a device which helps these patients to control home appliances when there is a lack of caretakers."
Shu Heng and his team's venture paid off bigtime when they ended up as the only winners of the IES Prestigious Engineering Achievement Awards' Young Creators' Award last September. This accolade serves as a testament to the recipients' effective application of science on innovative ideas. Shu Heng attributes this achievement to RP's PBL pedagogy.
"The PBL system helped me to attain this achievement because it constantly prompted me to think out of the box daily," said Shu Heng who is currently pursuing a Degree in Electrical and Electronic Engineering (DEEE) in NTU. "It triggered me to think far beyond the boundary, and share and evaluate my ideas with my teammates to stride ourselves forward."
The legacy of 'Brain-Controlled Home' does not end here. Although the device is not being commercialized yet, the school is exploring opportunities to bring it into the healthcare industry in order to benefit patients who are physically disabled. To further evaluate its effectiveness, the school has been sending the device for testing in various associations.
"We have already tested 'Brain-Controlled Home' in Singapore's Handicaps Welfare Organisation," said Dr Jiang Lijun, a SEG Academic Staff who supervised the project. "We may be looking for more opportunities to explore more users of this device."
Shu Heng and his team are a good example of how the polytechnics train students to apply concepts in solving practical problems people face, a key topic for the ASPIRE committee reviewing polytechnic and ITE education. For more information, go to http://www.moe.gov.sg/aspire/