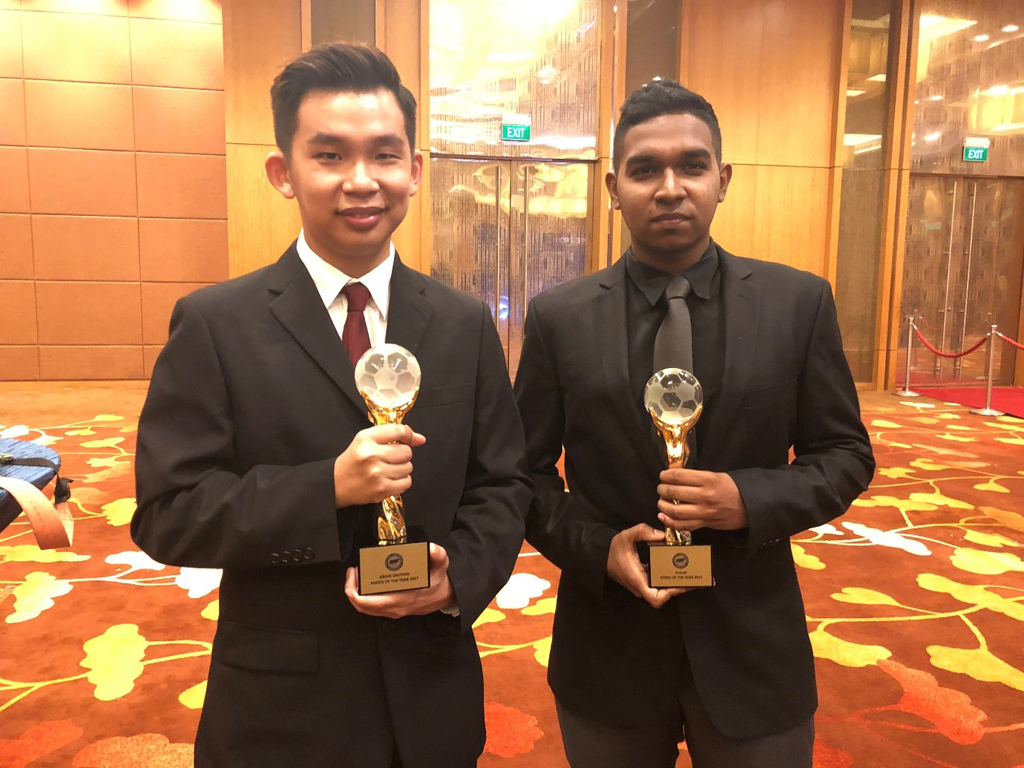 Two Mass Communication students beat seasoned media professionals when they clinched awards at the inaugural Football Association of Singapore (FAS) Nite held at Marina Bay Sands on November 27, 2017.
Deepanraj Ganesan, who graduated in 2016, secured the Polar Story of the Year Award for his in-depth feature on former Youth Olympic Games star Hanafi Akbar's road to redemption after serving a year in jail for drug-related offences. Meanwhile, Eric Teo, a second-year student, clinched the Great Eastern Photo of the Year Award for his photograph, Teenager's Dream Come True.
Both said they were surprised with their wins. "I was nominated alongside two other writers from TODAY and ST (The Straits Times) who were much more experienced than me," said Deepanraj, 23. "I had zero expectations of a victory. I was pleasantly surprised when I won and I believe it was an indication of how inspiring the story was rather than how well written it was. For that, I owe it to my newsmaker, Hanafi Akbar, for being honest and open enough when speaking to me."
Once considered one of Singapore football's most exciting prospects, Hanafi was arrested in 2015 for drug offences. Deepanraj's story chronicled the events leading to the arrest and Hanafi's eventual struggle to make a return to football. "I had to cajole certain emotions and honesty out of my newsmaker. With all the practice I received while studying in DMC on how best to approach and interview a newsmaker, I was well equipped in dealing with the subject of my story," said Deepanraj.
Deepanraj, who will begin his undergraduate studies at NTU's Wee Kim Wee School of Communication and Information in August, 2018, said he was "overjoyed" with the award. "As writers, we don't often get plaudits other than from our peers and readers complimenting us on a particular story they've read and enjoyed. Awards like this really make your hard work throughout the year in finding good stories to write, vindicated," he said.
Matthew Mohan, Deepanraj's editor at football magazine FourFourTwo, sang praises of his young writer. "Deepan is a resourceful and dependable writer. We are pleased to have him as part of our team and are extremely happy that he has won the award."
For Eric, the award still feels "surreal". He was hesitant to submit his winning photograph in the first place. "I actually didn't want to submit anything, because to be honest, I only shot one S League match in 2017, but my friend pushed me to submit regardless of the result."
A self-professed fan of local football, Eric has been attending games as a spectator since 2011. The 19-year-old said: "Watching football live is just better than watching it on TV. It sort of became a natural progression when in 2015, I took photography as a serious hobby."
Eric credited a visual communication module he took last semester which enhanced his photography knowledge. "I learnt the proper technical jargon, the right framing, why certain photos were more appealing to the eye than others, how to caption my shots, and most importantly, how to tell a story," he said.
Even though he is a big Manchester United fan, Deepanraj said he had always felt the need to cover local football. He said: "Football has always been an interest of mine and getting to comment or analyse any action has always been of interest to me. While European football is always the go to for many, I believe that being a local journalist, I have a responsibility to showcase the local game."