A team of dancers from Republic Polytechnic finished second at a dance competition organised by the National Council Against Drug Abuse (NCADA) and the Central Narcotics Bureau (CNB).
The nine dancers from the Sutairu team – which means style in Japanese – competed in the Youth category of Danceworks! 2017 and walked away with a cash prize of S$3,500.
"Honestly, it was very unexpected," said Sutairu's co-choreographer Muhammad Lutfil Hadi Mohd Taufik. "We are very, very happy. This competition motivated us and we will try to join upcoming competitions and improve ourselves as dancers."
The team trained for two to three weeks before the competition, and thus were delighted when they won second place.
Muhammad Lutfil said: "Attendance was a huge challenge. Even though we got nine people, sometimes not all nine can make it for practices, so it was very difficult to choreograph the formations properly."
In all, 20 teams took part in the competition at Scape Ground Theatre on July 29. The dancers, who competed in dynamic gear and unique motifs, were from various educational institutions. A new competition format where dancers battled it out face-to-face with their best dance moves was also introduced this year.
But Danceworks! had a serious message: Teams had to incorporate an anti-drug message into its choreography. The dance competition was part of the annual Anti-Drug Abuse Campaign and took place amidst younger people displaying more liberal attitudes towards drugs. CNB statistics last year showed that drug abuse was on the rise among young people and the majority of new abusers were below 30 years old.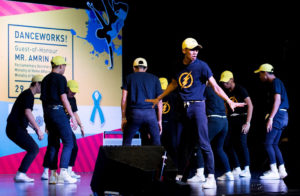 Parliamentary Secretary for Home Affairs and Health Amrin Amin, who was present to support Danceworks!, said dance is a "cool" alternative compared to drugs. "Staying drug-free is a cool thing and we should keep it that way and I think through dance, that's the best demonstration," he said. "I think we showcased the best of life. There's so much for young people to enjoy and there's so much to life. Why get yourself entrapped and enslaved?"
Many of the supporters at Danceworks! were parents and Mr Amrin felt it was an encouraging sign. He said: "I'm very happy to see parents being the biggest supporters in the audience, and that's what we want. We want parents to be champions of children's education, of children's life. They are the life coaches, and so parents play a critical part."
Mr Amrin said everyone – parents, schools and the Government – can work together to keep Singapore drug-free.  "It's important that each generation step up efforts and ensure that each generation understand the harms of drugs and winning this war together," he said.