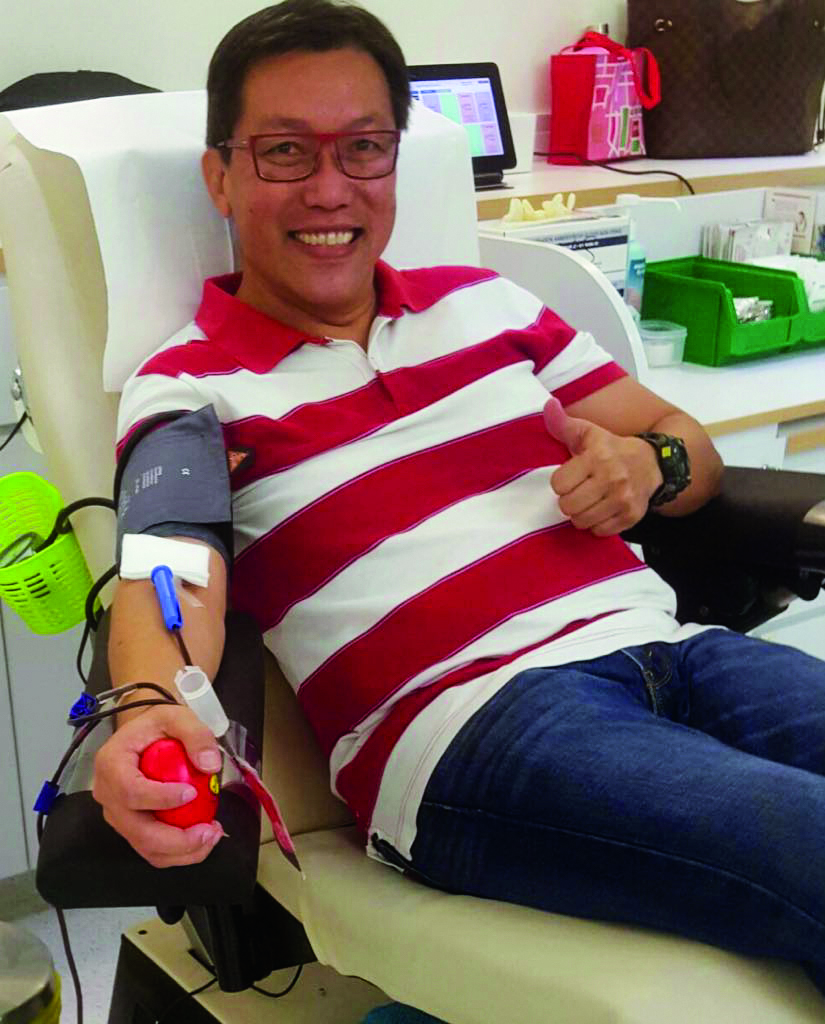 School of Hospitality lecturer Derrick Lau is considered by many as a 'blood hero'. Since the age of 18, Mr Lau has given blood on more than 130 occasions. Even though he was diagnosed with high blood pressure four years ago, the condition has not slowed the 54-year-old's drive to donate blood.
"I do have high-blood pressure, but I'm still in good condition. So the doctor says, 'Okay, go ahead'," said the Diploma in Restaurant and Culinary Operations lecturer.
Mr Lau was inspired to be a blood donor after his uncle was involved in a car accident in 1981. A lot of blood was lost and Mr Lau remembered the anxious wait for his uncle's blood transfusion out-side the operating theatre. The accident, as well as the explosion involving Greek tanker Spyros docked at Jurong Shipyard in 1978, sparked Mr Lau's desire to give blood.
Mr Lau's first blood donation as an army recruit at Sembawang Camp was like most inexperienced donors, painful and scary. "I felt worried, nervous, I didn't know if I could bear the pain," he said.
Now, Mr Lau donates blood at least three times a year. "As a regular, I shouldn't say it's painful, but that kind of pain, I think, can bear a bit. Because at the end of the day, you know that you'll save somebody's life," he said.
Last year, blood donors supported transfusions for more than 28,000 people. Singapore currently needs about 400 units of blood every day, or about 16 units every hour. As Singapore's population increases, the demand for blood will increase by three to five-per-cent annually.
Mr Lau's selfless acts serve as an inspiration to others, including his son, Wei Cheng, who is currently serving his National Service.
"In secondary school, they had this blood donation drive, and when I knew about it, I asked him for permission straight away to go and donate," said Wei Cheng, 21. Youths aged 16 and 17 will need their parental consent to donate blood.
On top of blood donations, Mr Lau also does charity work. He volunteers with non-profit organisation Ground-Up Initiative, where he helps to organise 'Kampong-style' cooking workshops for children and adults. He is also involved in the Singapore Junior Chefs Club. "I feel this is my social responsibility, to apply my skills and help those who are less fortunate have better lives," said Mr Lau.
The lecturer's actions do not surprise his student Yasser Amin. "I can say that the act of donating as much blood as he has is rather befitting of his character," said the third-year Restaurant and Culinary Operations student. "His care and kindness for others is exemplary to us all."
For now, Mr Lau is planning on staying healthy so that he can continue to give blood. He said: "I feel happy when I donate. I feel that you have some kind of achievement you can do in life, it's very meaningful, you can save somebody's life, because one packet of blood, if I'm not wrong, can save about four people, so why not? If this is within what you can do, do it."